Shakira has said that she has resolved a long-running tax dispute with Spanish authorities.
The 46-year-old Colombian singer had previously been charged with tax evasion and had attended the first day of her trial in Barcelona.
Spanish prosecutors had alleged that she failed to pay more than €14.5 million between 2012 and 2014.
As part of the deal, Shakira - full name Shakira Isabel Mebarak Ripoll - accepted the charges and a fine of 50% of the amount owed, more than €7.3 million.
She also accepted another fine of €438,000 to avoid a three-year prison sentence, the judge said during the trial's first hearing.
"Do you recognise the facts and conform with the new penalties that have been requested?" asked Judge José Manuel del Amo Sanchez.
"Yes," Shakira responded.
The prosecutor's office had been seeking an up to eight-year prison term and to claim back the taxes it said Sharkia owed.
It had alleged that Shakira spent more than half of each of the years in question in Spain and was therefore ordinarily resident in the country. It also said that a Barcelona property she bought in May 2012 served as a family home.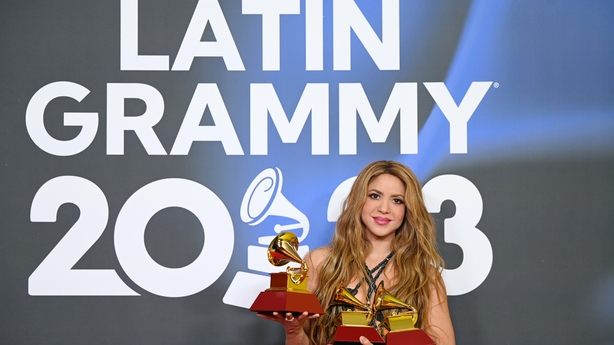 In a statement to the PA news agency, the Hips Don't Lie singer said: "Throughout my career, I have always strived to do what's right and set a positive example for others.
"That often means taking the extra step in business and personal financial decisions to procure the absolute best counsel, including seeking the advice of the world's pre-eminent tax authorities PricewaterhouseCoopers International Limited and Ernst & Young Global Limited, who have been my advisers during this whole process.
"Unfortunately, and despite these efforts, tax authorities in Spain pursued a case against me as they have against many professional athletes and other high-profile individuals, draining those people's energy, time, and tranquillity for years at a time.
"While I was determined to defend my innocence in a trial that my lawyers were confident would have ruled in my favour, I have made the decision to finally resolve this matter with the best interest of my kids at heart who do not want to see their mom sacrifice her personal wellbeing in this fight.
"I need to move past the stress and emotional toll of the last several years and focus on the things I love – my kids and all the opportunities to come in my career, including my upcoming world tour and my new album, both of which I am extremely excited about.
"I admire tremendously those who have fought these injustices to the end, but for me, today, winning is getting my time back for my kids and my career."
Shakira shares two sons, Milan and Sasha, from a previous relationship with the footballer Gerard Piqué.
Spanish authorities have pursued other major celebrities over tax evasion including soccer players such as Portugal's Cristiano Ronaldo, Argentina's Lionel Messi and Brazilian-Spanish player Diego Costa. All settled and paid large fines.
Bayer Leverkusen coach Xabi Alonso refused to settle and eventually won a trial against the tax agency. Spain's Supreme Court last month upheld his acquittal.
Source: Press Association, Reuters