The co-director of the Irish production company behind TV shows including Normal People and Hollywood movies including Room has said that the ending of the actors' strike is a "major relief" and that "everyone's now just dying to get back to work."
Ed Guiney was speaking to RTÉ Radio 1's News at One and said that he is "delighted" that agreement has been reached.
"We're delighted. I think it's been 120 days and then we've also had the writers guild strike before that so it's been very debilitating."
Referencing his company's latest project, the film Poor Things made by Greek filmmaker Yorgos Lanthimos and starring Emma Stone, Guiney said that now being able to promote the film properly is "a huge positive".
He said, "We've been looking to promote it because it's being released in the States in a month's time, in December, and then here in Ireland in early January and we haven't had the actors and that's a major issue."
Continuing, he said, "The actors are Emma Stone, Mark Ruffalo and William Defoe among others, so obviously very high profile people that help promote a film to audiences, so it's a huge positive for us that they can now get behind the film and be out there pushing it, doing interviews and doing screenings and all that stuff… so that's a major relief."
Calling the end of the strike "very timely" for the film, he explained, "The Irish premiere of Poor Things is tonight at the Cork Film Festival, so it's nice to be able to talk about it... and hopefully all our actors will be rejoining [the promotion of the movie]."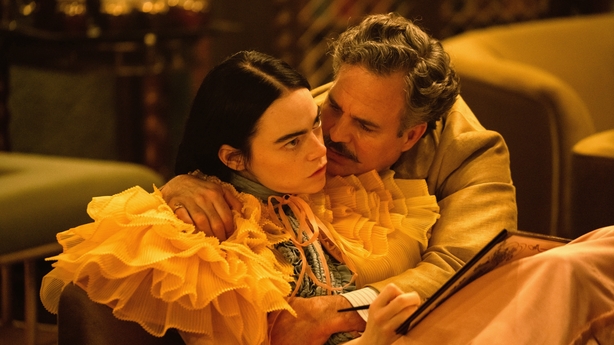 Guiney also expressed his delight that film production will now resume.
"Production has been affected terribly. They say that the Californian economy has suffered to the tune of six billion dollars. None of the crews can work, the florists that supply the flowers… all the ancillary stuff… restaurants in LA have closed down."
"And also here in Ireland, we have a huge film industry that works with actors coming in from abroad and it's been quiet here and really decimated in the UK.
"So it's been a really bad period and everyone's now just dying to get back to work so it's a huge, huge relief for many people. It's not just the actors, it's everybody else in the eco system."
News at One presenter Bryan Dobson queried if the additional revenues guaranteed in the negotiations will mean higher costs to production companies, with Guiney responding, "It'll cost the end users more.
"We make things for Netflix, or Disney or whatever… those costs will increase for sure, and it may mean that ultimately there are fewer things made.
"But equally but in the streaming world, what's happened is that people don't get rewarded for success. So if you're an actor and you get paid X amount for a show that's on Netflix, no matter how well that show does, you don't make any more money.
"But now as part of this negotiation... if your show is very successful, well then you will benefit from it financially as well as reputationally. So that's important."
Speaking about another cause of the strike - the use of artificial intelligence in TV and film production, Guiney said, "I think that was the biggest minefield at the end of the negotiations - trying to find a way through that. That's technology we don't know much about at this stage and it's changing hugely all the time."
While acknowledging that many actors in Ireland work under a separate union to the union involved in the strike (Sag-Aftra), he said that the agreement at least "shines a light on how the world has changed post the streaming boom and how streamers properly compensate actors, writers, crew, everyone… filmmakers, directors, producers - everybody."
"So that's definitely a very live conversation and it's already a discussion in our neck of the woods and will continue to be no doubt," he concluded.

News at One, RTÉ Radio 1, Monday - Friday at 1pm