US President Joe Biden has welcomed a tentative deal for striking Hollywood writers to resume work after a months-long stoppage that paralysed the film and TV business.
Union leaders and Hollywood studios reached a tentative agreement yesterday to end the screenwriters' strike after nearly five months.
The Writers Guild of America (WGA) announced the deal with the Alliance of Motion Picture and Television Producers (AMPTP), the group which represents studios, streaming services and producers in negotiations.
Announcing the deal in an email to members, the union said: "WGA has reached a tentative agreement with the AMPTP. This was made possible by the enduring solidarity of WGA members and extraordinary support of our union siblings who joined us on the picket lines for over 146 days."
In a statement, Mr Biden hailed the deal, saying: "I applaud the Writers Guild of America and the Alliance of Motion Picture and Television Producers for reaching a tentative agreement that will allow writers to return."
Mr Biden said the deal included "assurances" about the use of artificial intelligence, adding that it "did not come easily."
But he said it was a "testament to the power of collective bargaining" between employers and unions.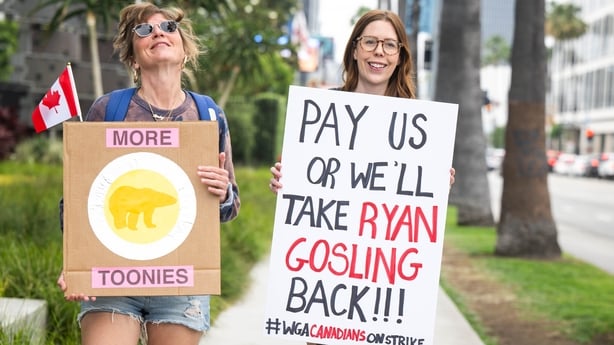 The terms of the three-year contract agreement - settled on after five marathon days of renewed talks by negotiators WGA and the AMPTP and not revealed - must be approved by the guild's board and members before the strike officially ends.
The agreement comes just five days before the strike would have become the longest in the guild's history, and the longest Hollywood strike in decades.
As a result of the agreement, nightly network shows could return to the air within days.
Talks have not yet resumed between studios and striking actors.
The proposed solution to the writers' strike comes after talks resumed on Wednesday for the first time in a month.
About 11,500 members of the Writers Guild of America walked off the job 2 May over issues of pay, the size of writing staff on shows and the use of artificial intelligence in the creation of scripts.
Actors, who joined the writers on strike in July, have their own issues but there have been no discussions about resuming negotiations with their union yet.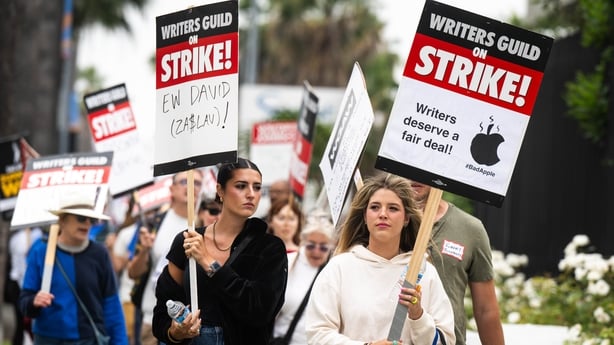 Hollywood's dual strikes had shut down production of movies and TV series and sent late-night talk shows into re-runs. Efforts to restart daytime talk shows without writers, such as The Drew Barrymore Show, collapsed this month, in the face of criticism from striking writers and actors.
At picket lines, protests took on the rhetoric of class warfare. Writers assailed media executives' compensation and said working conditions had made it hard for them to earn a middle-class living.
However, on Monday, US comedian, writer and TV presenter Adam Conover, who wrote and starred in The G Word on Netflix, tweeted: "We did it. We have a tentative deal.
"Over the coming days, we'll discuss and vote on it, together, as a democratic union. But today, I want to thank every single WGA member, and every fellow worker who stood with us in solidarity. You made this possible."
US comedian, writer and chat show host Larry Wilmore reacted to the news on Twitter writing: "Finally!!!"
Alex Zaragoza, a writer on Amazon Freevee series Primo, said she reacted to the news by "crying, screaming, throwing up, (and) crying again".
She tweeted: "This strike has been so hard. Necessary and invigorating, and really f****** hard. But we did it! We fought together.
"Thank you thank you thank you to all of our strike captains who have held us down at every picket these last 146 days. Kept us hydrated, informed, sunblocked, safe from cars, and feeling encouraged. Love y'all!!"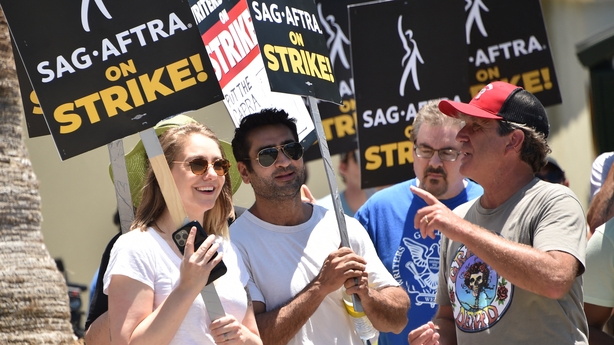 Talks have not yet resumed between studios and striking actors who are part of Sag-Aftra (the Screen Actors Guild-American Federation of Television and Radio Artists).
The union, which represents around 160,000 members of the industry, has been on strike since 14 July, causing a major stalling of multiple Hollywood productions.
It tweeted: "To our fellow union siblings who serve on the WGA Negotiating Committee, we extend our heartfelt congratulations on securing a tentative agreement with the AMPTP.
"We applaud your dedication and unwavering solidarity over the last five months and are proud to stand shoulder to shoulder with you as creative partners in the entertainment industry."
Source: AFP/Press Association