Patrick Kielty has told RTÉ Entertainment that he was "waiting for Ant & Dec" to appear when he was offered his debut film role opposite Seána Kerslake in Ballywalter.
The debutant and the veteran make a winning team in the funny, sad and ultimately uplifting movie about an unlikely friendship, with the Late Late Show host saying yes to the role immediately.
"There wasn't much of a gap when somebody comes to you and says, 'Would you like to be in a feature film?'" laughed the Co Down man.
"And then you sort of read the script... I thought it was sort of a bit of a joke at one point because Prasanna (Puwanarajah, Ballywalter director) has directed in the RSC (Royal Shakespeare Company). She's (Kerslake) won a tonne of awards. James Bierman, the producer, he's done Jodie Comer's play in the West End. Stacey Gregg (Ballywalter writer) has done the Abbey and the Lyric Theatre.
"Whenever I was sitting in a hotel in London and they offered me the script, I was waiting for Ant & Dec to kind of come 'round the corner! It was, like, an immediate yes."
Co-star Kerslake said she was "thrilled" to hear that Kielty had accepted the role.
"It was an immediate yes from me," the Dubliner continued. "I never doubted him, not even once - and that's honest to God!
"You might have been nervous because it was your first proper foray into acting, but I swear to God there wasn't a bum note. It was all very honest - and just listening. So he made me better because he made me more present."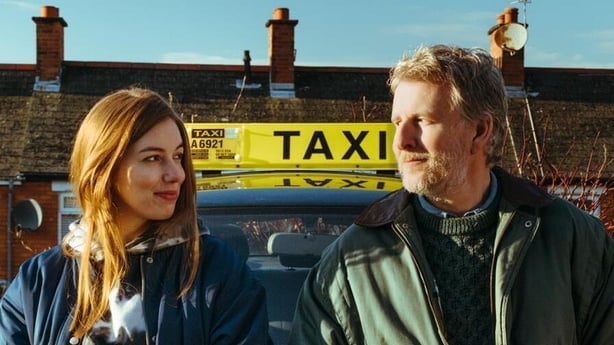 When it was put to Kielty that if a performer can do comedy, they can also do drama, he replied: "Good comedy, there's a truth in it at some point. 'Oh, that's funny and it's funny because...' And I think when you're trying to tell a story and good acting it's about trying to be honest and the truth. So there's more of a connection between the two than a lot of people think."
"But I could never do what you do!" said Kerslake. "You think acting is hard?! Stand-up comedy is such an art."
"This is going to be really awkward when we announce your 10 nights," joked Kielty. "'And Seána Kerslake will be playing 10 nights at Vicar Street from February!'"
As for other acting roles in the future, Kielty is keen after his experience making Ballywalter.
"For me, doing this, and acting with this woman here and so many other amazing people working on it - that is up there as one of the most special experiences I've had. Would I love to act again? Yes. Would acting like me to act again? That's up to that world."
Ballywalter is in cinemas from Friday.
We need your consent to load this YouTube contentWe use YouTube to manage extra content that can set cookies on your device and collect data about your activity. Please review their details and accept them to load the content.Manage Preferences