Galway producer and singer-songwriter Pio Hartnett has released his new single, When I Go There, the lead track from his new EP, Cargo. We asked him the BIG questions . . .
He worked on the new EP with producer Zak Higgins (Tomike, Omo Aston, Dendo) and Pio says, "Working with Zak over the past two years, one big thing I've learned from him is to not do things by halves.
We need your consent to load this Spotify contentWe use Spotify to manage extra content that can set cookies on your device and collect data about your activity. Please review their details and accept them to load the content.Manage Preferences
"There's more music in the world right now than ever - and the fact is, some of it is really good. So, if we're going to make something, why would we do anything but make it the absolute best we can? If we don't love it, why should we expect anyone else to?"
Pio adds, "It was only when we sat down and listened to the project through, on Zak's speakers in his little bedroom in Strawberry Beds when it was all done, that I realised what tied it all together.
"The whole project is about carrying something. Fighting for it. Taking something from one place to another and trying to keep it in one piece along the way - or even just getting it there, no matter what it takes."
Tell us three things about yourself . . .
I love playing sports but get bored watching. One time I got a job for two months hanging out in a forest because I had blonde hair. It was great. I grew up in Clifden and everyone used to drive in circles around the town to pass the time. I would nod at the drivers with my friends, and they would nod at us. Hours of free entertainment.
How would you describe your music?
I wanted to write songs that felt careful, where the words weren't just there to fill space. I'm sad when I hear a song that could have been amazing, but you can just feel the lyrics were rushed, neglected. So, I'm trying to at least give my best to pay attention there and make sure that the words are sincere. That, and lots of vocals and vocal harmonies - I was fortunate to have the chance to sing in some really amazing choirs a few years back, and I think I learned a lot from that.
Who are your musical inspirations?
I grew up on Radiohead, a bit of Bloc Party, Sonic Youth, some Muse, Blonde Redhead, Aphex Twin and Autechre - a big mix of CDs left in crates at my house by my older brothers. Me and my younger brother and sister went crazy on it, it opened a whole world for us. The more singer-songwriter-y stuff came later, but that was the beginning.
What was the first gig you ever went to?
I went to Red Bull X-Fighters, a motocross tournament in Slane Castle, after my younger brother and I begged my mum to let my older brother JP take us - Ash played at it. I remember being amazed that I could feel the bass in my chest - I remember just looking down at my chest and just being amazed by that. I loved the muck everywhere, and the buzz of so many people in one place. Only sad thing was when they called off the event just before the grande finale that evening, with Travis Pastrana facing off against Mat Rebeaud. Everyone thought Mat Rebeaud had a chance to beat him, and then the rain was too bad. And that tournament never came back to Ireland again. It felt a classic Irish moment - sometimes, we just can't have nice things.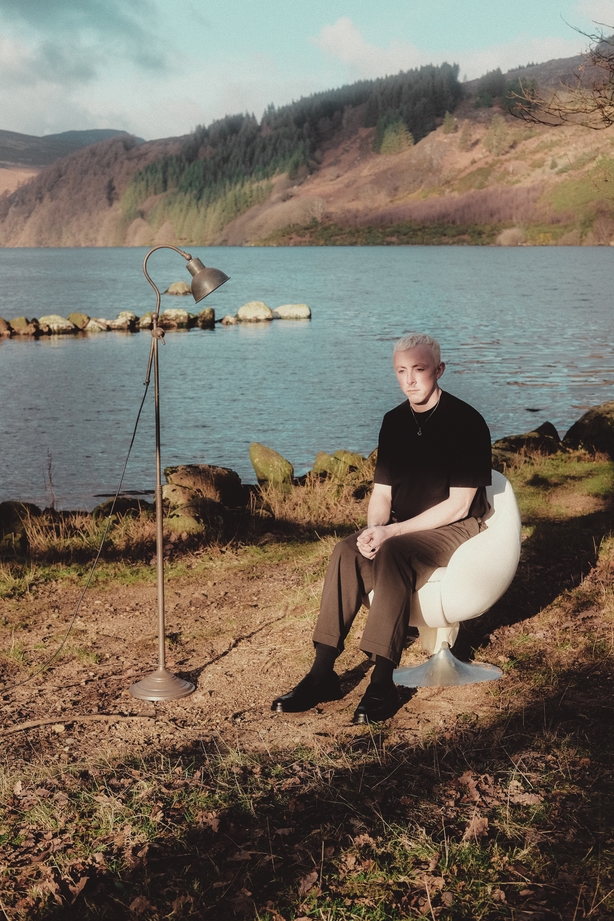 What was the first record you ever bought?
Hard to remember… me and my younger siblings commandeered a Linkin Park hip-hop remix CD from my older sister Marian. I also remember buying Muse's Black Holes and Revelations in HMV on Shop Street in Galway - it wouldn't have been the first, but I remember that. I noticed it had a five-star review sticker on it, so I bought it.
What's your favourite song right now?
White Horses by Low.
Favourite lyric of all time?
I lived in Canada for a bit after I turned 18 and ended up in Saskatoon. They're very proud of Joni Mitchell there, and you can't be there without hearing her music. I like this line in Both Sides Now where she says, "Something's lost, and something's gained, in living every day".
If you could only listen to one song for the rest of your life, what would it be?
Business Time by Flight of the Conchords, of course. It is my anthem. On cold nights, it gives me strength to persevere, and reminds me who I am. In the scorching heat of long and arduous days, where the quenching of my thirst seems far away, it reminds me who I can still become. Also, I already have to listen to one song for the rest of my life at the beginning of Ryanair flights, so there's that.
Where can people find your music/more information?
Linktree, Bandcamp, Instagram, my website, Apple Music, Spotify.