Clare singer songwriter Oscar Blue has released his new single, Passenger, and announced a 25-date Irish and UK tour. We asked him the BIG questions . . .
We need your consent to load this YouTube contentWe use YouTube to manage extra content that can set cookies on your device and collect data about your activity. Please review their details and accept them to load the content.Manage Preferences
It follows his debut EP Backyard Mafia last October and speaking about the new track, he says, "I wrote this song about a period in my life when I was stuck in patterns of negative thinking.
"The chorus is a reminder to myself that I'm not going to let difficult emotions or periods in life define me, a reminder that wrapping myself in cotton wool is not the solution to overcome fears, doubts, overthinking or anxieties.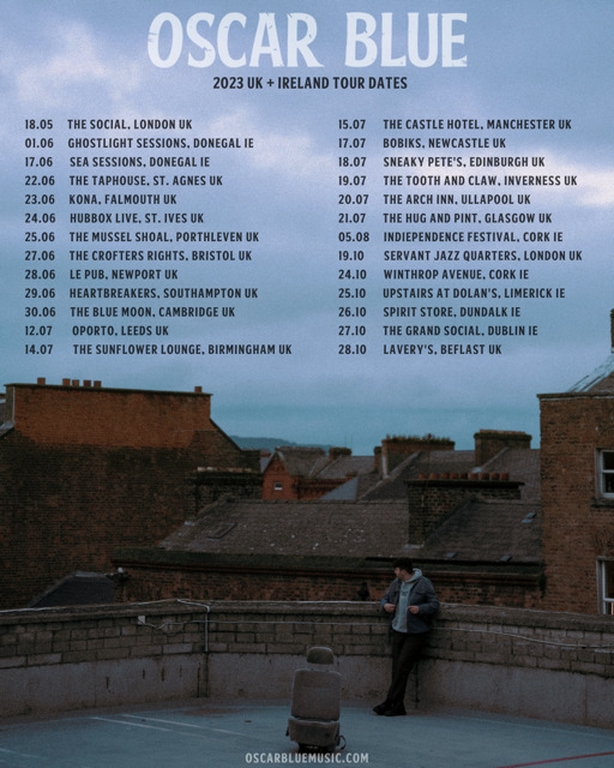 "I don't want to be a passenger in my life, controlled by the turbulence of living. I want to take the wheel, drive through the difficult stuff, and emerge stronger from it. Hopefully, this song can inspire strength for anybody else who feels the same."
Tell us three things about yourself . . .
I'm 24. I'm from a small village in East Co. Clare. My new single Passenger has just come out and I'm going on my first ever tour which is really exciting.
How would you describe your music?
I guess it's got your classic singer-songwriter vibe at its core, acoustic guitar, storytelling but with age, I've started to grow the sound to have a lot more pop and rock influence. What's always been important for me is having something to say in my music and being authentic in my writing.
Who are your musical inspirations?
A lot of Irish bands and artists from my youth like The Script, U2, Kodaline, Snow Patrol, Damien Dempsey and more recently artists like Holly Humberstone, Sam Fender, Maggie Rogers, and Phoebe Bridgers for sure.
What was the first gig you ever went to?
U2 360 Tour in Croke Park in 2009. I was 11 at the time.
What was the first record you ever bought?
The Script's debut album. One of the great pop albums in my books.
What's your favourite song right now?
The last couple of weeks I've been playing Newcastle artist L Devine's new single Push It Down on repeat. It's really great song writing.
Favourite lyric of all time?
"You're the only little girl I know who'd bring a kite in the snow. Said you just gonna hold it up? Said nah, I'm gonna let it go. And when your heart hurts days like today are the antidote" - From Dermot Kennedy's third ever single After Rain.
If you could only listen to one song for the rest of your life, what would it be?
How Can You Swallow so Much Sleep? by Bombay Bicycle Club. I never seem to get sick of this guitar riff. The song feels like a sunrise.
Where can people find your music/more information?
You can just search Oscar Blue on all social media or check out my website.