Actor James Martin was named Outstanding Newcomer at the Gradaim/RTS Ireland Television Awards on Tuesday.
Caitlín Nic Aoidh and Cormac Ó hEadhra presented the gala event which took place at The Galmont Hotel in Galway.
Each year the Outstanding Newcomer Award is given to an emerging screen talent who has made an impact on audiences this year.
Martin was honoured for "his excellent portrayal of his characters on screen". His latest work includes the role of Danny Armstrong in the Netflix / ITV series Marcella and his portrayal of Lorcan in the Oscar-winning short, An Irish Goodbye.
James Martin 👏✨ #GradaimRTS2023 pic.twitter.com/bp6x3kB3mI

— TG4TV🪬 (@TG4TV) March 28, 2023
Speaking about Martin Agnes Cogan, Chair of RTS Republic of Ireland said: "This award is to recognise emerging screen talent and its impact on audiences over the past year.
"James Martin, this year's recipient, has been lighting up our screens in the Netflix/ITV series Marcella, and with his unforgettable portrayal of Lorcan in the Oscar-winning short, An Irish Goodbye."
Other winners on the night included RTÉ's Storybud, The Accountant, the Con, the Lies, Crimes and Confessions, Speechless, The Ghastly Ghoul, A Note for Nature and Callan Kicks the Year.
Virgin Media's Redemption and Gogglebox, as well as TG4's Laochra Gael - Terence McNaughton, were also honoured.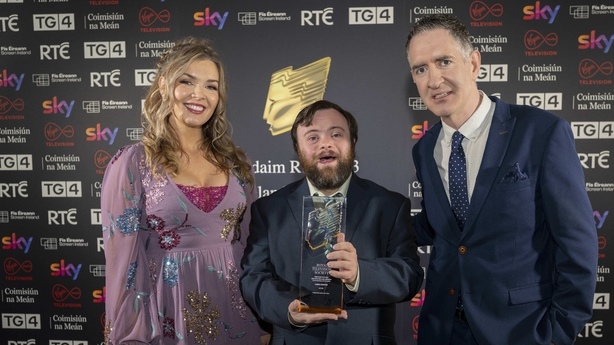 Originally founded in London as the Television Society in 1927, the Irish centre was launched in 1995. The Gradaim/RTS Ireland Television Awards seek to recognise Irish productions and international co-productions which are considered by peer jury members to have made a positive contribution worthy of acclaim by the industry and Irish viewers.