The directors of An Irish Goodbye led a chorus of Happy Birthday for the film's star James Martin after it won best live action short film at the Oscars.
Accepting the award, Tom Berkeley told the star-studded audience that the win was "the second most important thing about today".
This year the biggest night in the show business calendar also marks Martin's 31st birthday.
An Irish Goodbye follows the story of two estranged brothers, played by Martin and Seamus O'Hara, who come together after their mother's death to fulfil her bucket list.
It is directed by Berkeley and Ross White.
Martin took to the stage at the Dolby Theatre in LA to collect the award alongside his team, dressed in a leopard print blazer.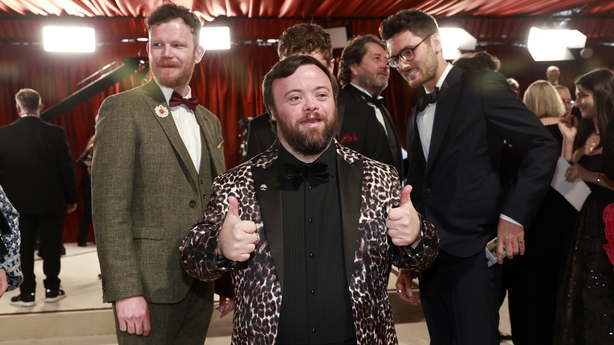 "This award is actually the second most important thing about today because it is this man's birthday," Berkeley said.
"He is out here in Hollywood wearing a leopard print suit jacket. We would love to use the rest of our time up here to sing for James."
Famous faces including fellow Irish star Colin Farrell were seen joining in the song, which was followed by cheers and a round of applause.
Speaking backstage in the winners' room, White told the PA news agency that James Martin was "the beating heart of our film".
The director added that he had wanted to create an "extra special moment" for Martin, by having the Oscars' audience sing to him on his birthday.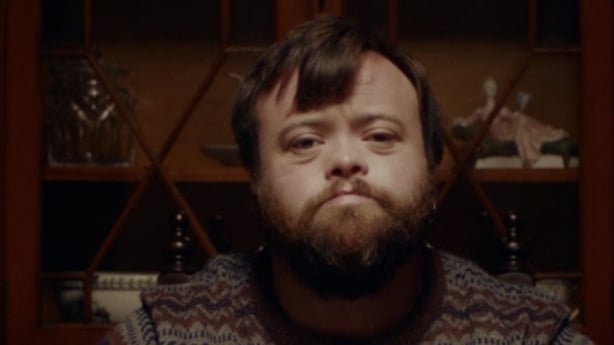 "Our man James Martin who is the beating heart of our film, it's his birthday today (and) this was always the second most important thing of the day," he said.
"We just wanted to make sure he had an extra special moment, so it was amazing to have everyone singing for him at the Dolby Theatre - how ridiculous!"
Martin previously told the PA news agency that having the two big events coincide was like "a Cinderella story".
"The timing of it has been just perfect. You know, you can't plan somebody's birthday to be on the Oscars," he said.
"So, it's a big day, (but) I just want to enjoy it really, just enjoy the experience.
"I mean, it's not every day that you go to LA for the Oscars."
White said he hoped there was "a bit of legacy" behind An Irish Goodbye and hoped that the film would play some part in bringing together the island of Ireland.
"I come from Northern Ireland and identity is a complex thing for us, our peace is an adolescent peace, it's a fragile peace always but we are so proud of peace and everyone I know wants to ensure that's protected," he said.
"Our crew for this film, they were from the Republic of Ireland…from Northern Ireland and we are just so proud to have this collaborative way of putting this film together.
"Hopefully there's a bit of a legacy there but we're just really proud to be representing Northern Ireland."
He also paid tribute to his fellow Irish nominees for making his journey "feel extra special".
Asked about the feeling of being part of this year's "Irish wave", the director said the team behind An Irish Goodbye had been "honoured" to be a part of it.
"It's been a special year for Ireland, and we feel thrilled to be such a small part of that, we know we're a small part of it - but the guys have been so welcoming to us," he said, speaking backstage after winning best live action short film.
"All those nominees inspire us so much; they've been so generous with us. It's made the journey feel extra special, feel like we're part of this strange little club of Irish nominees.
"We're really honoured to be a small part of that."
The actor previously said the Hollywood names he was most looking forward to meeting at the Oscars were Tom Cruise and Robert De Niro, as well as Friends stars Jennifer Aniston and Courteney Cox.
Source: Press Association
Watch An Irish Goodbye on the RTÉ Plsyer