Kevin McGahern became the seventh celebrity to exit the dancefloor following Sunday's drama-filled semi-final of Dancing with the Stars.
After a nail-biting dance-off, that resulted in the judges saving Suzanne Jackson, comedian McGahern departed the dancefloor. Jackson joins Brooke Scullion, Damien McGinty and Carl Mullan in the final which takes place next Sunday, 19 March.
Speaking after the judges voted for him to leave the show McGahern said: Kevin said: "I'm delighted to go out on a dance that I we feel we danced well, out on a high note."
The story-filled semi-final had a Fairy Tale theme and each of the five couples performed a routine inspired by a classic fairy tale. The Dance Marathon also took centre stage tonight where each couple had a chance to add to their scores.
The Pro dancers began tonight's show with their much-loved weekly performance. Their contemporary dance was to Crazy by 2WEI and Marvin Brooks.
Comedian and actor Kevin McGahern and Laura Nolan were the first couple to bring a magical twist to the evening. Their cute and contemporary Charleston to the classic Cotton Eye Joe by Rednex had a Three Little Pigs theme as John Nolan also featured in their dance.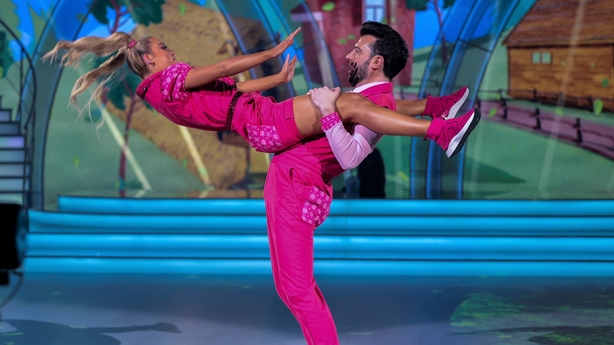 Loraine: "A perfect way to open the semi-final with a Charleston. We're 10 weeks in. Your co-ordination was so good. Kicks, spins, swivels. You had confidence and strength in the lifts – height and fluidity. This number goes with your character – fun cheeky chap – you let that shine through."
Arthur: "The Charleston – you really wanted to do it. You and Charleston, a match made in heaven. Lifts, kicks and swivels. It has personality and character. You blew the house down tonight."
Brian: "That was knockout. You have to bring energy. Great hoe-down, great line-dancing - not traditional to Charleston, a few dodgy swivels, but I loved it."
Kevin and Laura scored 27 from the judges. (His highest score of the series)
Singer and Glee star Damian McGinty and Kylee Vincent were the second couple to perform. Their Rumba made references to Sleeping Beauty as they danced to Stay by Shakespeare Sister.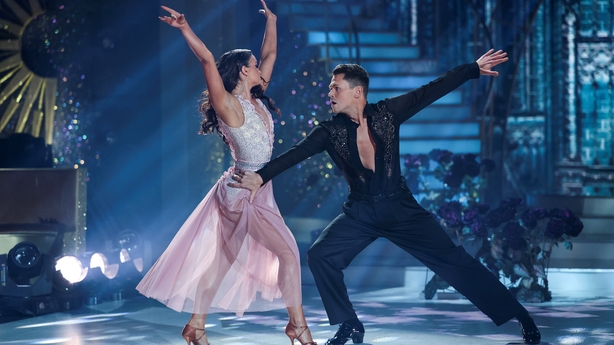 Arthur: "What an emotional song for a rumba. You turned into a fierce prince charming. We know it's a technical dance. No room for error. You brought precision and strength. After that performance I hope you stay in the final."
Brian: "You could have stayed asleep, but you didn't. You worked in such details. The simplicity delivered by power. Masculinity wrapped in a softness. The way you crossed the floor at one stage wasn't great but every other part of that rumba was technically as I love to see it."
Loraine: " It's the semi-final so you have to bring your best. That cheorography was so good Kylee. All the basic elements but with tricks. You became a leading man. You took on the dominant role. You were leading and supporting Kylee. Cuban motions – get it into the feet and legs, that's what I saw. I thought this was a stunning competition dance for you tonight."
Damian and Kylee scored 29 from the judges.
Following their record-breaking Rumba which earned them a perfect score of 30 on last Sunday's show, TV presenter and businesswoman, Suzanne Jackson and her professional partner Michael Danilczuk danced Tango to Hungry Like the Wolf by Duran Duran, inspired by the fairy tale Little Red Riding Hood.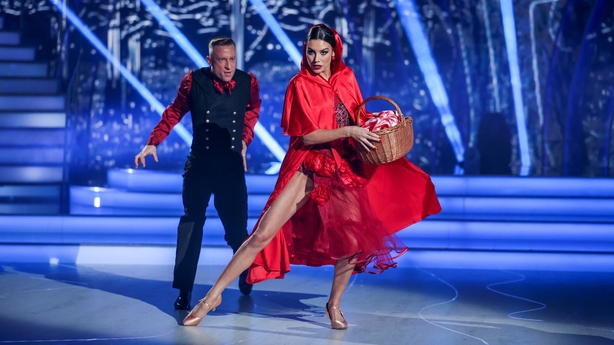 Arthur: "Suzanne – what great posture you had. What great head movements. That's the tango we needed in the semi-final. Your confidence has grown in the weeks. That was a fairy tale performance and you could get y our happy ending."
Brian: "We are so close to the final. This had power, aggression and commitment. I think you were having a go at us on one stage with your head position. At moments, it was a tough stiff but that has set you out as a potential finalist."
Loraine: "Tonight you had a fire in your belly. An explosive attach of that dance. I liked the position you both got in. Beautiful left arm placement. Your energy is making a statement out there and I really hope you reap the rewards."
Suzanne and Michael scored 29 from the judges.
Following her shock Dance-Off last week, Eurovision singer, Brooke Scullion and her professional partner Robert Rowiński were back to fight for their place in the grand final. They performed a Cinderella-themed Cha-cha-cha to Years & Years and Kylie Minogue's hit A Second to Midnight. Brooke was thrilled earlier this week when Olly Alexander from Years and Years wished her luck in response to her social media post.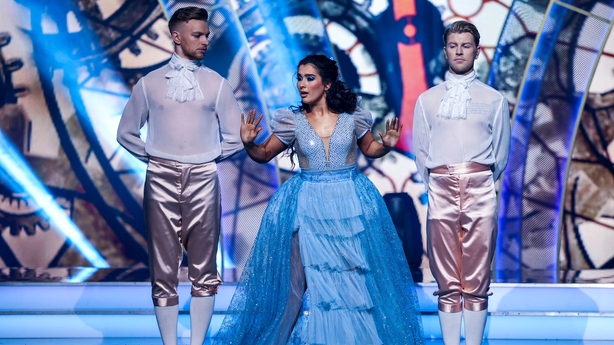 Loraine: "If there ever is a moment to showcase yourself it's the semi-final. Right from the moment you hit the stage, you took off that skirt and did the cha, cha, cha. Those lock steps in the middle, great timing, great feet. I'm blown away by your energy. I'm also blown away by your partnership. Such an evenly matched cha-cha cha. That was sensational."
Arthur:" Brooke or Cinderella – I know what it's like to have two ugly sisters beside you! Perfection is needed, you excelled under pressure in the dance off last week. A big, fun, upbeat dance tonight. Your fairy godmother Panti was looking after you."
Brian: " Cha cha is challenging. It was always going to challenge you. When you started you started at such a high level, combining that with those improvements are hard to find. Committed all the weight to the feet. Feet and ankles are on-point. You absolutely smashed it. The quality and technique used in that dance was the quality of a pro. If you are not in the final next week, I'm going to walk down those stairs in glass slippers."
Brooke and Robert scored 30 from the judges.
Part three of tonight's show closed with a lively Quickstep by 2FM presenter Carl Mullan and Emily Barker. Carl earned his first ten of the series last week. Jack and the Beanstalk was the inspiration for their dance and the danced to Hit the Road Jack by Throttle.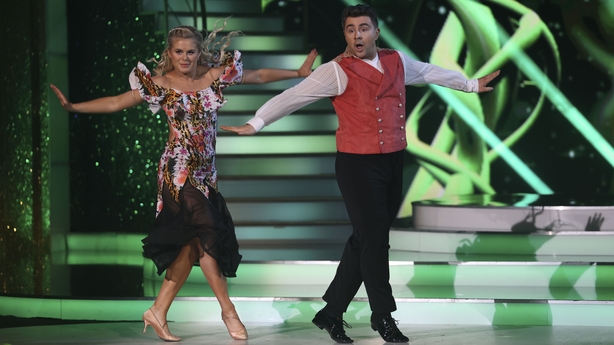 Arthur: "Fie, fi, foe fum. I smell blood of epic quickstep. All your dances up to now were building up to that performance. You always give this 100%. You take the competition very seriously, but you always bring the fun. Dancing is happiness and you bring the happiness. That was a giant performance."
Brian: "You must have been on a diet of jumping beans all week. Your frame was beautiful. Swing section was flat. I know you're hoping to climb the beanstalk to the final, but I'm afraid with that one little section might have let you down."
Loraine: "I disagree with that. The quickstep is fast and difficult. You were having fun and smiling throughout it. That's show business. It was light and agile in the skipping and hopping. When you slowed down, it gave you control."
Carl and Emily scored 26 from the judges.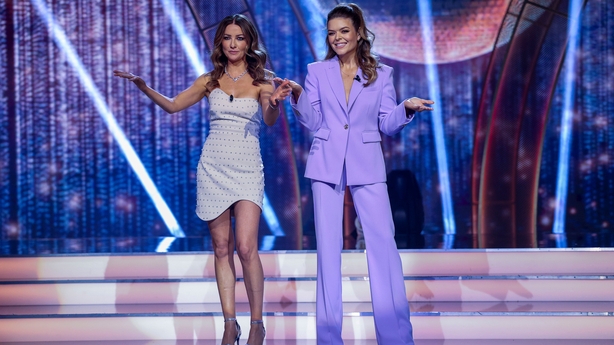 After a break, it was time for the Dance Marathon, during which time the voting lines were open. All five couples returned to the dancefloor to compete against each other for the first time. It had a Hansel and Gretel theme as they danced to I Want Candy.
One by one each couple was asked to leave the dancefloor by the judges. Each couple were vying to be the last one standing to earn five extra points. The first couple asked to leave the floor by the judges earned one extra point to their judges' score, with each couple gaining more points the longer they stayed.
Kevin and Laura were the first couple to be asked to leave, gaining one extra point. Suzanne and Michael followed next, then Carl and Emily and Damian and Kylee. Brooke and Robert were the last couple remaining on the dancefloor, earning themselves five extra points to their score.
Loraine: (On Brooke winning): "It's called the kitchen sink. You threw everything at it. The energy was so high. Cartwheels and spins. That's how you win a dance marathon."
Arthur: (On the dance marathon as a whole) "I think they all did amazing. You all smashed it."
Brian: (On Kevin leaving the dancefloor first) "I have never seen a semi-final in Dancing with the Stars like it, it is so close. It could have been anyone."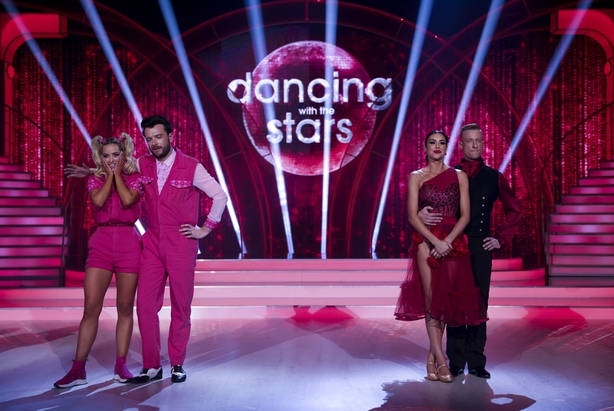 After a chat with the judges, it was time for the results. Suzanne and Michael along with Kevin and Laura found themselves with the lowest combined scores so each couple got a second chance to fight for their place in next week's Grand Final. Afterwards, the judges decided that it was time for Kevin and Laura to leave the competition.
The eliminated couple will be interviewed on The Ryan Tubridy Show on RTÉ Radio 1 from 9am.
The Dancing with the Stars Grand Final takes place on Sunday, 19 March on RTÉ One at 6:30pm.