So first things first - getting rid of the red carpet was not the best idea in the history of ideas. Or carpets. Or the Oscars.
Despite decades of propaganda in a song lyric asserting the opposite, it does indeed rain in southern California. The past couple of weeks has been particularly wet and snowy.
On Friday, the federal government authorised state of emergency funding for parts of LA to repair water damage from rain, mudslides, sinkholes and flooding.
So replacing a red carpet with a light beige-coloured one, yes the long walk the stars will take tonight in all their finery as they display themselves before the Hollywood paparazzi is now beige, is not felicitous in its timing.
OK, maybe being stars they might not actually get their feet wet as they waft from villa to limo to red carp ... ah, darn it ... beige carpet.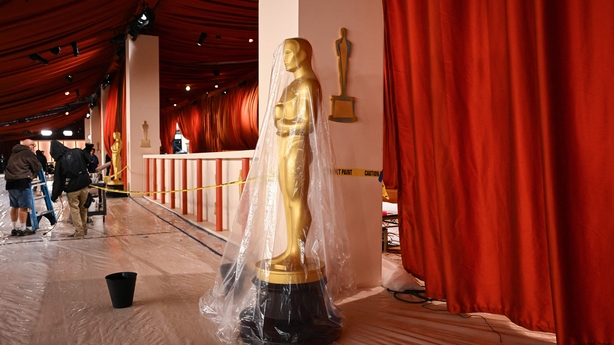 Maybe they won't leave an ever-diminishing trail of H2O and mud behind as they process into the Dolby Theatre.
Maybe, the Academy of Motion Pictures Arts and Sciences has figured out a way to stain-proof acres of beige carpet so nothing shows. We shall see (or not).
But the worst thing of all is that after 94 years of talking about stars on the red carpet, we can no longer talk about stars on the red carpet.
The term has entered the lexicon - red carpet not being literally a red carpet, but any strip where movie stars and allied trades disport themselves for the cameras.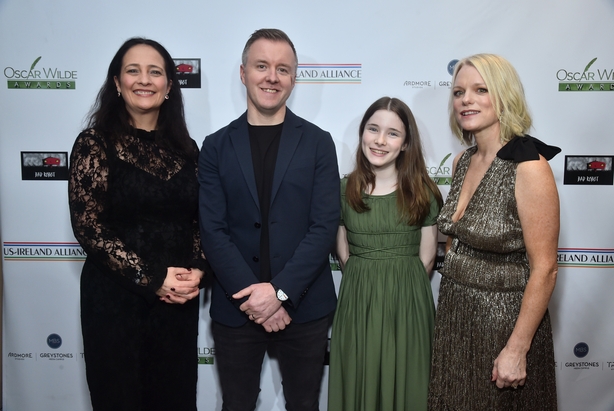 At the Oscar Wildes, the red carpet is green - entirely appropriate for an Irish-themed night.
In other Academy-hosted events, the carpet has been black or navy blue but is still called the red carpet. But at the Academy Awards, the red carpet is most definitively red.
Red carpet in industrial quantities used to cover the sidewalk of half a city block along Hollywood Boulevard that is transformed under a canopy into a lavishly equipped television studio.
Okay, officially we are supposed to call it champagne, but that's a county in northern France (and an IP protected type of wine), not really a colour. But mostly it is just inconvenient.
You know this setup as the red carpet. So do I and everyone else working this show.
But your eyes will tell you something different when you see the "red carpet". Maybe this new design will look fantastic. But old verbal habits die hard.
Then again, maybe this dissonance between the verbal and the visual, the jarring of expectations and the unexpected risk element of Irish-style weather inserting itself in an unplanned and anarchic fashion into a carefully constructed reality tells us all we need to know about this year's Oscars.
Everything Everywhere All at Once is the film getting the biggest buzz, and the biggest haul of nominations, at this year's Oscars.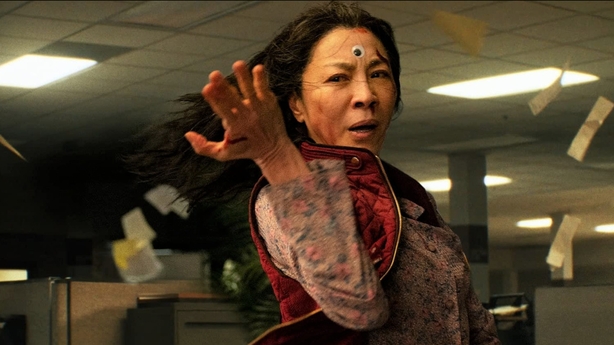 Not surprisingly. It's a really good movie: innovative, exciting storytelling that achieves the perfect Hollywood formula of packaging traditional Hollywood themes in a way that doesn't look like traditional Hollywood and appeals strongly to that elusive 20-something demographic that has largely disappeared from US cinema houses.
With its Asian-American lead actors and cultural style, it has appeal far beyond the usual US-Anglo demographic, while still appealing to old themes about immigrants making good in the USA (in many alternative realities!).
I was interviewed on the beige carpet by a young Japanese actor Kento Nakajima who is fronting an Oscars show for a Japanese channel.
Naturally, I told him I was Irish and we had a load of nominations, and The Banshees of Inisherin had nine and was a great movie.
He asked me to place a blue sticker on a big chart showing all the movies nominated for best picture.
Call me a traitor, but I plumped for Everything Everywhere All at Once, like almost everybody else he had interviewed. In his polite Japanese way he was slightly disappointed - he really wanted me to pick Top Gun: Maverick.
And in truth a big part of me also wanted to pick Top Gun. It's a cracking good movie - a big night out at the movies type of movie.
It needs a multiplex with a massive screen and a sound system cranked to 11 or higher, not a laptop screen with a weedy headset.
Guaranteed entertainment (unlike The Banshees of Inisherin, which is marketed as a comedy, but lots of Americans don't get the joke, and neither do lots of other non-Irish/non-Europeans who find Martin McDonagh's humour hard to take, a criticism I have heard from a lot of people, who went for entertainment and came out counting their fingers).
Also, Hollywood owes Tom Cruise. To be more precise, the owners of multiplexes owe Tom Cruise for holding back the release of this movie during the pandemic, until it could play to packed houses again - the way cinema is meant to be.
We need your consent to load this YouTube contentWe use YouTube to manage extra content that can set cookies on your device and collect data about your activity. Please review their details and accept them to load the content.Manage Preferences
It's about the only film that did play to packed houses last year, helping many of them survive a horrible period for movie houses.
It's also technically brilliant and should pick up some awards for the trade skills.
But picture of the year? A stretch, methinks. And re-treads can only get an industry so far - it needs fresh thinking too, and Everything Everywhere All at Once provides.
Retreating from the red ... sorry beige carpet, I cleared security back to the "normal" world of Hollywood Boulevard.
Slipping into the courtyard of the Chinese Theatre next door, the one where the stars of long ago wrote their names in wet concrete, I decided to conduct an utterly unscientific poll of the punters gathered there - obvious movie buffs one and all.
Our most striking finding? How many of them didn't know the Oscars were on this weekend and not just on, but literally next door.
The fact that most of the street was fenced off and covered in broadcast trucks didn't seem to impact on them as being out of the ordinary.
"Oh my God - the Oscars are this weekend? Where? - Really? Oh my God, that's so cool! I never knew that."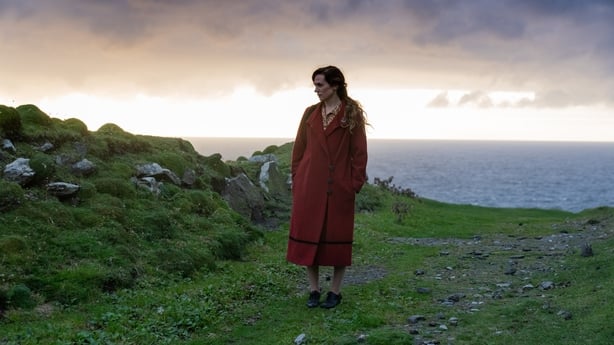 The second thing that struck me, nobody mentioned The Banshees of Inisherin.
The first punter who knew anything was a young Spanish lady, who immediately blurted out The Fabelmans because she was a mega Stephen Spielberg fan.
Top Gun: Maverick, said her friend, while the third in the trio deferred to the leader, and went with The Fabelmans, Spielberg's semi-autobiographical movie about a young man.
An Australian lady was clearly more patriotic than me, and went with "Elvis", directed by Aussie Baz Luhrmann, adding in Cate Blanchette for best actress for Tár.
I thought Elvis was great too, brilliant photography and editing, story well told, and Austin Butler fully deserving of his nomination in the lead role (on which the film stands or falls, and it stands).
I also thought Tom Hanks did well as "Colonel" Parker, but what do I know: the UCLA film school crowd just awarded him the Razzie for worst actor in a supporting role (with a second award for his makeup!).
Nobody mentioned All Quiet on the Western Front either, which like The Banshees of Inisherin has garnered nine nominations, including best picture.
I saw this Netflix film on an iPad on the long flight down from DC.
Maybe it was having seen all the previous versions, maybe it was the six hours in the cheap seats, but it just felt like World War I itself was shorter than this movie.
Not that it was a bad movie (though the dubbed English accents, stage school middle class, were a bit jarring: personally would have preferred German lads reading the English-language script).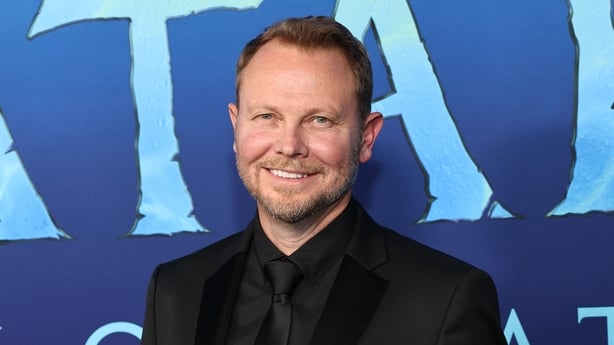 Again this one has gathered a lot of technical nominations (I thought the sound design was outstanding), and should do well. But I didn't see any blue stickers for it on Kento's big board.
Talking of blue, Avatar: The Way of Water is another big-budget blockbuster to gather a few norms, including for best picture.
I haven't seen it, if I found World War I too long to endure, the thought of more of the same at similar length left me unmotivated to complete my research assignment for this trip.
But it does provide Ireland with one of its most likely Oscar take-homes, that for achievement in visual effects, with one-time Ballyfermot College of Further Education animation student Richie Baneham one of the four VFX leads named by the academy for this category.
He is up against All Quiet on the Western Front, The Batman, Black Panther: Wakanda Forever and Top Gun: Maverick - and that is quite some competition.
Screen Ireland, the State agency that has been helping provide permanent infrastructure and human and financial capital in the Irish film industry for the past 30 years, sees visual effects as a big growth area for Ireland.
We need your consent to load this YouTube contentWe use YouTube to manage extra content that can set cookies on your device and collect data about your activity. Please review their details and accept them to load the content.Manage PreferencesSome executives from Irish effects houses have been in Hollywood for the past fortnight, part of a Screen Ireland/Enterprise Ireland trade mission trying to capitalise on the record-breaking haul of Irish nominations.
It is rare enough a door opens to anyone in Hollywood - when it does you are duty-bound to push your way in and make your pitch.
It is probably a mark of the professionalism of the Irish movie industry that they were primed and ready to make a coordinated push to make the best of this unique moment.
But what of the stars? Irish interest in the male lead actor category is of course on Colin Farrell for the Banshees and Paul Mescal for Aftersun.
To get one Irish actor nominated in this category is great: to get two is beyond great, and a sign of the health of the acting trade and the tributaries that feed it in Ireland.
To repeat the trick in the male best-supporting actor category, with Brendan Gleeson and Barry Keoghan both nominated for The Banshees of Inisherin, is beyond great.
So much so that I confess to being out of superlatives at this point.
When it comes to Brendan Gleeson most of the superlatives have been used up anyway.
For what its worth, when I saw the film last year I thought Barry Keoghan was the standout performance.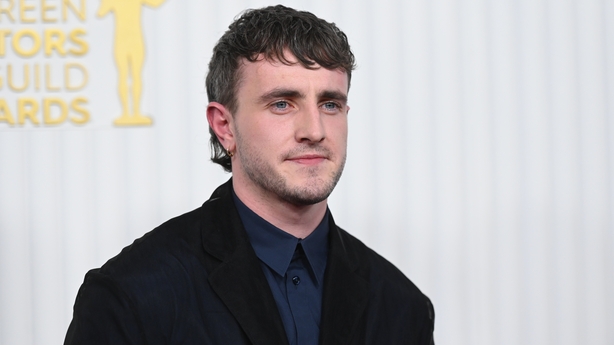 So can any of the guys win? Of course they can. But competition is tough, especially for messers Farrell and Mescal, who are not only up against each other, but Austin Butler for Elvis and Brendan Fraser for "The Whale".
My cameraman (a film school graduate, I'll have you know) was much taken with Fraser in this role, and its his tip for an Oscar.
Bill Nighy, always good, rounds out the field for Living. Tough choices here.
The male best-supporting actor competition for the Irish pair are Bryan Tyree Henry for Causeway, Judd Hirsch for The Fabelmans and Ke Huy Quan for Everything Everywhere All at Once.
In the best female actor category, Michelle Yeoh seems to be the bookies' favourite for Everything Everywhere All at Once.
As mentioned by our Aussie tourist, Cate Blanchett is nominated for Tár, Ana de Armas for the Marilyn Monroe biopic "Blonde" (she also won a Razzie for worst actor this weekend - a bit harsh I thought).
Michelle Williams is also nominated for The Fabelmans, while Andrea Riseborough has that controversial nomination for the obscure To Leslie.
This brings us to best supporting actor in a female role and another Irish actor strongly tipped: Kerry Condon for Banshees.
Of course she is up against it, starting with Jamie Lee Curtis in Everything Everywhere All at Once and Stephanie Hsu in the same film, Hong Chau in the Whale and Angela Bassett in Black Panther: Wakanda Forever.
Three auguries here: my colleague Laura Fletcher discovered an old school yearbook in which Ms Condon said she wanted to be an actor and go to the Oscars - big box ticked.
Second, the industry bible Variety says she should win for this performance.
And third, I have a photo of me interviewing her on the red - I mean green - carpet at the Oscar Wildes on Thursday.
And she was great in the movie (and in real life). Ok, that's five reasons. But in Hollywood nothing succeeds like excess.
This brings us back to the beige carpet and the un-Californian weather. Half a city block's length of off-white carpet laid over a sidewalk is excess.
But hey, its Hollywood. It is part of a careful set design, to refresh and change up the Oscars ceremony for a younger generation.
They might even stick with it for the next four Oscars.
But I predict the red carpet will be red once again for the 100th edition of the Academy Awards. It's the only prediction I am remotely confident about.
Though the more I think about An Cailín Ciúin, the more I think it could pull it off and produce a real-life Hollywood ending for the first-time feature filmmakers behind this movie, which is like a perfect miniature oil painting. In dreamland, we can all dream. Up the Irish!
The 95th Academy Awards take place at the Dolby Theatre in Los Angeles tonight and will be broadcast on RTÉ2 and RTÉ Player on Monday from 9.30pm.