There was an aww-some moment on Friday's Late Late Show when Brian Dowling Gourounlian and Arthur Gourounlian brought their baby Blake on to the show.
The Big Brother champion and his husband, Dancing with the Stars judge Arthur, along with Brian's sister Aoife Dowling, who was their surrogate, shared the highs and lows of their experience ahead of the screening of their new RTÉ documentary Brian & Arthur's Very Modern Family.
Beaming, Brian told Ryan Tubridy: "I think when people see it, they'll go: 'How does this work?' But when you see it, then you understand it. The dynamics.
"We wanted to be dads . . . we met in 2002 . . . and we just kept saying the time was never right. We focused on our careers and living in London. We kept making excuses."
"A miracle happened - and she's just sitting here," Arthur said, referring to Brian's sister Aoife.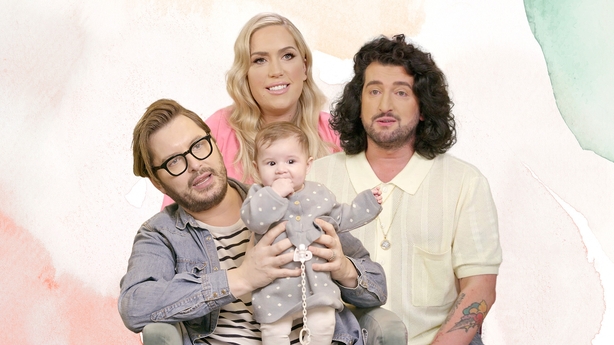 Ryan then turned to Aoife - one of six Dowling sisters - and asked how she got involved. "I suppose I'd seen how much they were struggling over the years," she told Ryan. "And I'm not sure if I want to have children myself in the future, and to be able to experience pregnancy, and help my brother and his husband to become parents."
Brian then added: "Because there were so many of us (Dowlings), people always joked: 'One of your sisters will do it for you! One of your friends will do it for you!' Slowly but surely they went: 'Getting married, having a kid - you're on your own'.
"Aoife kept saying it to us. We thought she was joking." Brian then looked at Aoife and said: "Then you and I went for a walk in January 2021."
Aoife then took up the story. "I said 'I'm serious. I really want to do this for you. But if we're going to do it, we're going to do it now. I was ready," she smiled.
When they returned to Arthur, they told him the news. "They said: 'We're having a baby,'" he recalls. "And I said 'What? What happened? And then we started talking . . . and that's when it all started."
Aoife admitted that there lots of worried members of the Dowling clan when the news broke. "None of us had done this before," she said. "We didn't know how it was going to pan out.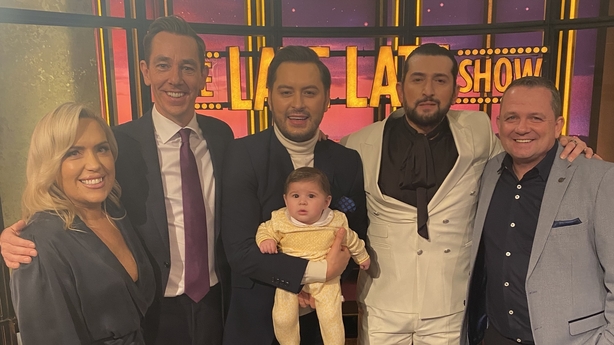 "Before I made the decision I did go and see a therapist, to get myself ready and be mentally prepared for it. I was good to go."
Brian then spoke about the discussion that developed around what would happen after the baby was born, in relation to Aoife, birthdays, Christmas and all of that. "The dynamics," as he put it.
"I was really worried about that but it's so funny to us now, in where we are. I also had a fear that Aoife would change her mind and would take the baby from us - which she could have done. I was really worried about that.
"But then afterwards I was like, 'Why was I so worried?'"
Brian also explained that they'd decided not to reveal whether he or Arthur is baby Blake's biological father. "We've never disclosed that publicly, we don't feel we need to," he said.
"If we're ever going to have a conversation about that, it'll be with our daughter Blake. If she needs to know that.
"We obviously used an egg donor, so Aoife is not the biological mother. Under Irish law she's Blake's legal mother."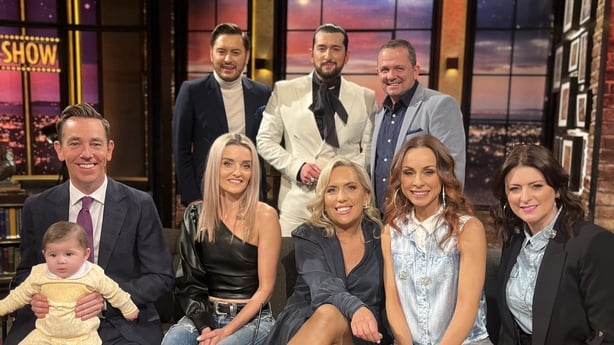 After Aoife noted that she sees herself as Blake's aunt rather than her mother, Brian then spoke about the legal end of surrogacy in Ireland.
"There's so much going on behind the scenes with court cases and paper work," he said. "Even the day Blake was born, Aoife had more rights over anything Blake needed than the biological father.
"So Aoife insisted on signing some paperwork that would allow us to be consulted if Blake required any medical attention."
Aoife also spoke about Brian and Arthur being with her during the pregnancy - and just before baby Blake was brought on stage, Arthur described the emotion of holding Blake in his arms for the first time.
"There are no words to describe how I felt," he told Ryan, before Brian went to pick up Blake, joking: "There's one for everyone in the audience!"
The Late Late Show, Fridays, RTÉ One and RTÉ Player, 9:35pm