The Oscar Wilde pre-Oscars bash was a star-studded affair with Oscar nominee Kerry Condon, Jessie Buckley and Eve Hewson among the honourees.
Hollywood directors don't come much bigger than JJ Abrams of Star Wars and Star Trek fame.
Once again hosting the Oscar Wilde Awards at his Bad Robot studio in Santa Monica, there are few better placed to put those 14 Irish Oscar nominations in context.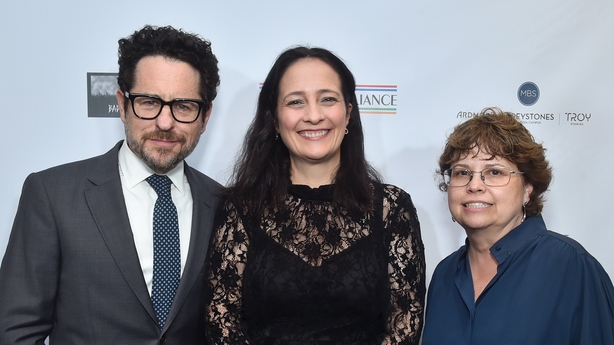 "I think it's on fire," an ebullient Abrams told RTÉ.
"I think Irish cinema is obviously kicking serious ass, and it is wonderful to see so many Irish people nominated for such extraordinary work. The list is pretty remarkable."
Asked if he had any personal favourites this year, he said "I can't say because you know, they're all here and if I name one, not the other I'll get my ass kicked."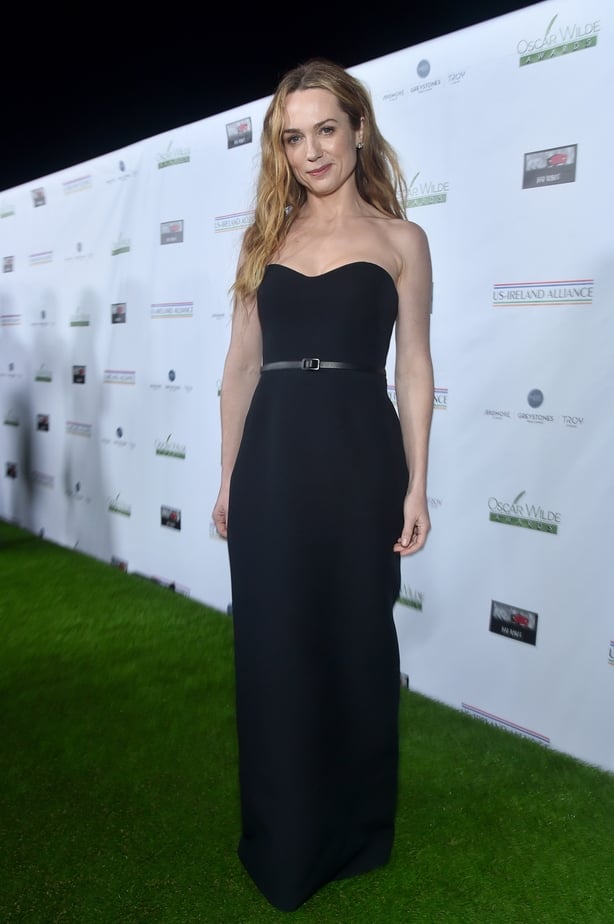 The famous green carpet at the Oscar Wilde Awards on Thursday was a veritable conveyor belt of Oscar-nominated directors, technicians and actors, like Kerry Condon, nominated as Best Supporting Actress for The Banshees of Inisherin.
"Jimmy Kimmel is going to be presenting, and I did his show. So, I'm looking forward to seeing him because that's quite a difficult thing to do - to host a big, long show like that," she said.
"So, I'm looking forward to that and seeing the performances. I think Rihanna is going to be performing so I'm looking forward to that. So, it's not all about me!" the Thurles-born actor exclaimed in mock indignation.
I asked her if she would be getting good seats in the Dolby Theatre on Sunday. I should have known better. "I think we get good seats. Yeah - you usually do if you've got nine nominations".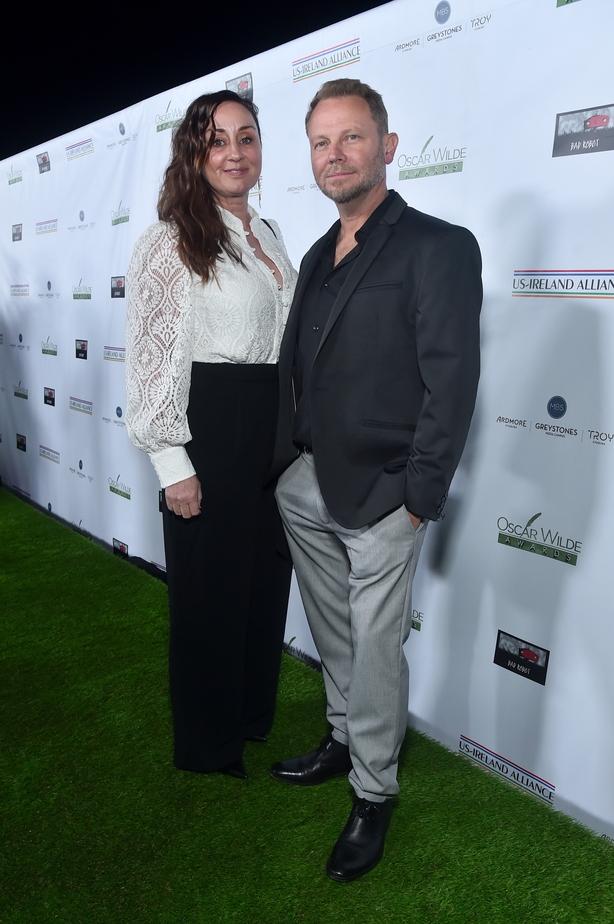 One of the hot favourites for an Oscar is Dubliner Richard Baneham, a visual effects artist, nominated for his work on Avatar, The Way Of Water, the latest instalment of the blockbuster from director James Cameron.
"It's lovely to be congratulated on the movie because really, that's where it stems from. The nominations are great, and it's a lovely recognition," he said. "But truly, the work is what counts and if people connect with the movie, that's a job well done for us."
Oscar-nominated short movie An Irish Goodbye is also a hot tip, and its production team of Tom Berkeley and Ross White are loving the Hollywood treatment.
"We've met Steven Spielberg, Tom Cruise, Guillermo del Toro, all of these cinematic heroes of ours," said Tom.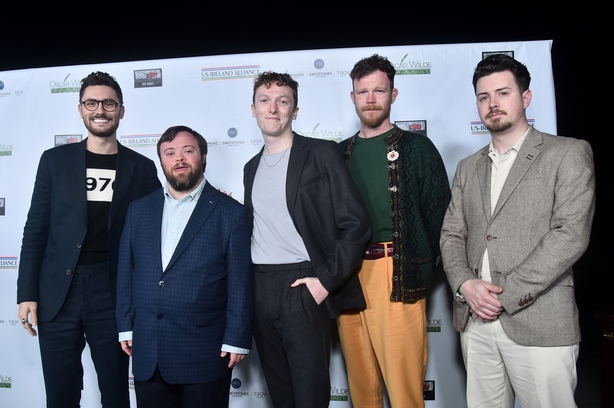 "Normally, you wouldn't be in the same rooms as these people and here we are speaking with them, getting a bit of advice as emerging filmmakers. It's been remarkable for us, so yeah, we're chuffed to be here".
Ross tries to make sense of their movie journey from humble to Hollywood: "We pulled a lot of money together on Kickstarter and, you know, public funding.
"It was a real kind of homemade spirit around the film. So, it feels lovely to end up surrounded by all this kind of pomp and ceremony but it's so far away from where we started."
But Tom remembers the hard sell, too. "Can I do a little plug quickly and say we're actually going to be playing on RTÉ this weekend for the Oscar weekend so you can catch the film on RTÉ".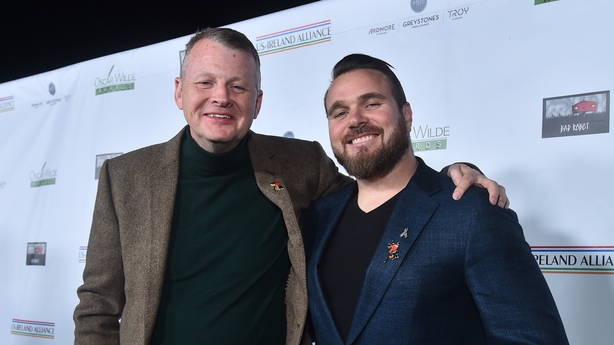 Director Joel Crawford isn't Irish, but he is nominated in the Best Animated Movie category for Puss in Boots - The Last Wish, along with producer Mark Swift, who does have relatives in Kilkenny.
I ask them if Hollywood is the only place where big-budget animations can be made. "No," says Mark. "You can make them anywhere in the world. Look, some of the best animation is coming out of Kilkenny right now."
Joel joins in on the international world of animation movies: "We're inspired by animation all over the world and actually what's cool in Hollywood now, the animation is starting to kind of spread in the style and not just be so much like this western-style animation".
Another Oscar-nominated director-producer combo at the Oscar Wilde Awards was An Cailín Ciúin director Colm Bairéad and his wife and movie producer Cleona Ní Chrualaoí.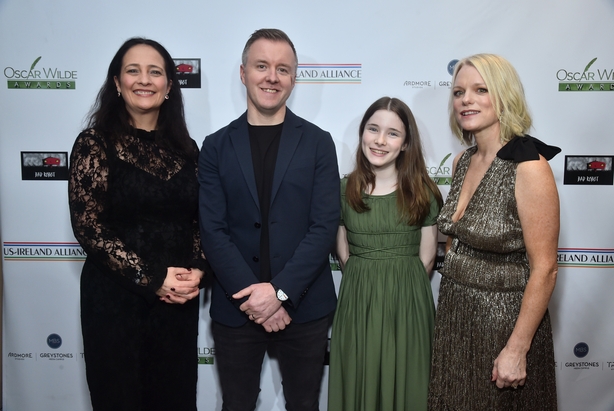 "It's a wonderful night for the Irish in Hollywood," said Colm. "We've heard it's a kind of a legendary evening. It's our first time at the Oscar Wildes so we're looking forward to the night."
"Yeah, absolutely," agreed Cleona. "You know, it's been quite a long journey to get here. Really, you know, we've been on the road I suppose on the campaign for six months now, over six months.
"We got an amazing send-off from Dublin airport yesterday and I think half the country is with us in fairness. And we're gonna really, yeah, just make our mark here in Hollywood."
Suddenly, amid all the swirling papparazzi and stars was An Cailín Ciúin herself, 12-year-old Catherine Clinch - fresh off the plane from Ireland and straight into her first Hollywood red carpet event.
"It's amazing. I mean, I'm so shocked. I'm really excited and especially I'm really proud of Ireland and everything we've done to get here."
"This is an amazing experience for me. It's been out of this world, really. And I'm so grateful. I'm really just so happy. And I've met so many amazing people as well. Yeah, I'm just I'm so happy to be here".
But what about the big show on Sunday night? Is she looking forward to that much longer walk on the new, Champagne-coloured carpet (formerly the red carpet) at the Dolby Theatre in Hollywood?
"Yeah, I am. I mean, I'm excited. I'm nervous as well. But mostly I'm really excited".
The 95th Academy Awards take place at the Dolby Theatre in Los Angeles on Sunday night and will be broadcast on RTÉ2 and RTÉ Player on Monday from 9:30pm.