The director of a short film which has been nominated for an Oscar has paid tribute to Northern Ireland arts groups for giving him his start.
An Irish Goodbye has already won Best British Short Film at the Baftas and could scoop the Oscar for Best Live Action Short Film this weekend.
The film is a dark comedy set on a farm in Northern Ireland. It tells a story of two estranged brothers - one with Down's syndrome, played by James Martin - who come together after their mother's death to try to fulfil their mother's "bucket list" with her ashes before they sell off the family farm.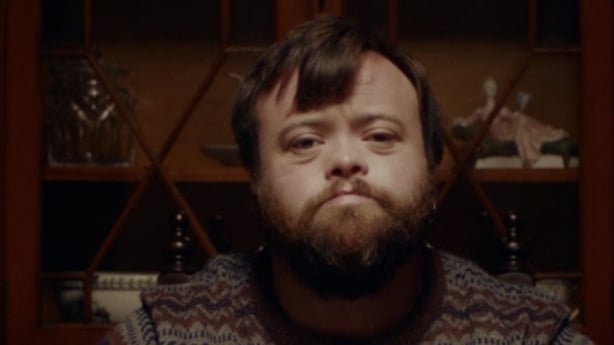 It was shot on location in Derry, Templepatrick and Saintfield and also stars Seamus O'Hara, Paddy Jenkins, and Michelle Fairley.
Sunday could be a double celebration for Martin as he celebrates his birthday and attends the Academy Awards.
Director Ross White is already in Los Angeles, and joked he was recovering from jetlag but was having a great time.
He paid tribute to Northern Ireland groups the Belvoir Players and Ravara Productions for giving him his start.
We need your consent to load this YouTube contentWe use YouTube to manage extra content that can set cookies on your device and collect data about your activity. Please review their details and accept them to load the content.Manage Preferences
"All those great organisations gave me a start and really got me excited about storytelling, and then the professional work that happens in our wee place is just astounding for the size of it," he said.
"It's a really exciting time to be from Northern Ireland and be an artist trying to make work.
"It's all a bit surreal, a bit 'pinch me', but we're just trying to have fun with it and enjoy ourselves. We had a really good night at the Baftas, and we're going to do exactly the same for the Oscars.
"They are competitions, but being here, being in the room, you've already won, so we're just going to have a good time."
Martin is travelling out later this week ahead of the ceremony on Sunday.
He said a friend of his, who also has Down's syndrome and is an actor, inspired him, and like White he paid tribute to the Belvoir Players as well as the Babosh drama group for giving him his start.
"I thought to myself I may as well talk to my folks about this drama group up the road, and I thought I might as well try out, and the next minute, bang, I've got my own TV show, Ups And Downs, and it's been a fantastic ride," he said.
"I'm just glad that An Irish Goodbye is going this far, it's actually on the day of my birthday that the awards will happen - it's the icing on my birthday cake that it might happen. I'm going to party in style with the boys."
He has already made some celebrity friends such as actor Colin Farrell, who he met at the Baftas, and is hoping to meet Tom Cruise and Steven Spielberg at the Oscars.
He said he would encourage anyone to try acting.
"I would say talk to a drama group, it doesn't matter if you have a disability, do what you can, and never judge a book by its cover," he added.
Source: Press Association