Smother, Gogglebox Ireland and Free Gaff are among the nominees for this year's RTS Ireland Television Awards.
Hosted by Caitlín Nic Aoidh and Cormac Ó hEadhra, this year's RTS Awards will take place on 28 March in the Galmont Hotel, Galway.
Originally founded in London as the Television Society in 1927, the Irish centre was launched in 1995.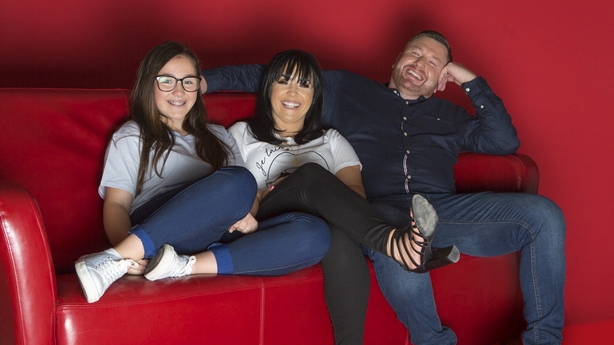 Gradaim RTS / RTS Ireland Television Awards seek to recognise Irish productions and international co-productions which are considered by peer jury members to have made a positive contribution worthy of acclaim by the industry and Irish viewers.
Speaking at the announcement of this year's nominees, RTS Ireland Awards Chairperson Lís Ní Dhálaigh said: "TG4 is delighted to host the RTS awards this year, and we look forward to welcoming producers and programme teams to Galway, a thriving hub for the screen industry in Ireland."
Here are the RTS Ireland Television Award nominees in full:
Drama
Doineann, DoubleBand Films (TG4)
Every Five Miles, Vico Films (RTÉ)
Holding, Happy Prince, Port Pictures (Virgin Media)
Redemption, Metropolitan Films (Virgin Media)
Smother, Treasure Entertainment (RTÉ)
Entertainment
Callan Kicks the Year, Wonky Chair Media, (RTÉ)
Cumasc: Seisiúin sa Black Gate, Black Gate Productions (TG4)
Dancing with the Stars, ShinAwiL (RTÉ)
Free Gaff, Green Inc Film & Television (RTÉ)
The Ultimate Irish Playlist, ShinAwiL (RTÉ)
Factual Series
Cois Móire, Cormorant Films (TG4)
Crimes and Confessions (RTÉ)
An Diabhal Inti, Lagan Media Productions (TG4)
Great Lighthouses of Ireland, Inproduction TV (RTÉ)
Factual Single
Cyril Cusack: Lár An Stáitse, Dearg Films (TG4)
Speechless, Firebrand Productions (RTÉ)
The Ghost of Richard Harris, Bright Yellow Films, Samson Films, Groove International (Sky Arts)
Young Plato, Soilsiu Films, Aisling Productions, Clin d'Oeil Films and Zadig Productions (RTÉ)
Sport
Anton O'Toole - Finscéal de Shaol GAA, Bankos Tales Productions (TG4)
The Connacht Way, Motherland (RTÉ)
Laochra Gael - Terence McNaughton, Nemeton TV (TG4)
Munster Vs South Africa A (Virgin Media Television)
Saipan - Rebel without a Ball, (RTÉ)

News and Current Affairs
The Accountant, the Con, the Lies (RTÉ)
The Death of Ashling Murphy (Virgin Media News)
Eden Heaslip (RTÉ)
RTÉ Investigates: Missing Pieces (RTÉ)
Tragedy in Creeslough (Sky News)
Animation
Boy Girl Dog Cat Mouse Cheese, Kavaleer Productions, Watch Next Media, Cloud Co (RTÉ)
Fia's Fairies, Little Moon Animation (RTÉjr)
The Ghastly Ghoul, Dream Logic Animation Studios and Lupus Films (RTÉ)
Kiva Can Do, Kavaleer Productions (RTÉ)
The Presenter, Cardel Entertainment (RTÉ)
Specialist Factual
An Buachaill Gealgháireach, Imagine Media (TG4)
Francis Bacon, The Outsider, Mount Venus Productions (RTÉ)
Ireland's Dirty Laundry, New Decade TV (RTÉ & ARTE)
Maeve Binchy: The Magic of the Ordinary (RTÉ)
A Note for Nature, Crossing the Line Films (RTÉ)
Children's Programme
Blast from the Past, Firebrand Productions (RTÉ)
Dizzy Deliveries, Macalla Teoranta (RTÉ)
Ireland's Future is Mine, Tamber Media & Reverist (RTÉ)
The Imagination Machine, Firebrand Productions (RTÉ)
Storybud, Kite Entertainment (RTÉ)
Factual Entertainment
Bagatelle - Ómós do Liam Reilly, Four Quadrant Films (TG4)
Generation Dating, Coco Content (Virgin Media)
Gogglebox Ireland, Kite Entertainment (Virgin Media)
Lucy Investigates, ADARE Productions (Virgin Media One)
Secrets from the Showroom (RTÉ)