Dublin singer Daoirí Farrell has released his new album, The Wedding Above In Glencree. We asked him the BIG questions . . .
It's the fourth solo album from the multi-BBC Radio 2 Folk Award winner Farrell, and in his own words, it "combines the rawness of my first album, the impact of my second album and the beauty of my third album."
We need your consent to load this Spotify contentWe use Spotify to manage extra content that can set cookies on your device and collect data about your activity. Please review their details and accept them to load the content.Manage Preferences
A number of the songs on The Wedding Above In Glencree were collected from long-time members of Dublin's An Góilín Traditional Singers club.
The album's traditional songs are complemented by original works from Pecker Dunne, Ron Hynes, Paddy Ban O'Brien as well as Canon Charles O'Neill's The Foggy Dew, the latter initially appearing as his contribution to the RTE One TV production, Ireland's Favourite Folk Song. Also featured is the first original tune by Daoirí himself, Damien Walsh's.
Daoirí is joined on the album by Manus Lunny (guitar, bouzouki and bass bouzouki), Paddy Kiernan (five-string banjo), Mark Redmond (uilleann pipes and whistles), Pat Daly (fiddle and harmonium), Trevor Hutchinson (upright bass), Robbie Walsh (hand pan and bodhran), Alan Doherty (whistles), Geoff Kinsella (tenor banjo) and a special guest appearance on Sonny's Dream by internationally renowned bluegrass dobro player, Jerry Douglas.
The Hot Spot Music Club, The Beach House, Greystones on 24 February, The Seanti Bar, Smartscastle, Waterford on 3 March, Dolan's, Limerick on 4 March, Dún Uladh Cultural Heritage Centre, Omagh on 25 March, Red Hot Music Club, Fallons, Kilcullen on 25 May.
Tell us three things about yourself . . .
My name is Daoirí (pronounced Derry) Farrell, It's an Irish name that I believe translates to King of the Oak. I was born and raised in Dublin (Crumlin). I was an electrician long before I was a musician.
How would you describe your music?
I am a singer and bouzouki player who loves to sing a mixture of new and old traditional songs.
Who are your musical inspirations?
There would be way too many musical inspirations to mention here but I guess if you went back to the root of it you might find my musical inspirations to be Planxty, The Bothy Band, The Fureys, The Dubliners, Christy Moore, Mary Black, etc.
What was the first gig you ever went to?
The First gig I ever went to was a solo Christy Moore gig. As far as I can remember, Vicar St was a fairly new venue at the time and the gig was amazing.
What was the first record you ever bought?
This one is easy. On my first communion, my ma and da took me into Temple Bar to Claddagh records and Charlie sold me the "Purple Album" by Paul Brady and Andy Irvine. I remember asking Charlie if he could recommend anything and he told me that this album was fresh on the shelves in CD form, and I think he followed with "Do you have a CD player?". I apologise if I am making your readers feel old. I still have that very album.
What's your favourite song right now?
I was waiting for this question, and It is obviously a very hard one to answer. I suppose like everyone, at different stages we all have different favourite songs. My favourite song to listen to right now I suppose would be one that was written by a man from Cork, Ger Wolfe, called The Curra Road.
We need your consent to load this YouTube contentWe use YouTube to manage extra content that can set cookies on your device and collect data about your activity. Please review their details and accept them to load the content.Manage Preferences
You see, a few weeks ago I got to meet Ger while being chauffeured down The Curra Road after a game of road bowling. As we were actually listening to the song, the last thing I thought was going to happen was a brief meeting with Ger. The following day we met for coffee, and it was lovely. I enjoyed spending time with him. A fantastic songwriter and just a wonderful human.
Favourite lyric of all time?
My favourite lyric of all time might just be the verse from Bill Caddick's song John O'Dreams. "Both Man and master in the night are one, All men are equal when the day is done, The prince, the ploughman, the slave, the free man, All find their comforts in old John O'Dreams".
If you could only listen to one song for the rest of your life, what would it be?
That day, years ago when I got the "Purple Album" by Andy Irvine and Paul Brady. Arthur McBride is track five on that album as far as I can remember. I've always loved this song and this album is probably the one that first spiked my interest in the bouzouki. I just love what Andy, Paul and Dónal Lunny done on this album. They have been a massive influence on my music style.
Where can people find your music/more information?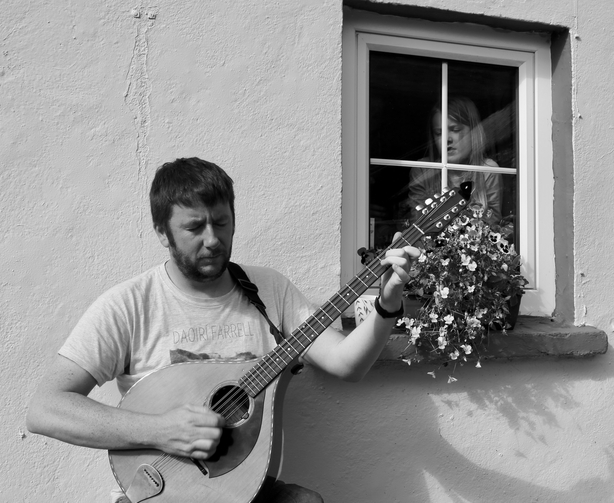 My upcoming album is available for pre-order on Bandcamp. For information about my upcoming tour, visit my website.