Danielle Deadwyler may be in the running for an Oscar for her powerhouse performance as a mother crusading for justice for her murdered son in Jim Crow America
"Be small down there." That's the widowed Mamie Mobley-Till's advice to her only son, 14-year-old Emmett, as he prepares to head from his home in Chicago to visit his cousins in the town of Money in Mississippi in the late summer of 1955.
Mamie, a radiant Danielle Deadwyler, knows only too well how very different things are below the Mason-Dixon Line. In the deep south of the USA, the petty and major indignities of everyday racism are still endured by the black community, and Emmett, an excellent Jalyn Hall, is a lively and happy-go-lucky young man who may let his naivety fall foul of the suspicious white population.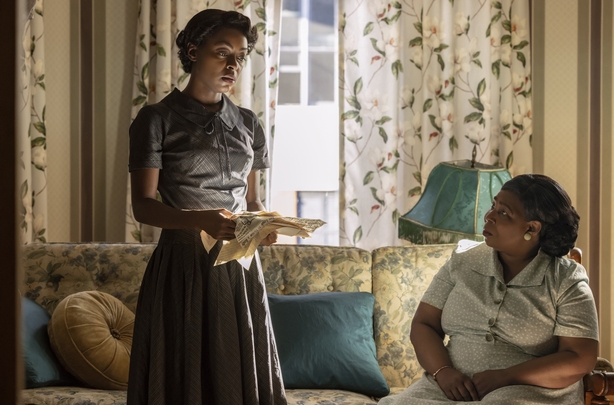 Mamie has a very bad feeling about this visit and when Emmett innocently flirts with a white woman in a shop in Money, her fears come true. In the dead of night, local hicks kidnap the teenager, brutally beat him, shoot him in the head, and dump his body in the Tallahatchie River.
Chinonye Chukwu's handsomely made movie then follows Mamie's brave and dignified crusade to bring justice to her son's killers while also charting her rise as a major figure in the burgeoning Civil Rights Movement.
A poised and quietly powerful Deadwyler, who has previously starred in The Harder They Fall and TV series Atlanta, may find herself in the running for an Oscar come March while Hall delivers a hugely charismatic and joyful performance.
We need your consent to load this YouTube contentWe use YouTube to manage extra content that can set cookies on your device and collect data about your activity. Please review their details and accept them to load the content.Manage Preferences
When she takes the brave and painful decision to display her son's battered, bruised, and bloated body in an open casket, Mamie says in a trembling voice, "That smell is my son's body reeking of racial hatred. Now I want America to bear witness".
The third act of Till becomes a courtroom drama with all the power of To Kill a Mockingbird, a novel published five years after Emmett's murder, and when Chukwu's camera lingers in utter stillness on Deadwyler's anguished face for long minutes as she takes the stand and speaks about her dead son, it is heart-stopping moment of controlled fury and dignity.
77 years later, the story of Emmett Till still haunts the small town of Money and remains yet another focal point in the ongoing global reckoning on race. Till is a powerful testimony both to the enduring power of a mother's love and a sharp reminder that injustice is ongoing everywhere.
Alan Corr @CorrAlan2