Irish neo-western singer Jordan Dennis has released his debut EP, The Man In The Hat. We asked him the BIG questions . . .
The Castleblayney man has performed at the Rory Gallagher Festival, The Harvest Time Blues Festival, played his first UK tour supporting Mascot Records and made his debut appearance at Whelan's main stage in Dublin supporting legendary slide guitarist Roosevelt Collier.
We need your consent to load this Spotify contentWe use Spotify to manage extra content that can set cookies on your device and collect data about your activity. Please review their details and accept them to load the content.Manage Preferences
Jordan is currently working with the Oscar-winning Czech National Symphony Orchestra on further projects which will be released in 2023.
The Man in the Hat EP came about from Jordan's experience as a musician/healthcare professional working the frontline during the covid-19 pandemic. Jordan experienced the true horrors of the Pandemic up close and personal. Having contracted the virus, becoming seriously ill, he was diagnosed with cognitive OCD.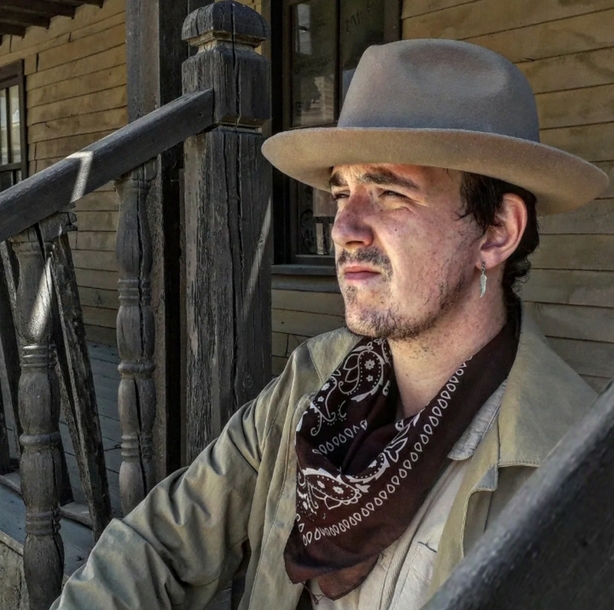 Struggling with his mental health, he began focusing on his songwriting. "I have always been inspired by westerns and their themes," he says. "With the dire state of the world at that time, as an artist I saw a lot of parallels. This influenced my own songwriting. I began writing about the human experience, filtered through the lens of the western genre.
We need your consent to load this Spotify contentWe use Spotify to manage extra content that can set cookies on your device and collect data about your activity. Please review their details and accept them to load the content.Manage Preferences
"Coming out of the pandemic was very much like a new frontier. Nobody knew what to expect. Things would never be as they were. The Man in the Hat was a character which came out the other side of all that.
"The message I would like people to take away from this work is to persevere. You may not set the stage though; you can play your part. Own your character."
Tell us three things about yourself?
I'm 6ft 3 (6"5 with the hat), Love my Lyons Tea. Perhaps most interesting, when I'm not in the studio or on tour, I work on my other area of passion, being the healthcare services. During the Covid-19 pandemic, I worked in the frontline services as a healthcare assistant. I would often take my guitar and perform shows for the residents. This led me to pursue an interest in music therapy. Where I have provided personal care and music therapy for individuals in a number of specialist areas including acquired brain injury, palliative care, psychiatric and Dementia unit. Currently I am the activities coordinator for a great nursing home where I continue to practise music therapy. I Love my work.
How would you describe your music?
Since its release It has been coined by critics as neo-western". Meaning my own hard rock/new blues influences meeting the country/western influence of my residing home of Castleblayney, "The Nashville of Ireland". However, my debut EP is just the first look behind the creative curtain. Fans can expect a broad palette of sounds with the coming releases in 2023.
Who are your musical inspirations?
With my mother being musical and my father being an artist I think I was always inspired to express myself through some creative medium or another. The first "instrument" I picked up was in play school. I had this Fischer price piano, you hit a key, any key, and it played a particular tune. Then my grandparents asked me what I would like for Christmas, so like any child I spent my time studying the Argos catalogue. Setting my sights on a drum kit my grandparents instead gifted me a micro machines army set. Thinking I may be interested in music my parents got an old nylon guitar from a neighbour the following summer. I was six years old. And here we are today.
What was the first gig you ever went to?
The first gig I can remember going to was to see my late beloved uncle Anton and his band perform at Brackenstown National school hall in Swords. I was very young at the time. The hall was full, and I remember Anton centre stage giving it socks and thinking to my young self "this is pretty cool". The fellas where all wearing black leather blazers too. It was the early nineties!
What was the first record you ever bought?
I can recall receiving two actually. One being the Teletubbies soundtrack on cassette tape, which I got at the old record store which used to be down the mall in swords. The other being Led Zeppelin - Latter Days, which was a compilation album of their studio catalogue from Houses of the Holy to In Through The Out Door. When I heard Kashmir, that's when I knew I wanted to play the guitar.
What's your favourite song right now?
Despite my work having its own style I have always had a broad taste in music. I think people would be quite surprised actually. During production of The Man in the Hat, I studied a lot of film scores from the composers like Ennio Morricone and Elmer Bernstein. At this moment in time, I am very much enjoying Bernstein's catalogue. I had the good fortune to meet and talk with his son Peter recently at the NCH whilst conducting the national symphony orchestra. He had some very kind words of encouragement concerning my own release,
Favourite lyric of all time?
"Launder Strength from Fear" - Led Zeppelin's Kashmir. Turned out id been hearing it wrong for years haha. Though I still like to think it's a good statement. Good words to live by.
If you could only listen to one song for the rest of your life, what would it be?
The song which comes to mind is songwriter/author/actor Derek Dempsey's Your Love. A song which one could easily imagine finding in the great American songbook, somewhere between Duke Vernon and Sinatra. One of Irelands greatest exports.
Where can people find your music/more information?
My website, Spotify, Instagram, Facebook and Twitter.