Irish composer, DJ and producer Kormac has released Equivalent Exchange, his first album since 2014, and he plays Dublin's Button Factory this Saturday. We asked him the BIG questions . . .
The new eight-track album features guest vocals from MayKay, Loah, Shahab and Shayan Coohe, Jack O'Rourke and Jafaris.
We need your consent to load this Spotify contentWe use Spotify to manage extra content that can set cookies on your device and collect data about your activity. Please review their details and accept them to load the content.Manage Preferences
Equivalent Exchange is released his new imprint, Always the Sound, a collaboration between Kormac, All City Records and CWB Management. The vinyl edition ready for shipping this January.
In his 15 years career of sonic adventurism, Kormac has released two albums, played hundreds of live shows and worked on TV and film soundtracks.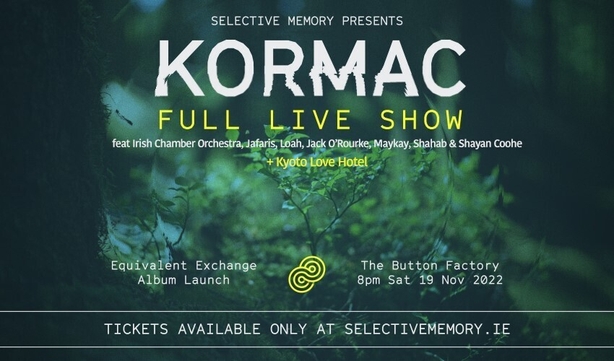 Album launch party: Saturday, 19 November at the Button Factory. Tickets, priced €20 plus booking fee, available to buy here.
Tell us three things about yourself . . .
I'm a producer, composer and performer living in Dublin. I produce make music for dancefloors, vinyl and TV/film soundtracks. I'm married to Triona and we've a lovely three-year-old boy, Ryan.
How would you describe your music?
Electronic music made from acoustic sources. I'm, probably, best known for playing dancefloor music at clubs and festivals, while brining live musicians into the mix. This could be anything from a vocalist to a 30-piece orchestra. I think the music I write for TV/film - mostly drama and thriller scores - is a bit different, more experimental. What I write in this case really depends on the plot and/or characters I'm writing for.
Who are your musical inspirations?
Too many to mention but if I had to pick three, say; Sonic Youth, Jurassic 5, GoGo Penguin. Sonic Youth had a massive influence on me growing up as they were just SO different to anything else I'd ever heard. I was fascinated with how they tuned their guitars so strangely and played them with drumsticks and screwdrivers! If you've never listened to them before, start with an album called Daydream Nation.
What was the first gig you ever went to?
Guns N' Roses at Slane Castle (with my Dad). I think it was a pretty special first gig to go to! They opened with Night Train. I'd never seen or heard anything like it.
What was the first record you ever bought?
On vinyl, I think it was either a Sebadoh album or Foo Fighters' first single.
What's your favourite song right now?
Quiet Corners of My Mind by Romare - lovely combination of samples and electronic elements. His work on the Ninja Tune label is also well worth checking.
Favourite lyric of all time?
I'm going to, shamelessly, plug one of my own tracks, Always The Sound here. The lyrics were lifted from a poem written by my late mum and sung beautifully by MayKay so I'm going with that!
If you could only listen to one song for the rest of your life, what would it be?
Graduation in Zion by Kiddus I. It's a reggae classic I never tire of. If you've seen the seminal reggae movie, Rockers, you'll know this (If you haven't, you really should!).
Where can people find your music/more information?
My new album, Equivalent Exchange, feat. Irish Chamber Orchestra, Loah, Jafaris, Jack O' Rourke, MayKay and a host of others is streaming everywhere now.
Follow me on instagram @djkormac or head over to my website.