Dublin musician, composer and filmmaker Myles O'Reilly has released his new ambient album, An Ode To Soft Landings, and lead single, Her First Crios. We asked him the BIG questions . . .
Following on from Cabin Lights Off (2020) and My Mother's Star (2021), An Ode To Soft Landings (2022) is a third instalment in Myles O'Reilly's [Indistinct Chatter] minimal ambient series of long players.
Speaking about the lead single, Myles says, "A crios, pronounced `kriss' is a type of handwoven waist belt that was commonly worn in Ireland for many thousands of years.
We need your consent to load this YouTube contentWe use YouTube to manage extra content that can set cookies on your device and collect data about your activity. Please review their details and accept them to load the content.Manage Preferences
"Sadly, during British occupation they were banned, and the tradition died out. Each Irish family would have had their own unique pattern. Knowledge of how to weave the family crios would have been handed down from generation to generation.
"Christmas 2021 for my wife Aideen and I was bit rough. We both had Covid. Thankfully my present to Aideen was a small weaving loom.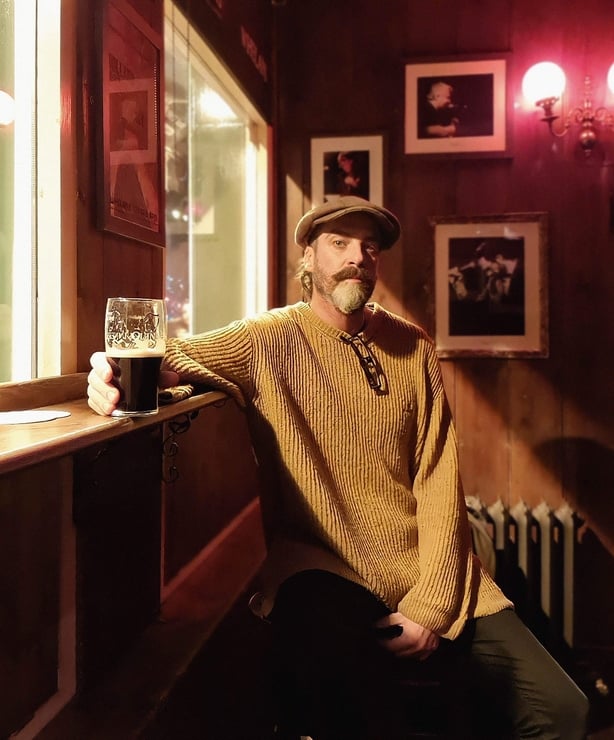 "She had only recently joined The Liberties Weavers, a local organisation dedicated to reviving some of inner-city Dublin's old weaving traditions.
"Where we live in Dublin 8 was for hundreds of years was the weaving mecca of the country. It's here that Aideen learned of the crios and how to make one,"
Myles will premiere his new film, A City Under Quiet Lights, at Cork International Film Festival at 1.30pm on Saturday 19 November and at 2pm on Sunday 27 November, he presents Myles O'Reilly's Ambient Pharmacy, at Quiet Lights festival, Cork. Admission free
He also plays 1 February 2023 at Prim's Bookshop, Kinsale, Cork, 2 February at Coughlan's, Cork, 3 February, De Barras, West Cork, 4 February at Phil Grimes, Waterford.
Tell us three things about yourself . . .
I like spicy food, two cats let me live with them, one of the keys on my Moog keyboard needs to be fixed by next Tuesday.
How would you describe your music?
Medicinal.
Who are your musical inspirations?
Anyone who kept going. Anyone who still does.
What was the first gig you ever went to?
I heard recently that the first song we hear is our mother's heartbeat, it's nice to think that's our first gig too.
What was the first record you ever bought?
I was one of the 70 million people who bought Michael Jackson's Thriller.
What's your favourite song right now?
There's an album out at the moment in aid of the Simon Community, it's called Busk, and I like listening to that. Laura Quirke's song is a beaut.
Favourite lyric?
"And I need you more than want you, And I want you for all time" - Wichita Lineman.
If you could only listen to one song for the rest of your life, what would it be?
John Cage's song As Slow As Possible.
Where can people we find more of your music and information?
Facebook, Twitter, Instagram and Arbutus Yarns.