American singer-songwriter Carlsbad releases her new EP, Future Yeehaw, next Friday and plays upstairs in Whelan's of Dublin on 19 November. We asked her the BIG questions . . .
Future Yeehaw features Gemma Doherty (Saint Sister) on harp, and Dylan Lynch (Soda Blonde) on drums and Carlsbad makes her Other Voices festival debut in December.
We need your consent to load this YouTube contentWe use YouTube to manage extra content that can set cookies on your device and collect data about your activity. Please review their details and accept them to load the content.Manage Preferences
Speaking about Lemon Pie, the EP's lead single, she says, "It's a love ballad meant to be played late at night. It's about a love with strong conviction in an uncertain place.
"I wrote this song up at my cabin in Utah, a very special place, where the stars are so bright each one has a colour. You can see the stars move. I wrote this song under these stars, a full blood moon and made a wish.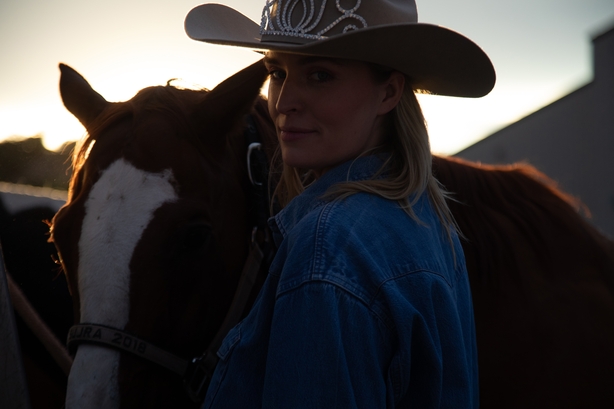 "We approached the production as if you were at a campfire or a session. One of those lamenting cowboy lullabies a desperado would sing. Recorded in The Clinic Recording Studios produced by David Anthony Curley and Dunx.
"With Gemma Doherty on harp and bvs, Dylan Lynch on drums, Dunx on acoustic and electric guitar as well as bass. I play acoustic guitar, piano."
Tell us three things about yourself . . .
I am Saint Sister's #1 fan. I am an American living in Dublin. I moved to Ireland just for the Wild Atlantic Seaweed baths.
How would you describe your music?
Let's pretend it's a cocktail... a smoked old fashion with a dash of pixie dust. A little folk, a splash of pop with equal measures country and electronic. My EP is titled Future Yeehaw. David at The Clinic Recording Studios coined that, and I think it pretty much sums it up.
Who are your musical inspirations?
My Mom is a hippie from LA and my Dad is a cowboy from Utah and I guess that makes me a cowboy hippie. I grew up on Bob Dylan, Odette, Little Feat, John Prine, Joni Mitchell, Muddy Waters, Keb Mo, Gillian Welch, Johnny Cash, Willie Nelson, Dolly Parton, Townes Van Zandt. I love Enya, Missy Elliot, Kendric Lamar, The Prodigy, Kid Cudi, Roxy Music and Jimi Hendrix. But I mostly listen to soundtrack music.. My favourite composer is Thomas Newman. I'm also a weirdo that loves ASMR, so we tried to mix tactical and atmospheric sounds in the EP as well.
Playing Upstairs @whelanslive 19 November with @dunxmusic 🦄✨ pic.twitter.com/THyB1HTlw3

— Carlsbad (@futureyeehaw) November 10, 2022
What was the first gig you ever went to?
Backstreet Boys, Millennium in Las Vegas. The stage was this futuristic pentagon and they came flying in on spacey surfboards wearing these ridiculous blue puffy bondage vests and I melted. Peak early noughties.
What was the first record you ever bought?
The first record I saved up and purchased with my own money on was Madonna's Music in 2000. That album had a huge impact on me… I loved the blend of acoustic guitar, pop, country and electronic. A song like Impressive Instant being on the same album as I Deserve It at the time was so fresh. I loved hearing a mixture of music I love in the same space and working so effectively.
What's your favourite song right now?
Shark Eyes by Sorcha Richardson. Her new album Smiling Like an Idiot. Also, Blood Donor's new single Lonely Town.
Favourite lyric of all time?
In every dream home a heartache, And every step I take, Takes me further from heaven, Is there a heaven? I'd like to think so" - Bryan Ferry, Roxy Music.
If you could only listen to one song for the rest of your life, what would it be?
Tiny Island by Leo Kottke. No one plays a 12-string like him. It's the ultimate tonic and I would listen anytime, anywhere. It gets me through.
Where can people find your music/more information?
My second single Lemon Pie is out now on all streaming platforms. You can find me on socials @futureyeehaw. Future Yeehaw, my EP, is also out on 18 November. If anyone in Dublin is up for a honky tonk on Saturday, 19 November I'm playing with my band and Dunx at Whelan's. I'd love to see you there. Bring your glitter, boots and cowboy hats!