Dublin singer Gary Ó Nualláin has released his new single, Children Of Ireland. We asked him the BIG questions . . .
Speaking about the song, he says, "Children Of Ireland is an anti-racism anthem. For the video I organised a football match between fans of Saint Patrick's Athletic, Shamrock Rovers, Shelbourne, and Bohemians, and residents of the Clondalkin Direct Provision centre.
We need your consent to load this YouTube contentWe use YouTube to manage extra content that can set cookies on your device and collect data about your activity. Please review their details and accept them to load the content.Manage Preferences
"Brian Muchena is a resident who helped me organise it from the Direct Provision end of it. Because the residents are in Direct Provision, I couldn't legally pay them. So, I asked Brian the best way to compensate them. He told me laptops for the residents who are undergoing college coursework.
"Pat's, Shels, and Rovers each gave me a signed jersey to auction off. I managed to get enough to kit out 11 residents with jerseys, jackets, shorts, socks, boots, footballs, bibs etc and managed to get six laptops.
"Two underage lads played. They've been set up with a local schoolboy club here in Clondalkin, and Brian is now a local schoolboy referee. So, it was a real good news story."
Tell us three things about yourself . . .
I'm 6'4" and have made it my entire personality. I'm the match announcer at Richmond Park for Saint Patrick's Athletic home games. I'm a wannabe actor as well as a musician.
How would you describe your music?
Celtic Indie is normally what I say to people. I came up through céilí bands in school. That's the joys of coming up through a Gaelscoil. We were pretty good too. We performed in the National Concert Hall a couple of times. I had to stop doing it then as my guitar got destroyed. We used to have an instrument room in school behind the exam hall. It was basically a cupboard where you'd leave your instrument for music class or extracurriculars until it was needed. It was never locked, so it's also where little degenerates went to wear the face off each other at lunch, or when on the mitch from whatever class they didn't do the homework for. I came back to it at the end of the day one day to find a case full of splinters. Someone was after jumping all over it and smashing it up. I took it to two luthiers, and even a cabinet maker in desperation to try and salvage it, but it was gone. That was my first acoustic guitar that I bought in a split with my folks. I put up my communion money, and they'd match it.
Who are your musical inspirations?
It starts and ends with Noel Gallagher for me. Oasis is my favourite band of all time, and like the goalkeeper's union, the songwriter's union is a sacred bond. I also love The Stone Roses, The Verve, The Smiths (well Johnny Marr's end of it anyway), The La's, Lemonheads, Goo Goo Dolls. All that lovely 90s alternative music.
What was the first gig you ever went to?
I went to see Green Day in Marlay Park in 2010. It was a cracker. It started raining during Wake Me Up When September Ends right when Billie Joe Armstrong sang "here comes the rain again", which was pretty cool. Joan Jett opened for them, which was appropriate as I looked like her at the time.
What was the first record you ever bought?
I'm going to pretend that it wasn't Hilary Duff's Most Wanted because I fancied Lizzie McGuire, and instead tell you that it was American Idiot by Green Day. They were my first real favourite band beyond listening to the radio or my older sister's CDs, where I became absolutely obsessed. That album came out around the same time as the movie School Of Rock came out. I loved The Ramones track My Brain Is Hanging Upside Down (Bonzo Goes To Bitburg) that they used on the montage in that film. So, it was a lot of punk in a very short period of time. I never made it as far as the central bank, but I do think 2007 Kerrang puts any other generation of music to shame.
What's your favourite song right now?
Tomhas Ghobhantan by Emma Langford. Absolutely fantastic tune. Emma doesn't miss. I've been lucky enough to work with her a bit in the studio, and I've poached a load of her musicians for my second album. A phenomenal talent.
Favourite lyric of all time?
Both Gallagher brothers get a lot of stick for their lyrics, some of it justified. But Dead In The Water by Noel Gallagher is a lyrical masterpiece. I feel the same about Noel and that song, as I do about Adele coming back recently with Easy On Me. It must be so daunting sitting down to write in the shadow of so many all-time great songs, but Noel knocked it out of the park with Dead In The Water. It must be comforting to know that you can still come out with some of your best work, 25 years after your most famous work. "Let the storm rage, I'd die on the waves, but I will not rest while love lies dead in the water." I've been there, mate. I was actually in RTÉ the day he recorded that song and everything. That means a lot to me. Unfortunately, I got scruffed by security before I could get to meet the man. But I got three songs, including this single, out of Dead in the Water alone.
We need your consent to load this YouTube contentWe use YouTube to manage extra content that can set cookies on your device and collect data about your activity. Please review their details and accept them to load the content.Manage Preferences
Of my own lyrics it would be from a song that I actually binned in the end, because it was absolutely appalling. I was at the height of my depression before I'd gone and done a few years of counselling. I'd been single a long time, and I hated myself to be honest. It hadn't worked out with an old flame, and it was fresh in my mind. She was a professional dancer. The lyric was "A dancer and a writer is such bohemian imagery, but I'm a Saint Pat's man doomed to a life of misery". Anyone who remembers the Jeff Kenna era will know. It didn't help that Bohs were winning everything at the time. I laugh every time I think of that lyric. Absolutely hilarious piece of cringe self-pity. Then of course Liam Buckley came along not long after, and won everything there is to win with Pat's, so it all worked out in the end.
If you could only listen to one song for the rest of your life, what would it be?
There She Goes by The La's. It's just the perfect pop song. It's all chorus. Lee Mavers is a genius. He's more like Lee Maverick the way he just lives in his gaff in Liverpool now, doing the school run, and heading off to Goodison Park for the football. That's the dream to be honest. Write one of the most iconic songs of all-time, pack it all in, then spend the rest of your days playing house husband and going to football. Heavenly bliss. Don't mind all this touring nonsense.
Where can people find your music/more information?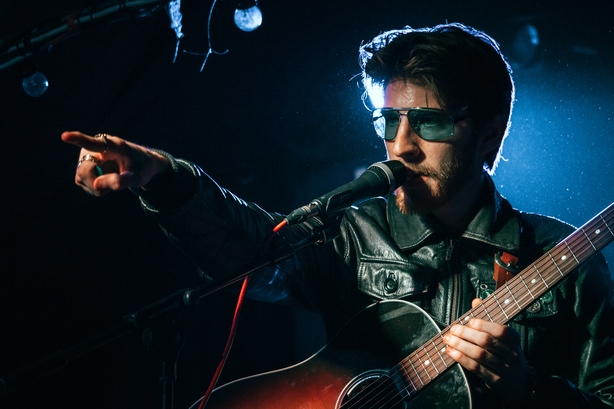 Word of mouth. My mam's Twitter page. She'll probably have this retweeted before it even goes live. But I'm available at Instagram, Facebook, Spotify and my website.