Mickey Joe Harte is back with Derry Girl, his first single in three years, and he is currently working on pre-production for his next album. We asked him the BIG questions . . .
The track was recorded in Attica Studios in Donegal with producer/engineer Tommy McLaughlin and tells the story of dating a girl from "the wrong side of town but that religion or beliefs shouldn't matter when it's love."
We need your consent to load this YouTube contentWe use YouTube to manage extra content that can set cookies on your device and collect data about your activity. Please review their details and accept them to load the content.Manage Preferences
Best known for representing Ireland in the Eurovision Song Contest in 2003 with the song We've Got the World, Mickey Joe has toured the US, Australia, Europe and Dubai.
His voice has become familiar to the three million weekly viewers on German RTL TV Show Let's Dance in which Mickey Joe sings versions of Metallica, Peter Gabriel and 21 Pilots songs.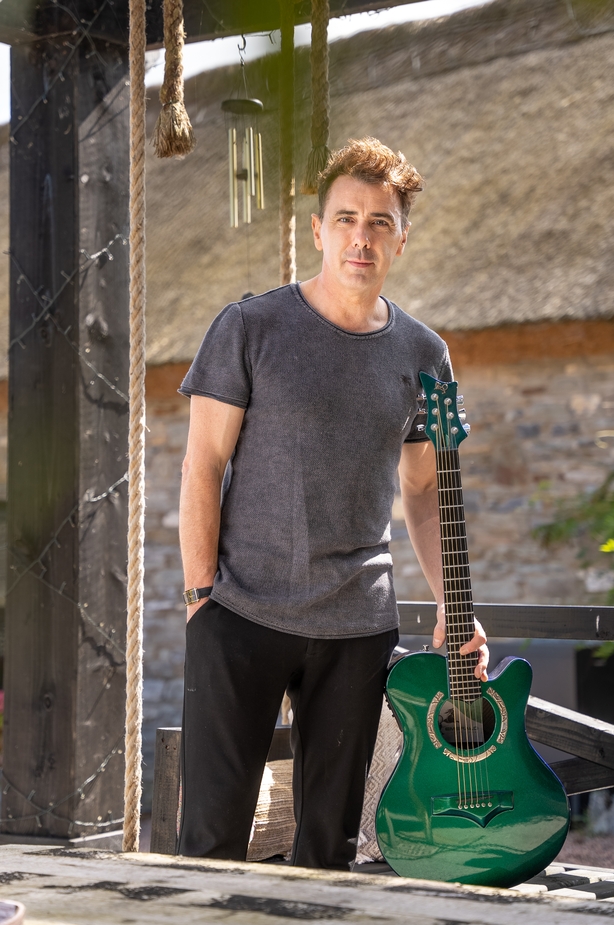 Outside of his recording and touring, Mickey Joe has been working on a local project Music to Your Ear, which brings men together through music and tackling isolation and loneliness. They have now put on over nine shows in Northern Ireland.
Tell us three things about yourself . . .
Oh well . . . I don't know how deep I should go with this one, but I suppose I should start by saying I'm now a grandad, but if we can move on swiftly . . . I love to swim, preferably in the sea or open water, but anywhere I can get a few lengths in! Jeekers! I'm struggling with a third one . . . I have approximately 15 guitars, but that's not a lot compared to some of my pals in the business.
How would you describe your music?
Acoustic, pop/rock with colours of folk and americana, although the new single Derry Girl is defo pop/rock with 'lil elements of old school Irish punk, but I'm guessing the punk rockers out there will dispute that vehemently.
Who are your musical inspirations?
So many different inspirations musically at so many different levels, initially I would have been inspired by a lot of the national touring bands of the time, mostly doing covers and some of them brave enough to do their own thing. then as a young fella interested in song writing, I stumbled across a song by Paul Brady called Nothing But The Same Old Story and that changed everything for me. A lot of the music my big brother was playing on his record player influenced me greatly, AC/DC, The Police, Suzanna Vega, Christy Moore, and a friend introduced me to the music of John Hiatt and he's prob still my go to inspiration should I need to have a reminder now and again how songs should sound and how to deliver a vocal. Check him out.
What was the first gig you ever went to?
Tom Petty in The Point (1991, I think!). It was still one of the best rock 'n' roll gigs I ever experienced, I hope he's rockin' it out up there somewhere.
What was the first record you ever bought?
I think it was Chaka Khan, I Feel For You. 7'single on vinyl. To balance that out, I also remember buying Snooker Loopy by Chas n Dave. I'm still snooker loopy by the way.
What's your favourite song right now?
I absolutely love Sam Fender's Seventeen Going Under. From the minute I heard it and still has the same effect on me. I turn it up and listen to his amazing vocal and the lyric hits you somewhere in the gut and leaves me a little unsettled but that's the beauty of it, it's a very honest lyric.
Favourite lyric of all time?
Nothing But The Same Old Story by Paul Brady, followed closely by Lipstick Sunset or Have A Little Faith by John Hiatt.
If you could only listen to one song for the rest of your life, what would it be?
Zoe - Sunshine On A Rainy Day. But I'd sneak a copy of Teenage Kicks by The Undertones in there too.
Where can people find your music/more information?
I post somethings onto my Facebook/Instagram and YouTube pages, and my website has some good options too.