Dermot Kennedy, who is headlining the main stage at Electric Picnic in Stradbally, Co Laois this evening, has told RTÉ News that the experience will be a massive one for him and a landmark show.
Kennedy last played Electric Picnic in 2019, just before his first album was released. He said now he is on the cusp of releasing his second, and it will be lovely to mark the two releases in this way.
We need your consent to load this rte-player contentWe use rte-player to manage extra content that can set cookies on your device and collect data about your activity. Please review their details and accept them to load the content.Manage Preferences
The singer-songwriter said he will be performing a mixture of new and old material this evening, including some songs from "way back", which he said he is very excited about.
Kennedy also paid tribute to the crewmembers who are back working at the festival having been out of work during the pandemic. He said people do not always understand how many people it takes to put on a show of this size.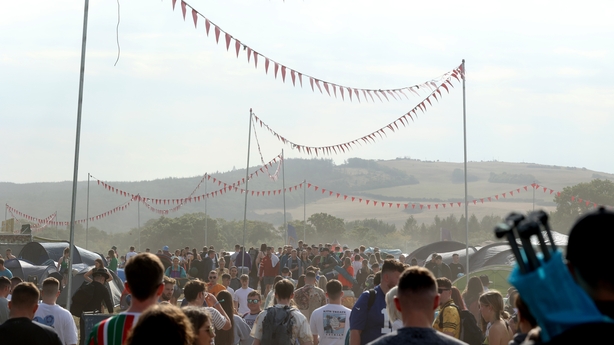 Earlier, one of the creative team behind the festival told RTÉ Radio 1's Morning Ireland that it will be a "wonderful weekend" with "just so much more than there's ever been".
Hugo Jellett said there are "something in the region of 500 musicians or performance acts across the weekend" who will celebrate the long-awaited return of the festival alongside the 70,000 fans.
There is a strong emphasis on Irish acts this year, with Fontaines DC also among the headliners. Other Irish artists on the bill include Denise Chaila, Gemma Dunleavy, The Coronas and The Academic. There are many international acts, among them headliners Arctic Monkeys.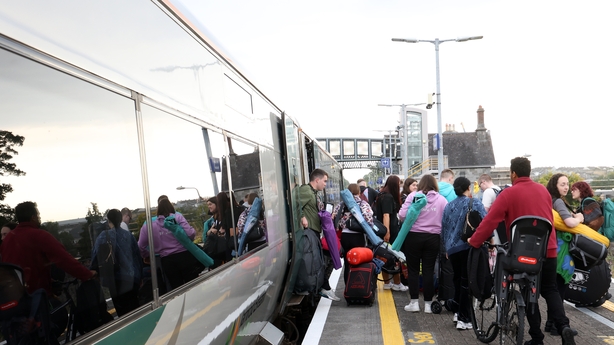 Un-Laoised: The must-see acts at Electric Picnic
Lyra on EP: 'I have to make sure I'm match ready'
Wow! 6pm, 60,000 revellers already on site🥹
Congratulations to the GardaÍ for a wonderful traffic plan. It's been heavy but flowed well. 3 years on and we're back!!🥳✨ pic.twitter.com/QdcyGy93eg

— Electric Picnic (@EPfestival) September 2, 2022
Offering a quick tour over the phone, Jellett told Morning Ireland's Aine Lalor: "Beyond those main arena places there are the festival favourites like Salty Dog, which is a shipwreck that sits in the middle of the woods; Trailer Park, which is a city of caravans and mobile homes; Berlin Haus, which is a subterranean German bunker; Spike Island, which is a Cajun swamp hut; six bars, a new area hidden within the Providencia district, which is a 'warrenous' street that's been built especially for the event.
"So there's just so much to discover down through the woods. Not forgetting Jerry Fish's Fish Tank, which is new and moved into the woods there - he's brought a circus with him!"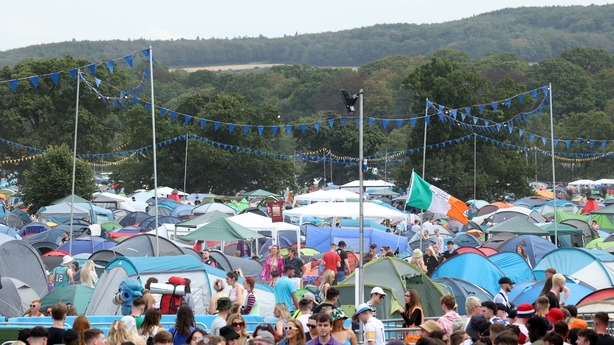 "What it's doing to bring people back to work after all of these years is going to be really extraordinary," he enthused.
"I think we were nervous that we wouldn't get lots of particularly the creatives who'd gone off to do much more sensible jobs, including in film and in TV and radio. But actually, most of them have come back because the experience of working on an event like this - it's such an enormous build, it takes place for three days and then it's gone - is really unlike any kind of work you do anywhere else."
Ah lads, It's good to be back🥰 #EP22 pic.twitter.com/qCtcXMbTPc

— Electric Picnic (@EPfestival) September 2, 2022
Although festival fans are looking forward to the weekend - weather forecasters are not so optimistic.
Heavy rainfall is forecast over the weekend, and a Status Yellow rain warning for the entire country is set to come into effect at 9pm tomorrow.
Those travelling to Stradbally are advised to prepare well and bring rain gear alongside the camping equipment.
HSE reassures festivalgoers over drugs monitoring programme
The HSE has reassured festivalgoers at Electric Picnic that if they use the new anonymous drug testing service at the festival, they will not be monitored by gardaí.
Speaking in Stradbally on Friday afternoon, Professor Eamon Keenan, HSE National Lead for Addiction Services, said the pilot service is part of the HSE harm reduction campaign aimed at safer nightlife.
People can go to the medical tent or the HSE tent at the festival and surrender drugs into a surrender bin. The HSE can then analyse the substances in real-time and identify if anything particularly harmful or high potency appears.
Heading to Electric Picnic? Don't be afraid to get medical help if you use drugs. The medics are your mates and your wellbeing is their main priority. If ever in doubt get help. See our information for festival goers https://t.co/nybkihDwST@drugsdotie #EP22 pic.twitter.com/2xuGtkQBzH

— HSE Ireland (@HSELive) September 2, 2022
If that is the case, he said, the HSE can communicate with people at the event in real-time to warn them against taking the substance.
Professor Keenan said he was aware that some people believe that if they use the service or surrender drugs at the medical tent, then they will be arrested for possession, but he said this is not the case.
He said the HSE has been collaborating closely with An Garda Síochána over this pilot programme and gardaí will not be at the medical tent or the HSE testing area. He said he is concerned that people will not use the testing facility for fear of being arrested and wanted to reiterate that this is not the case.
Professor Keenan said the HSE would prefer if people did not take illegal substances, but they are aware it happens in the real world, and this project aims to provide harm reduction advice.