Charles Martinet, who is known for his iconic portrayal of both Mario and Luigi in the Super Mario video game series, has said he feels like "the luckiest guy in the world".
Martinet, is currently in Dublin for Comic Con which takes place at The Convention Centre over the weekend.
Speaking to Oliver Callan on The Ryan Tubridy Show on RTÉ Radio 1, 66-year-old Martinet admits he has always felt honoured to voice the most famous Italian plumbing brothers in gaming history, and has never taken his legendary gig for granted.
"I'm the luckiest guy in the world. I get to do what I love in life and people say 'Oh, you are the voice of my childhood'.
"I just wish that for everybody you find your joy, your passion, your happiness and you'll bring it to others," he said.
Martinet explained how one of his friends tricked him into taking an acting class with the promise that the pals would have lunch together every day.
"I was going to be a lawyer, and then I was going to be a psychologist, and then I was going to be a political scientist. I couldn't get my final thesis professor as all the classes were full, so I quit!"
It wasn't until he failed to secure the leading role in a production of A Midsummer Night's Dream that Martinet's passion for acting was sparked.
"Failing that, I started really working hard," he said.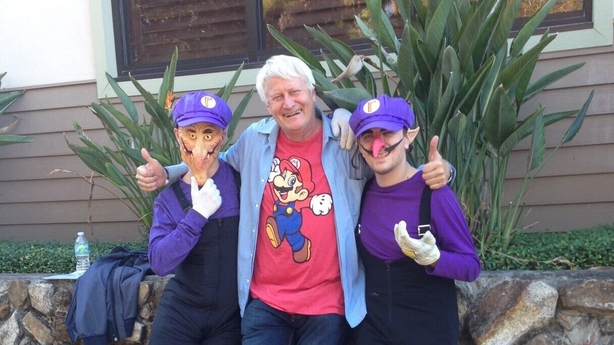 After 10 years of theatre jobs, 1,000 radio and TV commercials, and 500-600 commercial videos, Martinet found himself crashing an audition to voice a video character.
"There I am in this audition that I've crashed, he's told me what to do, and he gave me one direction. He said 'just start talking, make up anything you want, and when you run out of things to say that's your audition'".
Needless to say, the audition went well and Martinet's tape was the only one put forward that day. He has since landed a Guinness World Record for the most video game voiceover performances as the same character for voicing Mario.
We need your consent to load this Instagram contentWe use Instagram to manage extra content that can set cookies on your device and collect data about your activity. Please review their details and accept them to load the content.Manage Preferences
As well as Mario and Luigi, the voice actor also provides the vocals of a collection of other famous Nintendo characters including Wario and Waluigi.
Dublin Comic Con returns on August 6th and 7th with a host of guests, cosplay, gaming, activities and fun at The Convention Centre.