Dublin based electro-pop artist Viscose has released his new single, Focus, we asked him the BIG questions . . .
Viscose is an Irish electronic pop queer artist. Being the writer and producer of all his music, Viscose's love of dance, house and pop stems from his love of LGBT and pop culture. He draws inspiration from Lady Gaga, Kylie, Madonna, Zedd, Allie X and Peggy Goue.
We need your consent to load this YouTube contentWe use YouTube to manage extra content that can set cookies on your device and collect data about your activity. Please review their details and accept them to load the content.Manage Preferences
"There's something about expressing a certain feeling not only through words but actually through the texture and format of instrumentation," he says. "Dance music doesn't always have to have a happy story behind it."
"You know that feeling when you're in the club? You catch eyes with a certain someone and suddenly every single move you make is correlated with how they will perceive you? That's what Focus is about."
Tell us three things about yourself?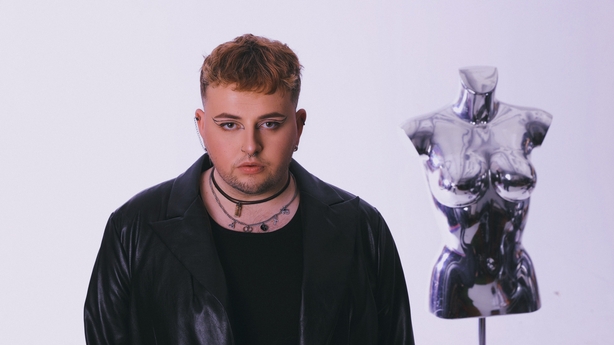 I am an insane music production nerd. My favourite colour is orange. I was born with three front teeth.
How would you describe your music?
My music is energetic and designed to make my listeners feel emotion while being able to dance. I have a slight obsession with injecting melancholic lyric ideology into upbeat House/ Dance/pop music. My style is inspired by the artists I grew up listening to.
 Who are your musical inspirations?
For sure, Lady Gaga has been an idol for me for as long as I can remember. Kylie Minogue and Madonna also. Their powerful energy and confidence as women in pop is so powerful and inspiring. I also love Lana Del Rey, UK artist Rationale and DJ/producer Zedd. Oh, and Daft Punk! For sure.
 What was the first gig you ever went to?
Wow, memories, it was Lady Gaga's Monster Ball, I was only 10 years old and still remember the show. It was phenomenal and still inspires my life performances today. Her voice, energy, stage theatrics was exactly what I look for today in shows. Full blown entertainment
What was the first record you ever bought? 
I swear this isn't a fan girl segment of Lady Gaga but it was indeed her debut album The Fame. Had many boogies to this record and still do to be honest.
 What's your favourite song right now?
Hmmm . . . I think it has to be Brightsider by Norwegian singer DAGNY. Although I make dance music I'd love to write a song like this. Summer pop feels like you can plan in your car with the windows down. This song is bliss and so fresh, loving it.
 Favourite lyric of all time?
I think my favourite lyric would be in Lana Del Rey's most recent album, Blue Banisters. She sings: "Said he'd fix my weathervane, Give me children, take away my pain, And paint my banisters blue". I adore how she uses her ex-boyfriend painting her banisters as a metaphor for supporting her and being her companion. There's a deep sadness that comes across and I think it's excellent song writing. Super smart lyrics and so simple, love it.
If you could only listen to one song for the rest of your life, what would it be?
Hands down, Tease by Canadian singer Ralph. This song sums up everything I love about music and production. Playful lyrics, catchy repetitive melodies and smooth sexy synths.
 Where can people find your music/more information?
You can find me on socials as @viscosemusic. My Spotify/Apple Music/all other platform & Facebook is 'Viscose'. I'm gearing up for my headline show in Workman's Cellar in Dublin on 11 August, lots of more exciting things happening soon also.