Harry Styles has recalled the night he was headbutted on a visit to Tallaght in 2015, telling the audience at the Aviva Stadium last night, "It was great, it was fantastic."
Styles (28) was performing his sold-out Dublin show on his Love on Tour world tour when he read out a sign held aloft by fans in the 60,000-strong crowd.
June 23, 2022
"`Tallaght house party?' I've been to Tallaght lots, and do you know what happened?" he said. "I got headbutted! It was great, it was fantastic."
He then said, "But I did buy....two bananas, three bananas for a Euro!" to chants from the audience.
The fan's sign was a reference to an incident that occurred in Tallaght when Styles and his former One Direction bandmate Niall Horan ended up at a party in the Dublin suburb.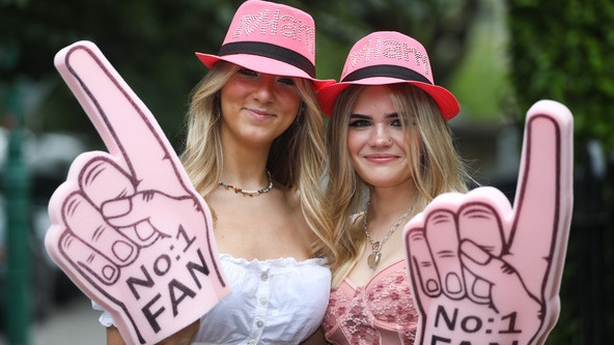 During One Direction's 2018 show at the 3Arena, Harry asked the crowd: "Is there anyone here from Tallaght, I'm going to tell you a story."
"About five years ago I travelled over to Ireland with young Niall, we went to Mullingar, and we went to another party, didn't we Niall?" he added.
Horan replied, "Tallaght", with Styles going on to ask the Mullingar man, "what happened to me in Tallaght?"
"Some fella stuck you a headbutt", said Horan.
"I went to Tallaght one time and got the nut stuck on me, but luckily for him he managed to run away quick, I could have had him if I wanted to but I'm a lover I'm not a fighter". Styles added.
The pop singer was also forced to call a halt to his Aviva show twice, including during Watermelon Sugar, on Wednesday night over minor crowd safety concerns and checked on audience members close to the stage.
50,000 people shouting 'LEAVE AMERICA' at harry styles in dublin 😭 pic.twitter.com/Ufizpf09Tu

— aisling 🦖 (@fuzzyparks) June 23, 2022
Styles began his Aviva show with his song Music For a Sushi Restaurant. He also performed One Direction hit What Makes You Beautiful and sang a four-song encore of Sign of the Times, Watermelon Sugar, As It Was, and Kiwi.
Imagine being Alice from Dublin who is celebrating her birthday tonight at @Harry_Styles 😱 😍 #HarryStyles pic.twitter.com/aiYUtHUccd

— Orlaith Clinton (@OrlaithClinton) June 22, 2022
He also sang happy birthday to a fan in the audience.
Styles arrived in Dublin with his girlfriend, actor and director Oliva Wilde, on Monday and was spotted around town in St Stephen's Green and South William Street, while on Tuesday he and Wilde took a dip at Vico Baths in Killiney.