When Bruce Springsteen takes to the stage at the RDS in May next year, it will be the latest chapter in a love affair with Ireland that began nearly forty years ago. Alan Corr looks at how Ireland fell for The Boss
Ireland and Bruce Springsteen were made for each other. He is a working man who spins a good yarn, he likes to party, he's easy to mythologise, he has achieved near sainthood here, and, of course, he also loves his mammy.
(There is also the small matter of his daughter Jessica and the fact that she is part of the USA's Olympian equestrian jumping team. Bruce's love for all things equine is well known. He keeps extensive stables at his farm in upstate New York and Ireland is home to some of the best bloodstock in the world.)
So, we love Bruce Springsteen and happily, he loves us right back. As he announced from the stage at Croke Park the last time he played here in May 2016, "Dublin! I've got a crush on you!" Right back at ya, baby.
37 years ago the man from Freehold, New Jersey played his first ever show here in front of 65,000 people on a blazingly hot day of June 1 1985 at Slane Castle. Clearly he felt something in the waters of the Boyne and beyond because he has played Ireland nearly 30 times since that baptism of fire and passion.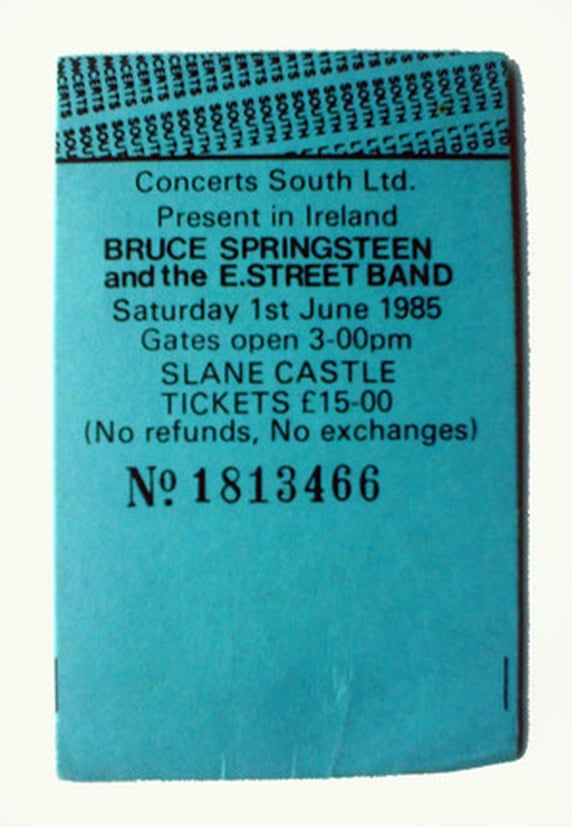 Next year will mark his 29th and 30th gigs here and Bruce fans will have their favourite shows - Slane in '85, the RDS in 1988 and 1993, The King's Hall and The Point in '96, the RDS again in '03 . . . but the spiritual bond between Bruce and Ireland has long been sealed.
On record, Bruce can occasionally be hard work but he is a man who comes into his own on stage. Springsteen live has always been a primal experience. At a seemingly granite-hewn 72, he is still the ultimate rock `n' roll survivor - heroic in his poise and powerful and passionate in his delivery.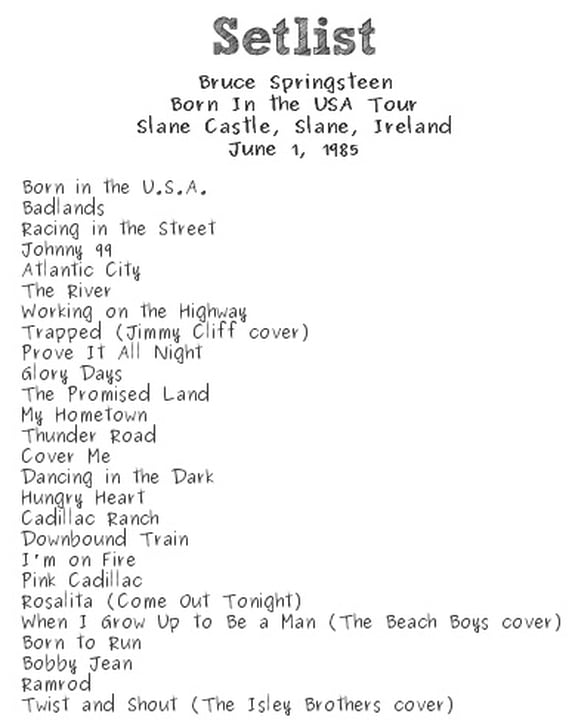 Springsteen is a performer who started his life on stage and record singing about the young male preoccupations of cars and girls but who has matured over his long career into a sage voice of protest and a keen chronicler of American triumphs and tragedies but mostly tragedies. Forever in the working man's uniform of double denim, he has never sold out.
His first two albums - 1973's Greetings from Asbury Park, N.J. and The Wild, the Innocent & the E Street Shuffle - have a sprawling, nascent quality and it was only with his epochal third set, Born to Run, that his vision and passion truly crystallised.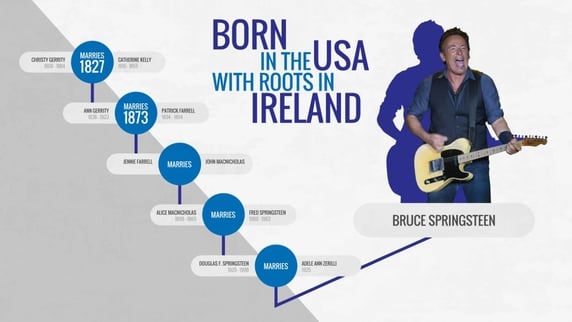 See, he's Irish!
The gloaming of Nebraska and the wounded desolation of The River were perhaps his artistic high points and over the past forty years he has journeyed from there to the epic sweep of albums like Wrecking Ball and High Hopes and more recently the bittersweet balladry of Western Stars and the return to rock roots of Letter To You.
The older and wiser Bruce owes a lot to Steinbeck and even Mark Twain in his lyrical concerns. Springsteen has become the History Man and in Ireland we have very long memories.
Perhaps it is only now that the man who was burdened with the "the new Dylan" millstone at his first dawning in the early seventies is truly comparable with Dylan in his themes and his stories - ordinary people ground down but railing against manifold injustices. There too is another thing the Irish can chime with.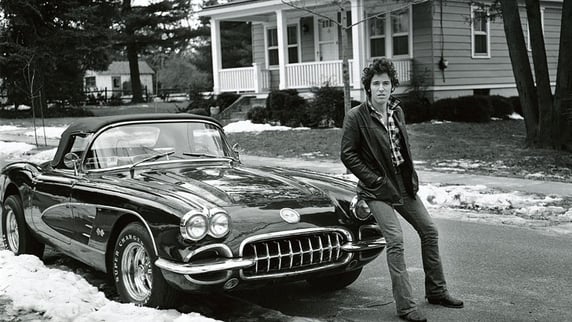 He has journeyed from cars and girls to sweeping historical epics
Bono likes to say that Bob Geldof made him a salesman. Perhaps but it was Bruce Springsteen who helped make him a front man. There is a black and white photograph of Bruce backstage - circa 1982 - in New York, hair matted with sweat after another marathon show. He is chatting to a young rock `n' roll pretender. It is Paul Hewson and he is listening and learning.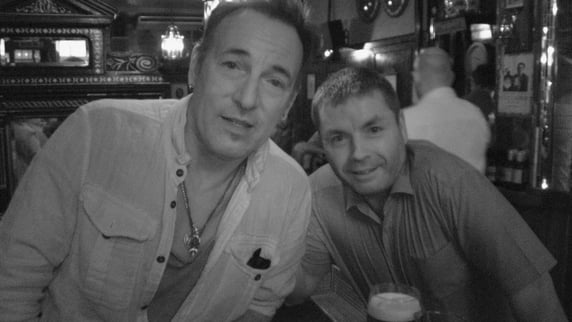 Barman Val and Bruce in Dublin's Long Hall pub, July 2012
Everybody in Ireland has a Bono story (some people have too many). It's not quite the same with Bruce but anyone who has encountered him comes back feeling almost beatified.
After years of admiring him from a distance (which is, let's face it, how most people see him in concert), I got pretty close to Bruce a few years back. I was sitting with a friend in a well-known Dublin pub when the barman came rushing down to us and announced with a mix of reverence and excitement "Lads, the boss is here!"
We looked askance at our half-full pint glasses and asked, "Does that mean we have to leave?" "No!" said our awestruck barman. "The Boss!"
Of course, being Irish and thoroughly unimpressed by fame, we waited a good thirty seconds before we wandered up the pub hoping to catch a glimpse of the man and there he was, sitting at the bar exuding pure masculinity in a baseball cap with his son (either Evan or Samuel) and a roadie. The Boss eyed us, gave us a nod and turned back to his pint (Guinness, naturally).
Afterwards, Springsteen disappeared into the night in a taxi - which he hailed down on the street outside - and swung by Leo Burdock's for chips. No doubt he asked for extra vinegar.
Alan Corr
Bruce Springsteen plays the RDS on Friday 5 and Sunday 7 May, 2023