Favourites Ukraine have won this year's Eurovision Contest with 631 points following a nail-biting round of voting which saw them locked in the race to victory with fellow frontrunners the UK, Sweden and Spain.
Ireland were among the countries who gave Ukrainian folk-rap group Kalush Orchestra 12 points and the band won after an impressive rendition of their song Stefania in the grand final on Saturday night in Turin, Italy.
Congratulations to Ukraine and Kalush Orchestra - the winners of the #Eurovision Song Contest 2022! 🇺🇦🏆

Listen to their winning song Stefania, and the other 39 amazing songs from this year's Contest here: https://t.co/v6t66atHnj pic.twitter.com/wWobKDEf9u

— Eurovision Song Contest (@Eurovision) May 14, 2022
Ukraine joined the contest in 2003 and has won three times, making it one of the most successful of the newer competitor countries - having triumphed in 2004 and 2016.
Receiving the coveted Eurovision trophy, Kalush Orchestra said: "Thank you for supporting Ukraine. This victory is for every Ukrainian. Slava Ukraini."
Sending his congratulations, Ukrainian president Volodymyr Zelenksy said: "Our music conquers Europe".
There were extraordinary scenes in the PalaOlimpico as the all-important public voting was tallied.
The UK's Sam Ryder had topped the country-by-country voting with his song Space Man but as the public votes were counted, he began to slip down the ranking as Sweden and Spain gathered votes and Serbia's surreal Eurovision entry raced to the top at one point in the evening.
Here's the Grand Final scoreboard! Congratulations Ukraine! 🇺🇦 #Eurovision pic.twitter.com/bod7ZYKtpM

— Eurovision Song Contest (@Eurovision) May 14, 2022
Representing their war-torn homeland, Kalush Orchestra took to the stage dressed in elaborate outfits, including long multi-coloured fringed ensembles, a pink bucket hat and others in traditional patterns.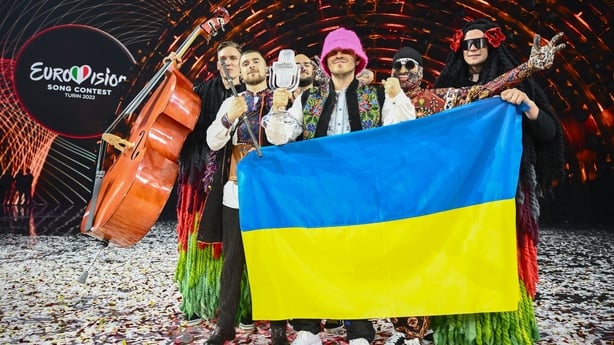 Their performance, which combined rap and Ukrainian folklore, went down well with the audience of 7,000 in the PalaOlimpico, who cheered the group on with many waving Ukrainian flags.
At the end of the performance, which included break-dancing, the group thanked everyone for supporting Ukraine.
THAT winning moment! 🇺🇦🏆 #Eurovision #ESC2022 pic.twitter.com/s4JsQkFJGy

— Eurovision Song Contest (@Eurovision) May 14, 2022
Their song, Stefania, is an ode to mothers and the trials they face raising families, and the band's live performance featured synchronised dance moves, breakdance and flutes.
Formed in 2019, the group consists of founder and rapper Oleh Psiuk, multi-instrumentalist Ihor Didenchuk and dancer Vlad Kurochka.