Coleen Rooney has told the Rebekah Vardy libel action at the High Court in London that she made her social media post in October 2019 about carrying out her so-called "sting operation" as a "last resort".
In the viral social media post in October 2019, Mrs Rooney, the 36-year-old wife of former England footballer Wayne Rooney, accused Mrs Vardy, 40, of leaking "false stories" about her private life to the press.
Mrs Vardy, who is married to Leicester City striker Jamie Vardy, denies leaking stories to the media and is suing her fellow footballer's wife for libel while Mrs Rooney is defending the claim on the basis her post was "substantially true".
The fake stories Mrs Rooney planted on her Instagram during the "sting operation" featured her travelling to Mexico for a "gender selection" procedure, her planning to return to TV, and the basement flooding at her home.
In the subsequent post on Instagram, Twitter and Facebook, she wrote: "I have saved and screenshotted all the original stories which clearly show just one person has viewed them.
"It's ………. Rebekah Vardy's account."
In court on Friday, Rebekah Vardy's lawyer, Hugh Tomlinson QC, said: "You have no evidence to establish that it was Mrs Vardy who did the leaking."
"I believe it's come from that account and that's what I have said from the beginning and I believe Mrs Vardy knew that this was happening," Mrs Rooney replied.
Mr Tomlinson QC also asked Mrs Rooney what she wanted to achieve from the social media post at the centre of the case.
"I wasn't achieving anything," she said, adding: "What I wanted was to stop the person who was leaking my private information to The Sun."
She told the court that she had given out warnings "many times", but "it didn't stop".
"This was my last resort."
Mrs Rooney told the High Court she was "surprised" by "how much interest" her social media post caused.
"Obviously, it was going to get picked up by the media," she said, explaining that her life had been covered by the media for the last 20 years "no matter how big or small" something was.
Asked by Hugh Tomlinson QC if she had a "large loyal following" on social media, Mrs Rooney replied: "I have a large following yes, loyal I'm not too sure about."
He put it to Coleen Rooney that it must have been obvious to her that the October 2019 post would have made Rebekah Vardy subject to abuse.
Mrs Rooney replied: "No, that was not my intention at all, not at all", adding: "It's not in my nature to."
Earlier, Rebekah Vardy made a series of denials over the allegations that she was linked to leaks from Coleen Rooney's private Instagram account.
As Mrs Vardy's barrister concluded his questioning of her, she denied personally leaking information to The Sun, denied speaking to or messaging any journalists about any of Mrs Rooney's posts, denied asking her agent Caroline Watt to pass on information and denied deleting messages from her WhatsApp.
Ms Watt is not giving oral evidence during the libel action after it emerged at a hearing in April that she was "not fit" to do so, also withdrawing her written statement.
Mrs Vardy said she had previously spoken to Ms Watt "pretty much all the way through these proceedings", with the agent telling her she did not leak information on Mrs Rooney.
She said the suggestion that she had thrown her agent "under a bus" in the case was "not right".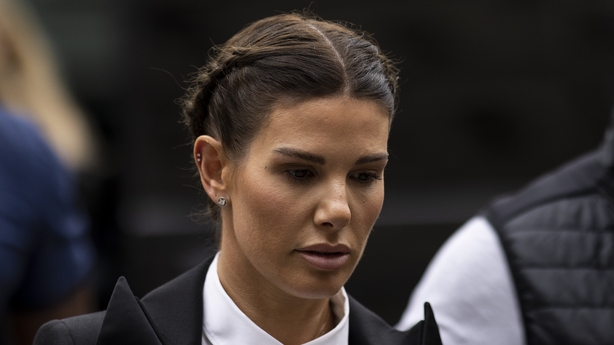 As part of her high-profile libel claim, Mrs Vardy spent over 10 hours giving evidence at the Royal Courts of Justice in what has been dubbed the "Wagatha Christie" case.
She was also questioned over the access her agent Caroline Watt had to Mrs Rooney's private Instagram account.
The former model explained that Ms Watt had access to her Instagram account password from 2017 when she appeared on I'm a Celebrity... Get Me out of Here!.
Mrs Vardy told the court she "didn't give it a second thought" that Ms Watt was able to see Mrs Rooney's private Instagram account.
Asked if she was told by Ms Watt that she was looking at Mrs Rooney's account, Mrs Vardy said: "No she didn't," adding that it "was not even on my radar" when asked if she knew Ms Watt was "monitoring" Mrs Rooney's account.
When she entered the witness box in London for the fourth day of her libel action against Mrs Rooney, Mrs Vardy described a News of the World article about singer Peter Andre as one of her "biggest regrets".
Earlier in the trial, TV personality Mrs Vardy was asked by Mrs Rooney's barrister David Sherborne about a 2004 interview in the now-defunct tabloid that concerned an intimate encounter Mrs Vardy said she had with singer Peter Andre.
Mrs Vardy had previously said that she was "forced into a situation by my ex-husband" to do the interview.
On Friday, Mrs Vardy was asked questions by her barrister about the article.
Hugh Tomlinson QC asked: "Looking back now all these years, nearly 20 years since, can you remember whether the things presented in the article were things you actually said?"
Mrs Vardy replied: "There's a lot of things in there that did not come out of my mouth that were misrepresented in the circumstances around that article I'm deeply sorry for.
"It's shameful reading that, and one of my biggest regrets."
Wearing black trousers and a black blazer over a white shirt, Mrs Vardy stepped out of a black Mercedes van and walked briskly through the court's main entrance when she arrived on Friday morning.
She looked straight ahead and did not respond to greetings from journalists as she walked past.
Mrs Rooney, who wore an all-white outfit, had earlier arrived in a silver Mercedes van with her husband, who donned a blue suit for the proceedings.
Blue is the colour associated with Wayne Rooney's boyhood football club Everton, where he began his career.
The couple did not respond to calls from the press as they passed through the main entrance of the court building.
Source: Press Association