Belfast alt rock band Paper Tigers have released Hush, the first track from their debut EP Graceless. We asked them the BIG questions . . .
Formed in 2018 by Michael Smyth with Hayley Norton on vocals, Emma Rose on bass and joined by Matt Milner on drums, Paper Tigers released their debut single Gucci Smiles, which earned them a nomination for Best Single at the NI Music Prize.
We need your consent to load this YouTube contentWe use YouTube to manage extra content that can set cookies on your device and collect data about your activity. Please review their details and accept them to load the content.Manage Preferences
This was followed by Flames, released at the very beginning of the pandemic. No Ghosts Walk was released in October 2020 and became the band's most successful single to date.
The track saw a vinyl release as part of a compilation on Blow Torch Records. The three singles now have over 40,000 streams on Spotify and 10,000 views.
Tell us three things about yourself?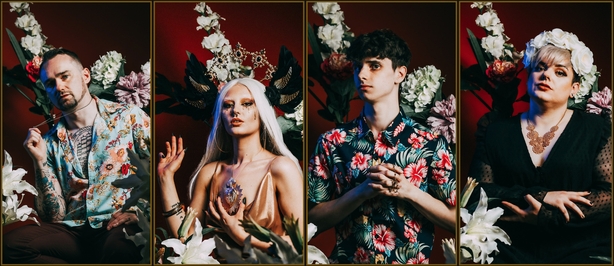 I'm Michael, from Paper Tigers. I once met John Cusack at an event, we chatted about Hunter S. Thompson, his impact as a person, on John and his acting style. He signed a book for me inscribing it 'To Michael, you f*****.' It was the perfect inscription. I am the second in a lineage of three Michael Smyth's. Finally, in the Middle Ages they used to drag witches to the lake, bind them to a log and throw them in as a test to see if they would sink, thus confirming them as a witch or they'd float, meaning they are pure of heart and soul. I can't swim, so am I a witch, impure of heart and soul, made out of lead or maybe I'm just thick boned? Can confirm I'm not a witch.
How would you describe your music?
We're a melodic alt-rock band, equal parts grit, and beauty. It's important to have both, too much of one or the other and it's sickening. We like to have the light and shade as Jimmy Page said, they both make each other more than it would be without its juxtaposition. Which is probably also true of the members of the band. We all bring different things to the band in our personalities and approach to playing. That chemistry between us is the spark that makes it exciting. People have described us as "Blondie fronting the Distillers", which is maybe an oversimplification, but I think we have a punk rock heartbeat at our core and a pop approach to melody.
Who are your musical inspirations?
My musical inspirations for this band funnily enough don't include Blondie or the Distillers. I would say my biggest influences for the band aren't all that obvious in how we sound. Bands like Sparta and Pretty Girls Make Graves are the two main influences and maybe they shine through a little in parts. It's the tension and release of Sparta and their sense of melody against the grit. Pretty Girls are one of my all-time favourite bands and I love the insanity of the guitars against this almost disco bass at times. At The Drive-In and Wolf Alice would be major influences on me as a guitarist and songwriter as well and I started to get really into Sunny Day Real Estate over the last few months. But again, I don't think you can really hear those bands in how we sound.
What was the first gig you ever went to and the first record you ever bought/downloaded?
I bought two records the same day, I don't even think you could download when I started buying records! So, the first two records I bought were Nirvana - Smells Like Teen Spirit single with Drain You, Aneurysm and Even in His Youth as the B-sides and Therapy? - Troublegum. Those two records pretty much set me on a path that I'm still on today. Nirvana was and still are my favourite band, those four songs were like being thrown into icy water as a wakeup call. This is what this can be, all raw emotion, loud guitars, massive drums. Therapy? being from Northern Ireland as well just meant a lot to be at that stage. This band are from a place 40 mins drive from me and I'm holding their record that I bought in HMV. It was that moment that made me think OK well I can do that too. I can make records and play shows and be in a band. To be honest, they both have a lot to answer for!
We need your consent to load this YouTube contentWe use YouTube to manage extra content that can set cookies on your device and collect data about your activity. Please review their details and accept them to load the content.Manage Preferences
My first ever gig was arguably a lot less cool. It was an outside show at the Waterfront Hall in Belfast, sponsored by Red Bull and Reef played. Honestly, I may as well have been going to see Pearl Jam at the Moore. I was stupidly excited. I pulled on my pink tie dye Foo Fighters long sleeve, with holes cut in it for the thumbs, my newly ripped jeans 'cause I was now grunge through and through and my converse. I went and head banged along to every song, I only knew their big hit but that didn't matter to me. I remember waking up the next day feeling like Michael Keaton's Batman, I couldn't turn my head. My poor neck has been enduring abuse ever since.
What's your favourite song right now?
My favourite song right now, I've got really into Air, so Moon Safari has been on repeat and I love Sexy Boy, it's just so full of hooks, the riff, the lyric and then it goes all pretty and floaty. It's my song of the moment for sure.
Favourite lyric of all time?
There's a line in a These Arms Are Snakes song Subtle Body: "I always took the strange way, it never seemed that strange to me". It's just the ultimate most concise way of saying, do what you feel is right, it doesn't matter what anyone else says or thinks about what you're doing, if that's what feels right to you then that's the path you go down. It's certainly something that resonated with me, I'm what some people might call tenacious and other people might call stubborn and hard to work with but if it feels right to me, I'm going to do it regardless of what anyone else is saying or doing. In fact, generally if everyone's going right, I'll go left, it never seemed to make much sense to me to do anything just because everyone else is.
If you could only listen to one song for the rest of your life, what would it be?
1979 by Smashing Pumpkins is my all-time favourite song, that wistful melancholy mixed with a sense of infinite possibilities and hope. I think I'd be ok with listening to it forever.
Where can people find your music/more information?
You can find us everywhere by searching @papertigersni on Facebook, Instagram, YouTube. Wherever and how ever you consume your music we are there.