Dublin singer George Murphy and his band The Rising Sons have announced an 11-date nationwide tour. We asked him the BIG questions . . .
George made his mark on the Irish music scene after appearing on the RTÉ show You're a Star where his sang classic songs by Luke Kelly.
We need your consent to load this YouTube contentWe use YouTube to manage extra content that can set cookies on your device and collect data about your activity. Please review their details and accept them to load the content.Manage Preferences
He has released four solo studio albums, including Dreamed A Dream, So The Story Goes, The Ballad of Archie Thompson, and 2016's Shadowman: The Stable Sessions and toured extensively with The High Kings filling the vacancy left by the departure of Martin Furey.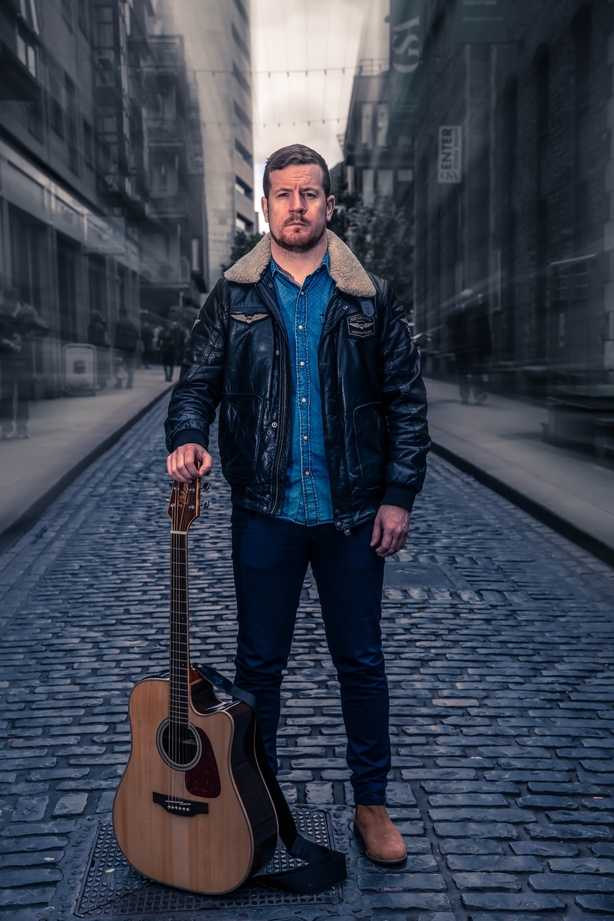 Tour Dates: February 19 - February Civic Theatre, Tallaght (full band). March 12 - Mick Lally Theatre, Galway (intimate show). March 18 - Sea Church, Ballycotton (full band). April 1 - Axis, Ballymun (full band). April 2 - Dolan's Upstairs, Limerick (intimate show). April 16 - Glór, Ennis (full band). April 22 - Tullamore Court Hotel (full band). April 23 - The Imperial, Cavan (full band). April 29 - Presentation Arts Centre, Enniscorthy (intimate show). April 30 - Royal Theatre, Castlebar (intimate show). May 14 - Liberty Hall, Dublin (full band). Tickets €25 + booking fee available at box office and www.ticketmaster.ie.
Tell us three things about yourself?
I guess one is that I am very spontaneous and don't require plans to do something at the drop of a hat. I would consider myself a very loyal person and friendships and trust mean more to me than most things. Lastly, I think I am more driven by making good memories than I am about making good money. I would rather share my earnings with family and friends having a good time together than save it all up for myself.
How would you describe your music?
My music over the years has taken many turns. Having been brought up by my father, who is a professional singer and a bit of a human Jukebox, I find that my taste ranges from Led Zeppelin to Frank Sinatra. As a result, I like to tackle a lot of different genres, but I guess I made a name for myself singing Irish ballads. The formation of my new band, The Rising Sons, has allowed me the opportunity to mix Irish folk with rock n roll. We are an eight-piece band and have the traditional sounds of banjo, fiddle and whistle while also having the rock 'n' roll sound of electric guitar, bass guitar and percussion. Marrying it all together has definitely given us something unique.
Who are your musical inspirations?
I love the singer songwriters. Bob Dylan, Johnny Cash, John Lennon. For me while melody is huge I am more fixed on great lyrics and the powerful message behind the words.
What was the first gig you ever went to and the first record you ever bought/downloaded?
My first big gig was Aslan in The Point Depot. What an unbelievable band. I am still a huge fan to this day. Little did I know that after watching them many times in awe as a young teenager that I would eventually get the chance to join them on stage and record a duet with Christy Dignam. He's always been a hero of mine and for me one of the best front men of all time. The first record I bought was actually a million miles away from what I listen to and perform. I went through a little rap phase in my young teens and loved Coolio's Gangsta's Paradise. It's an anthem still today and the first single I ever bought. First album was a cassette of Lennon Legend. Worn out in the Sony Walkman.
What's your favourite song right now?
This is a tough one as again I listen to so much stuff but lately I have been listening to Fleetwood Mac and I just keep going back to The Chain. What a classic!
Favourite lyric of all time?
"Life is what happens to you while you're busy making other plans" - Beautiful Boy (Darling Boy) by John Lennon. How true, how profound! Not necessarily my favourite song in the world but an ingenious lyric.
If you could only listen to one song for the rest of your life, what would it be?
Very, very hard to say but a toss-up between Working Class Hero by John Lennon or Changing of the Guards by Bob Dylan.
Where can people find your music/more information?
Our website is currently being re-done but you can find material and information on myself and The Rising Sons on YouTube, Spotify, Facebook, Instagram. Hopefully the website will be back up and running soon.