Four years after crashing on to our screens with memorable lines such as "I don't want to be an individual on my own", Derry Girls returns tonight for a third and final series.
The coming-of-age sitcom, written by Lisa McGee, follows four teenage girls and one "wee English fella" in 1990s Derry as they navigate concerts, crushes and bomb scares.
We need your consent to load this YouTube contentWe use YouTube to manage extra content that can set cookies on your device and collect data about your activity. Please review their details and accept them to load the content.Manage Preferences
The comedy has been a ratings winner for Channel 4 and came to international attention after Netflix acquired the rights.
Derry locals often acknowledge the hit show as a vibrant antidote to the bleakness that pervades many depictions of Northern Ireland and the tourism and arts sectors there are hoping the programme will leave a lasting legacy.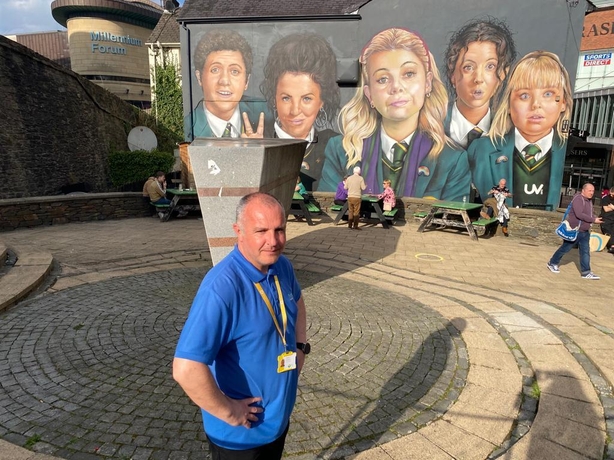 "What's so beautiful about it, is that it has taken the very much travelled Troubles story and puts real people into it," said Marie-Louise Muir, an arts broadcaster and co-host of the Talking Derry Girls podcast.
"It's the characters themselves, the language, the turns of phrase, essentially the humour. Couple it with an incredible soundtrack; it just arrived fully formed at what I feel was the right time for it. It has placed the city on a cultural map."
According to Tourism Northern Ireland, areas that attract film and TV productions benefit from a related growth in tourism.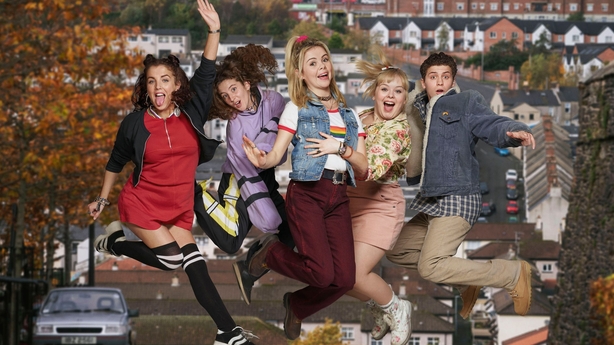 "The fact that it's been picked up by Netflix, obviously has given us a global platform in which to put the Derry brand into market," said Odhran Dunne, chief executive of Visit Derry.
He expects the economic impact of Derry Girls to run into millions of pounds. "When we look at the success of Game of Thrones generating £250 million to the Northern Ireland economy, we know we'll get a piece of that cake."
As the series began to attract a following of dedicated fans, a cottage industry of Derry Girls-themed afternoon teas, merchandise and walking tours sprang up in the city.
Gleann Doherty from Derry Guided Tours runs a walking tour taking in landmarks from the series and blends it with local history.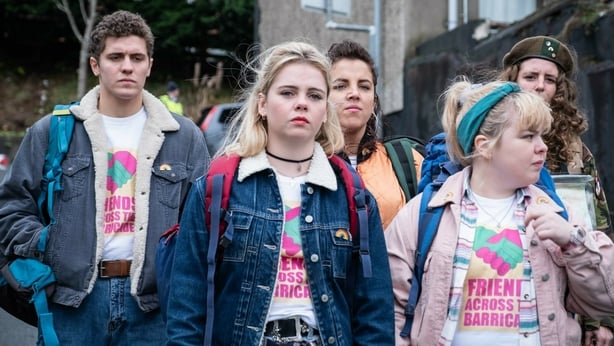 He says he has been surprised by how international audiences relate to the comedy. "The humour carries across all borders, even though in fairness quite a lot of Americans have to use subtitles."
Series writer Lisa McGee did not dilute the local humour or colloquialisms, but Doherty says although the location may be unique, the teenage experience is universal.
Stephanie English, who owns Checkpoint Charlie gift shop in the city, has also noticed an upturn in visitors arriving because of the programme.
"It has kind of softened the image of Derry for people," she says. "I think anybody who thought they couldn't go there, because of the conflict, the programme has definitely softened that for them."
She adds that the series allowed people to view Northern Ireland through a new lens. "They can see we're just ordinary people. Behind the conflict there were these ordinary people living everyday life, like teenagers everywhere."
In addition to boosting tourism, arts broadcaster Marie-Louise Muir says she has noticed certain cultural gains, such as publishers paying more attention to writing from the region.
She believes the lasting legacy will not only be that Derry Girls changed the perception of the city to outsiders but changed how Derry people perceive themselves.
"I see a sense of, well if Lisa can do it, and a young woman from the city can reflect us back - it's just given confidence to the younger voices," she says.
"And there's a sense for women that what they say is going to be listened to. It's the women's voices that are finally getting through."
Una Kelly