With the grand final of Dancing with the Stars looming on Sunday night, we caught up with finalist Erica Cody to find out how she's feeling, what her favourite moments have been, and who she'd like to see lifting the glitterball trophy (other than herself).
The Dublin singer-songwriter has made it to the final four alongside former jockey Nina Carberry, rugby star Jordan Conroy and Paralympic swimmer Ellen Keane in what is sure to be an electric end to a very strong season.
How are you feeling ahead of the final on Sunday, can you believe you've made it this far?
I can't believe it's actually been 12 weeks and I can't believe I've made the full 12 weeks. Going into it I was like 'whatever happens, happens and I'm just really grateful to get this opportunity', because it is a once-in-a-lifetime thing. I just wanted to enjoy every single minute of it and just take things day by day, so the fact that I've done that and I've made it this far, I feel like that's a trophy in itself.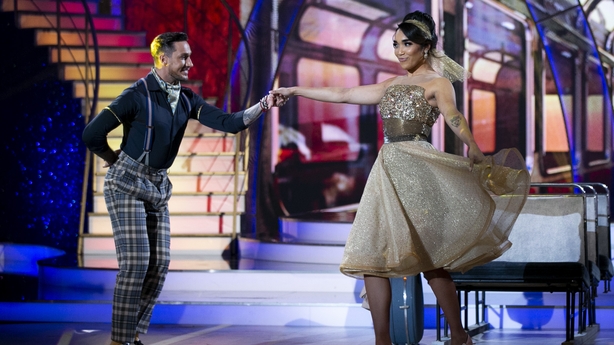 What has been the biggest lesson you've learnt over your Dancing with the Stars journey?
Never be afraid to push yourself out of your comfort zone. This was something completely new to me and something that I never thought I'd ever do. My thing would be, trust the process and do things that make you uncomfortable, because you'll be surprised at how much you can grow and how much you can improve at things you never thought you'd get the chance to do. I'm so grateful to have had this experience and have had an amazing partner and been on this journey. I'm just full of gratitude, I've been beaming all week.
What has been your favourite moment so far?
When I did the Princess and the Frog, that was definitely a stand-out moment for me, and my dedicated dance to Samantha Mumba, they were two full circle moments for me. I've always talked about how important representation is, and I think, especially with the final four that we have, I feel like it represents nearly everybody. You have Ellen, who's been that visibility for people with disabilities, you have me and Jordan, two people of colour, two black people, that are in the final of Dancing with the Stars and then you have Nina who's a working mom, going through this whole journey being away from her kids. We all represent something and it's really beautiful to see.
What is the funniest thing that happened behind the scenes?
I think everyone will agree that on Saturday when we go to the studio to do our dress rehearsal, that's always the day to get everything wrong! There's so many stand-out moments, you had Billy [McGuinness] who'd come in every week with the guitar and warm everybody up with a sing-song, you've got Jordan just being Jordan backstage trying on all the wigs, there's a lot of fun involved. It's just very quiet now it's only the four of us!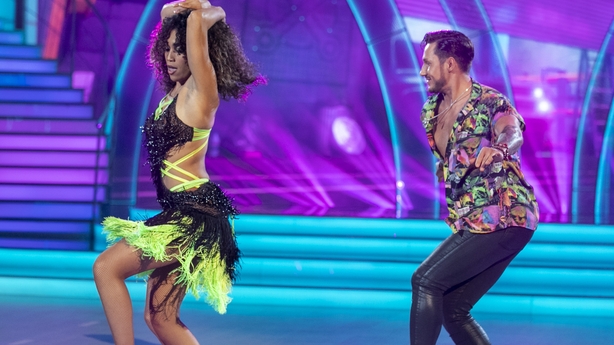 What piece of praise or criticism has stuck with you most from the judges?
All of their critiques have made me into the dancer that I've evolved into. It's hard to pick one because every dance is so different, they give you something different every week. It's always so lovely when you get nice critiques off Loraine [Barry], there's something about her that's really warm and makes you feel really fuzzy inside. She's the Queen of Ballroom, who wouldn't want to get a compliment off her?! Arthur [Gourounlian] puts a smile on your face and Brian [Redmond] tells you the things you need to hear. They all compliment each other really well.
Has it surprised you what a challenge it's been, mentally and physically?
I never imagined how consuming it would be. I presumed when I signed up to do the show that I'd still have time to go to the studio and write and collaborate. Come January, I'm like 'I need sleep, I need to just have a bath and read a book'. I don't have time to work but it's been totally worth it.
Have you been blown away by the support you've received?
When I came into the competition I felt like one of the underdogs because I don't have such a huge social media following or a lot of people don't know me because I'm an R&B singer. To know that there's been so much support from the public, it blows my mind. I can't believe that there's people picking up the phones every week and voting for me and Denys [Samson] because they just enjoy us entertaining them.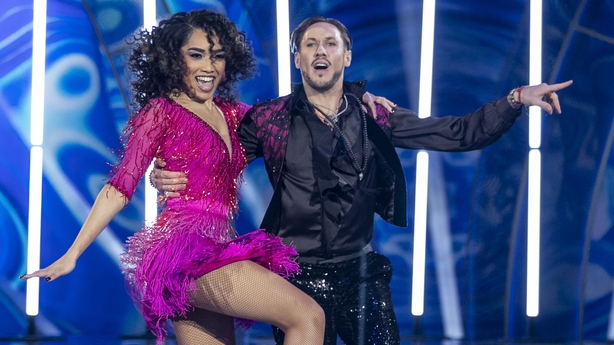 Who would you like to see lifting the glitterball trophy, other than yourself?
That's so hard! Jordan would be my first pick because he's evolved so much, but the journey that Nina has been on has been incredible. It's a very close call, for all of us I think, I think it's going to be a very close call on the night. It's really anyone's for the taking.
Do you think you will continue dancing?
Without a doubt. I've a new skill to add to my new shows. We're straight back into shows after this ends so it's super exciting, I can't wait. There's no way that I'm not going to continue on, I'd love to start doing commercial classes, just keep dancing and moving. I feel the fittest I've ever been and I used to play basketball at a really high level and now I feel the best I've ever felt. If I could feel like this all the time, why not?
What three words would sum up your Dancing with the Stars experience?
Glamourous. Hard work. And emotional, in the best way. I'd add inspiring to the list, it has been. It's been really tough for Denys, we've definitely been each other's rocks throughout this whole experience. We've leaned on each other when we've needed each other the most.
The Dancing with the Stars final airs on Sunday, 27 March at 6.30pm on RTÉ One and RTÉ Player.