Comedian and actor Steve Coogan says that Martin Brennan, the west of Ireland farmer who stole the show when he burst into Irish rebel songs on BBC TV three years ago, will be back as part of the new Alan Partridge live shows in Ireland this April.
Manchester-born Coogan, whose parents are both from Ireland, created the doppleganger character for spoof magazine show This Time With Alan Partridge back in 2019 and he left the tv host reeling when he sang Come Out, Ye Black and Tans and The Men Behind The Wire live in studio in a scene that became the standout moment from the whole series.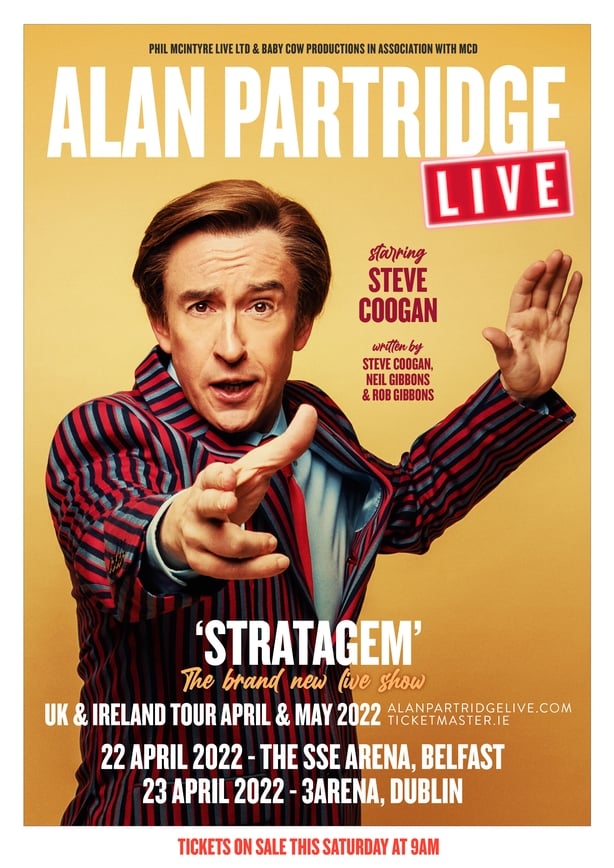 Coogan's new live show Stratagem with Alan Partridge comes to the 3Arena in Dublin on April 23 and 24 and the SSE in Belfast on April 22 and speaking to RTÉ Entertainment, Coogan said, "Martin Brennan will be back. He went down very well with the Irish the last time which I did fully expect but it was a bit of a gamble.
"I did it in such a way that it would empower Martin and disempower Alan. Martin is back so Alan will talk to him, he might even do a duet with him during the live show."
We need your consent to load this YouTube contentWe use YouTube to manage extra content that can set cookies on your device and collect data about your activity. Please review their details and accept them to load the content.Manage Preferences
Coogan added, "He'll be talking to Martin down the line and Martin will only be taking part because he's negotiated quite a good fee and he won't be particularly interested in what Alan has to say.
"Alan will certainly talk in Dublin to the Irish about being Irish and Alan doesn't realise that there are pitfalls there."
Ders more to Partridge den dis. #ThisTime pic.twitter.com/C25PdfiuJi

— BBC Comedy (@bbccomedy) March 18, 2019
Stratagem with Alan Partridge is billed as "a manifesto for the way we can move forward, a roadmap to a better tomorrow, an ABC for the way to be" and it will see Coogan's bungling TV presenter on a Reithian mission to inform, educate and entertain with a live show that will combine TED Talk with life coaching seminar.
It aims to help the audience navigate modern society and it will also see Alan confront his own shortcomings as a relic in a changed world.
"Ireland didn't have the propensity for invading and colonising other countries although the Irish culturally have colonised a large part of the world. My Irish roots are something I am proud of."
However, while Partridge, who made his debut as a self-regarding sports presenter on BBC Radio in 1991, is an occasionally (well, always) venal Little Englander he has never been "gammon".
"No, but I think he's matured," Coogan says. "Lots of people have epiphanies and Alan has had his own epiphany or at least he thinks he has. He can't have real epiphanies because then he'd stop being funny, we need to maintain a certain level of ignorance about him and make him slightly ill-informed about virtually everything.
"But I think in his own life he's had this Damascene moment that he's realised that material success doesn't make him happy. It's about other stuff so we're going to have him come along and help the audience tackle their problems."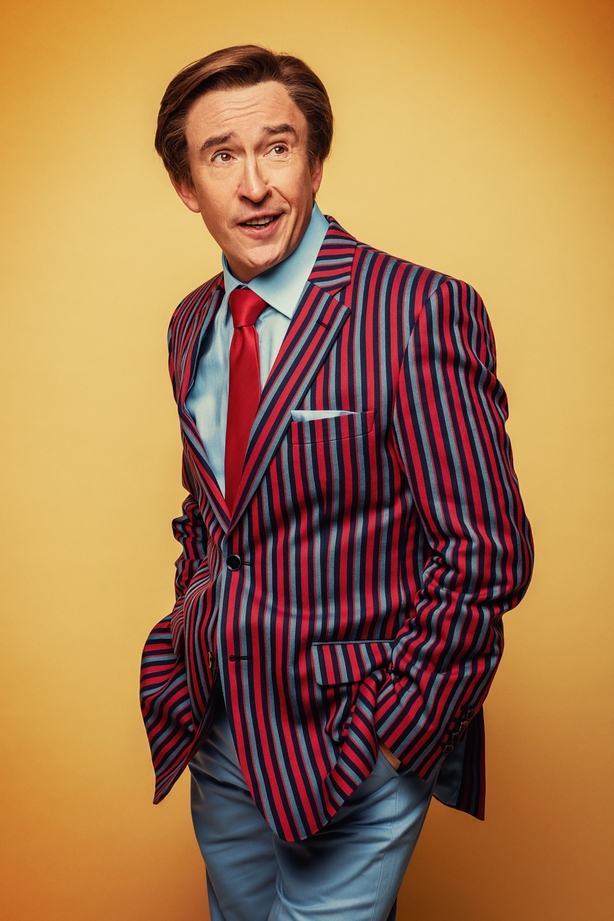 In the show, Alan will tackle hot button topics such as the post MeToo world, wokeness and cancel culture. He meets and interviews a gender fluid dancer and revisits his own childhood.
"Alan will talk to himself as a child through the magic of theatre," Coogan says. "There's self-analysis and contemplation about the self that Alan will do and invite the audience to do the same thing.
"So, he'll deal with cultural issues, how to deal with the modern world for those who feel disconnected to it and that will involve dealing with wokeness, diversity, gender politics, identity and gender fluidity.
"I think that when you do this type of job it makes you emotionally and mentally vulnerable."
"Alan will dive straight into it and mangle it in the process. It's a bit of everything. It's a potpourri of self-indulgence with a little bit of self-aggrandisement with a little bit of Elon Musk and Steve Jobs thrown in there."
Coogan was very busy during the pandemic. As well as writing Stratagem, he also filmed the lead role in Reckoning, the new BBC drama about notorious paedophile Jimmy Savile and as part of his preparation for the controversial part, Coogan met some of Savile's victims.
"I wasn't `in character' as such. I was certainly made up and dressed as him to shoot a scene and I did meet them because they requested it and I went over and said hello," he says.
"They were there because they supported what we were doing, and they feel it is a story that needs to be told and I'll talk about that more when the film comes out.
"My general observation is that it is better to talk about things than not talk about them because then they fester. Before we knew all this about Jimmy Savile, he was this much-loved British institution who had charisma and you can't pretend that wasn't the case.
"So how do you acknowledge that? Why was he able to do that? How did that come about? Why was he able to groom a nation? If you can't talk about that then you are destined to repeat the past."
As well as the upcoming role as Savile, he's built up a quality back catalogue of films, including Philomena, Stan & Ollie, Greed and of course the rather good Partridge movie, Alpha Papa.
In person, the 56-year-old is both boyish and urbane. He is also analytical and chooses his words with exactitude.
Inept host and desperate self-publicist Partridge has long since stopped being an albatross (or an Alantross, if you will) and has become a character Coogan can put away and reactivate when he needs to.
"In a word, yes. I'm able to do these other things that matter to me a great deal," Coogan says. "I just finished a series called Chivalry which is about the whole MeToo landscape and that matters to me and I'm working on the drama about the finding of the body of Richard III which I wrote with Jeff Pope who I wrote Philomena with.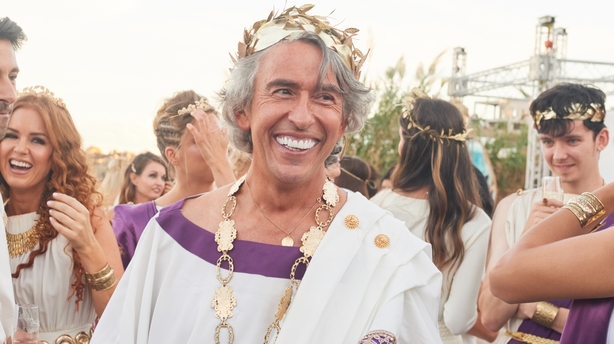 "These stories are really important to tell so when I come back to Partridge it's because I want to and not because I have to and that's important not just for me psychologically. It's important because it lifts it, it imbues it with something because I'm there because I want to be there as Alan. If the audience know that, they can relax and not feel I'm flogging a dead horse."
His closeness to Ireland is well-documented and Coogan first spoke about applying for Irish citizenship back in 2019. However, he's still waiting for his new passport.
"There's a huge backlog because anyone who had half a claim to Irish citizenship threw their hat in the ring at the same time so I'm hoping to hear about it in the not too distance future," he says wryly.
He applied for the obvious reasons. "Yes but not just because of Brexit and not just because I want to be part of the European Union. It's something I should have done years ago anyway. I always say that internationally the Irish have annoyed the least number of people of any nation on earth and the English are the reverse.
"Ireland didn't have the propensity for invading and colonising other countries although the Irish culturally have colonised a large part of the world. My Irish roots are something I am proud of."
Having had numerous tangles with the British press, Coogan is guarded about his private life. He has one daughter, Clare Jane, and his father Tony passed away several years ago.
He says he hopes his family will come along to Stratagem. "My mother Kathleen might be persuaded to leave the house and come to see me in Manchester and my my uncle, Peter Coogan, is here in Dublin and has always lived in Dublin and I'm very fond of him he'll come along to see me."
.#SteveCoogan tells us why he sang Irish rebel songs on primetime #BBC television on This Time with #AlanPartridge #BlackandTans pic.twitter.com/W1XhQW1O6d

— Entertainment on RTÉ (@RTE_Ents) February 14, 2020
As we speak, Coogan's cousin, Irish actor Aidan McCardle, who has appeared in Black 47, Ella Enchanted, The Duchess, enters the room and sits across from us. He and Steve are heading out to dinner after our interview.
Like venerable greats of British comedy, Peter Sellers, Kenneth Williams and John Cleese, Coogan has perfected the comedy of cringe. He deals in the horrified laughs to be had from a hapless patsy's ritual humiliation.
And like those performers, he has also battled with the black dog. There is often the impression with Coogan that there is a churn of emotion and self-doubt under his urbane surface and that he is constantly working so that he doesn't have time to be too self-analytical.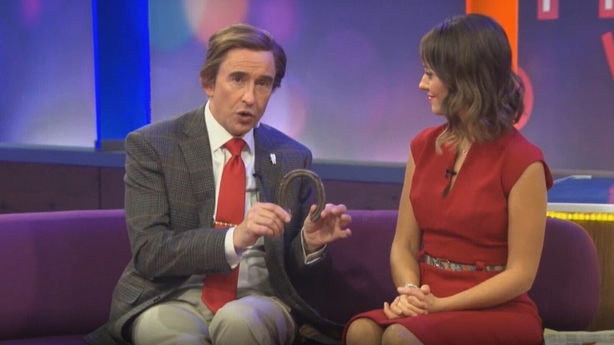 He sighs and says, "I think that when you do this type of job it makes you emotionally and mentally vulnerable, but I think there is a danger of if you're just addicted to the approbation you get from a big crowd laughing at you all the time then that's unhealthy.
"I don't think I am. I enjoy it and get a buzz out of it, but I don't do it that often. I do it from time to time - it's the other stuff that keeps me sane. The writing keeps me sane. When I sit in a room and write with someone, it's the closest I get to a real job.
"That's what grounds me. That and family and not being seduced and defined by what other people think of you. If you look at social media these days, people seem to think they only exist if they can see themselves on their own computer screen. I don't do any of that and I certainly don't go Googling myself as some people do."
Tickets for Stratagem With Alan Partridge at the 3Arena in Dublin on April 23 and 24 and the SSE in Belfast on April 22 are on sale now priced €46 including booking and facility fees.
Alan Corr @CorrAlan2