Aslan's Billy McGuinness has lasted much longer on Dancing with the Stars than he thought - and he's getting a great buzz out of putting smiles on people's faces every Sunday.
He'd be the first one to put his hands up and admit that he's not meant for the dance floor. As he previously admitted, "I'm a chancer, not a dancer".
But Billy's willingness to give it a go every week, and get dancing with his tongue firmly in his cheek, has endeared him to the show's massive audience. Quite simply, he's representing the Man on the Street every Sunday.
In previous weeks we've seen the likes of Cathy Kelly, Aengus Mac Grianna, Missy Keating and Gráinne Seoige depart from the show, which has only four more episodes left before the new champion is crowned.
"I can't believe it's show nine and I'm still here," Billy admits. "When the show first started, my only hope was that I wouldn't be the first contestant to be eliminated. That was the limit of my ambitions.
"At 61 I'm the oldest one in it. I knew I couldn't compete with the likes of Jordan or Nina Carberry, or Ellen or Erika. I'm not a gymnast! What I bring to the show is a bit of entertainment and a bit of laughter."
There's no denying that Billy has been the joker in the pack this year. As ever on the show, there's a clear line between the celebrities who are in it to win it, and those who are there to give it a go and step outside their comfort zone.
Along with his pro dance partner Hannah, Billy's given his all, week after week. It's a bit like the tagline to The Commitments movie: "They had absolutely nothing. But they were willing to risk it all."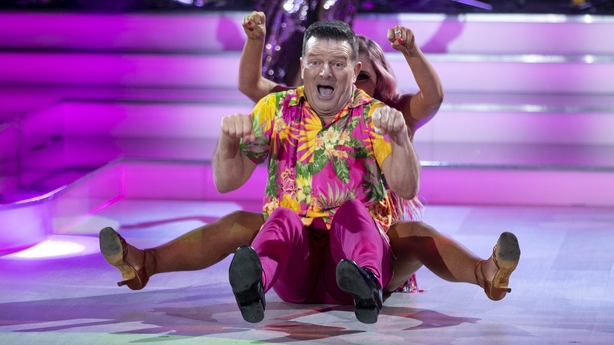 And that's pretty much Billy on Dancing with the Stars in a nutshell. And after 40 years in Aslan, with all the ups and downs that came with that, he knows a good thing when he sees it. He's embraced his inner court jester.
"Do you know what? I keep whinging about it but, honest to God, I'm loving it," he says ahead of tonight's show. "And I hope I stay in it as long as I can.
"Because, what's happening now is people are starting to come up to me and say: 'Do you know what? You're making our Sunday nights. We have a great laugh with you.'
"'You're in a canoe, or you're wearing a wig, or you're a pizza guy, or you're a mod - whatever. We're dying to know what you're going to do next.'
"And it's great that, in a show like that, you can make people smile and laugh. And if I can do that . . . you can't put any marks on that. I don't care what the judges give me.
"If we can supply a little light relief, me and Hannah, or Team Banana as I call us, then great. I went on the show, not to take it seriously because - hand on heart, I'm not a dancer. And people know that by looking at me.
"But they're enjoying what I'm doing," he adds. "And long may it continue!"
Dancing with the Stars, 6.30pm, RTÉ One