The cast and producers of acclaimed new Irish-language film An Cailín Ciúin have praised the movie's young star Catherine Clinch for providing "a masterclass" in acting in what is her movie debut.
The coming-of-age drama was recently honoured at the Berlin International Film Festival, a first for an Irish-language feature film at one of the world's most renowned cinema showcases and has picked up ten nominations at this year's IFTAs, including a Best Actress nod for 12-year-old Catherine.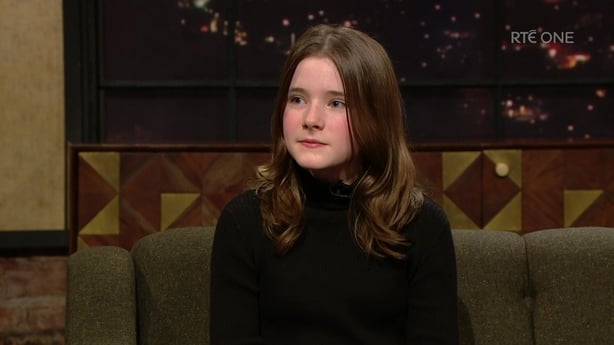 Billed as "a spell-binding portrait of an Irish childhood" and set in Waterford in 1981, An Cailín Ciúin follows the withdrawn nine-year-old Cáit, played by Catherine, as she spends the summer with foster parents, played by Carrie Crowley and Andrew Bennett.
Directed by the husband-and-wife team of producer Cleona Ní Chrualaoi and director Colm Bairéad and based on the story Foster by author Claire Keegan, the film opened the Virgin Media Dublin International Film Festival during the week and will go on release in cinemas later this year.
An Cailín Ciúin 💚#LateLate pic.twitter.com/OdBFTWG4ei

— The Late Late Show (@RTELateLateShow) February 25, 2022
Speaking on Friday's Late Late Show, Carrie Crowley, who is currently shooting the third season of hit RTÉ drama Smother in Lahinch, and who stars as warm-hearted foster mother Eibhlin in the film and she was full of praise for her young co-star.
"Catherine is like a masterclass in screen acting and indistinctively she had it from day one," she said. "It was just so beautiful to watch because `action' would be called, and a lot of actors would be straight in and they're busy and they're doing things.
We need your consent to load this YouTube contentWe use YouTube to manage extra content that can set cookies on your device and collect data about your activity. Please review their details and accept them to load the content.Manage Preferences
"Catherine would take her time and come on and everything that was required would be there from the beginning. Colm, our director, made one comment, something that was needed, and she got it immediately. It was beautiful to watch and she is a total honey."
Carrie added, "I think one of the reasons the film works so well is that there is not a lot of dialogue. A friend of mine said you're watching faces but they're not saying anything. You're experiencing it and moving with it. You feel the atmosphere of the room, of the farm."
Speaking about her character, Catherine, who is still in sixth class in school, said, "Cáit is a bit of a handful, so she is sent to stay with relatives.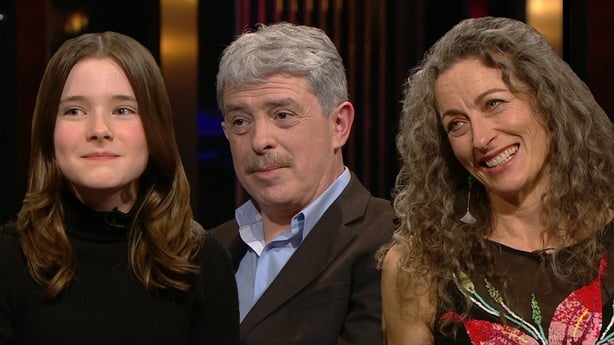 "In her house there are a lot of rules, and she has to keep a lot of secrets but in the new house she is told there are no secrets in this house but then she ends up finding out a secret."
Asked by host Ryan Tubridy if she was nervous taking on the part, she said, "I didn't really know what was going to happen. I didn't know anything about filming."
Catherine and her family travelled to Berlin to attend the premiere of the movie at the Berlin Film Festival but sadly she couldn't attend the event.
"I wasn't able to go because just an hour before the premiere I found out I had Covid," she said. "We stayed in Berlin for a week in a hotel with my mum and my dad and my sister."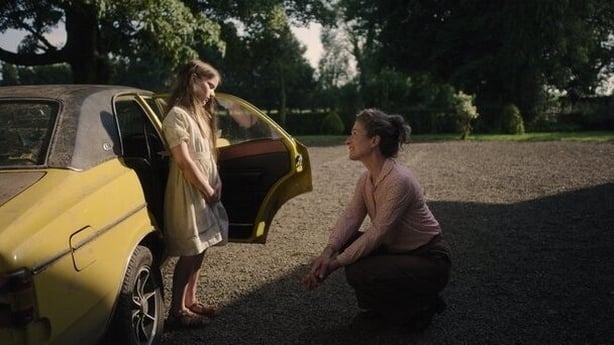 Speaking about the Irish dialogue in the film, Andrew Bennett, who stars as kindly foster father Seán, said, "Obviously we had a script, so everything was written down but because the Irish in An Cailín Ciúin is very specifically Waterford Irish, we had a dialogue coach and kept and eye out for any Galwayisms that crept in."
Producer Cleona Ní Chrualaoi said it was difficult to find the right young actress for the pivotal role of Cait.
"We originally started our search in Munster because the film is set in Waterford," she said. "Then we decided to expand to Dublin and Galway and other counties and then of course Covid hit, and all our physical auditions were defunct.
"So, we put out a call to all the Gaelscoils and one day in May 2020 we got a very special audition video from a young girl called Catherine Clinch and I remember watching it and being blown away. Colm was out at the time so I rang him and said you have to come home and watch this. It's amazing.
Cleona added, "Catherine has so much composure and dignity and a real sensitivity to her performance, and we knew immediately this is Cáit."
An Cailín Ciúin has now become the first Irish language film to pick up a British distributor and will be shown in UK cinemas.
"We're so proud to have made an Irish language film that speaks to the world." said director Colm Bairéad.
An Cailín Ciúin will go on release in cinemas later this year.
Alan Corr @CorrAlan2