Jennifer Lopez, Owen Wilson and Maluma have shared the good, the bad and the funny relationship advice they have received.
Watch the interview in full above.
Speaking to RTÉ Entertainment, the cast of rom-com Marry Me, which is in cinemas this Friday, share nuggets of advice they have received from family and friends over the years as they navigate their romantic relationships.
Laughing, Lopez, who is in a relationship with fellow actor Ben Affleck, said: "I get a lot of bad relationship advice.
"Talking to my aunts they are like 'You should do this...' and I'm like 'No I don't think that's the right thing to do'.
"And it's funny!"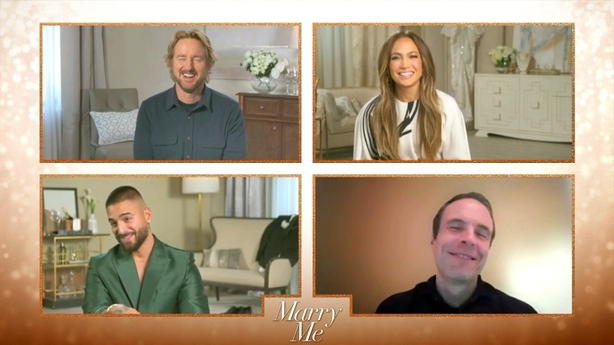 While Wilson said that his parents' sense of humour and being able to laugh together gave him the ability to deal with life's ups and downs.
The best advice Maluma ever received was to "take care of the things you've already got, maybe if you lose it, you will miss it".
Marry Me tells the story of pop superstar Kat Valdez (Lopez) who is about to get married to her fiancé Bastian (Maluma) in front of huge audience of loyal fans.
However, seconds before the ceremony, she learns about Bastian's cheating ways and has a meltdown on stage. So, in a moment of madness, Kat decides to marry the first person she sees, who happens to be Owen Wilson, who is temporarily holding a 'Marry Me' sign that belongs to his friend (played by Sarah Silverman).
Marry Me is in Irish cinemas from February 11.