Pam & Tommy finally arrives, there's the final part of gritty drama The Responder, Neven's Irish Seafood Trails and The Repair Shop continue, and The Tinder Swindler lands . . .
Pick of the Day
Pam & Tommy, Disney+
There's been some hype around this, an obvious game-changer for Disney+ as this story is about as un-Disney as it gets. They're clearly targeting Netflix now.
Set in the Wild West early days of the Internet, Pam & Tommy is based on the incredible true story of the infamous Pamela Anderson (Lily James) and Tommy Lee (Sebastian Stan) sex tape.
Stolen from the couple's home by a disgruntled contractor (Seth Rogen), the video went from underground bootleg-VHS curiosity to full-blown cultural obsession when it hit the burgeoning Web in 1997.
A love story, crime caper and cautionary tale rolled into one, the eight-part series explores the intersection of privacy, technology and celebrity, tracing the origins of the current Reality TV Era to a stolen tape seen by millions but meant to have an audience of just two.
It's also great fun.
Don't Miss
The Repair Shop, 8.00pm, BBC One
Anorther week, more old stuff returned to former glory.
This week, Steve Fletcher is excited to be presented with an 18th-century timepiece built by renowned French maker Julian Beliard.
The rare piece is damaged and no longer works and is damaged, so it will take all his knowledge to get it ticking again.
Meanwhile, electronics wizard Mark Stuckey takes receipt of a 1960s' radiogram that has been silent for decades, silversmith Brenton West works on a Victorian botanical microscope and Pete Woods restores a 100-year-old junior drum kit that has been beaten into submission.
Neven's Irish Seafood Trails, 8.30pm,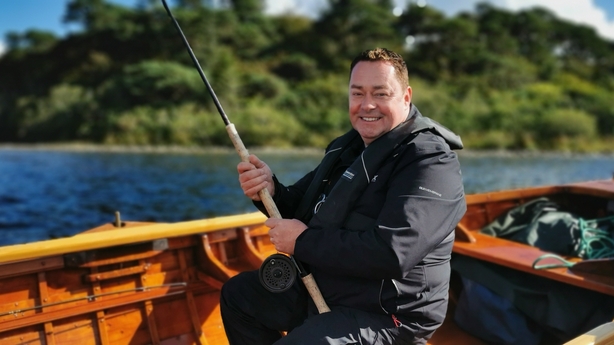 This week Neven Maguire (above) travels to Cork City, beginning at the award-winning Goldie seafood restaurant to learn about their 'whole' catch policy.
He then heads to the Good Day Deli in Nano Nagle Place, before visiting the Trawler Boyz food truck at Shanagarry Beach.
New or Returning Shows
SEAL Team, 9.00pm, Sky Max
Streaming on NOW
As the fifth bicep-bulging season begins, the team is still being deployed on clandestine missions worldwide at a moment's notice.
Knowing the toll it takes on them and their families, the tight-knit Bravo Team led by Jason Hayes are back to show fearless dedication even in the face of overwhelming odds.
First up, everyone on Bravo is shocked when they learn a training exercise is really cover for a covert mission to get a weapons expert out of one of the most dangerous countries in the world.
Storyville: Misha and the Wolves, 10.00pm, BBC Four
Now here's a truly fascinating story.
When she was seven, Misha Defonseca escaped the Nazis, crossed Europe on foot, lived with wolves and endured unimaginable hardship in search of her deported parents.
Her Holocaust memoir took the world by storm and a Hollywood studio came knocking.
But then a fallout with her publisher, who had turned detective, revealed Misha's story as an audacious deception created to hide an even darker truth.
Finné, 9.30pm, TG4
Lisa Lawlor was only 17 months old when she was orphaned after both her parents were killed in the Stardust fire tragedy in Artane, Dublin in 1981.
She became a symbol for the tragedy throughout her life as those around her struggled with the loss. As she explains, Lisa struggled to establish her own identity after being dubbed the Stardust Baby.
China: The Search for the Missing, 11.05pm, Channel 4
With the Beijing Winter Olympics just two days away, Dispatches investigates allegations of mass surveillance, detention and forced labour in China's north-west.
New to Stream
The Tinder Swindler, Netflix
Toxic males don't come much more despicable than Shimon Hayut, the focus of this documentary from the people who brought us the enticingly-titled F**k With Cats.
The Tinder Swindler tells the jaw-dropping story of a prolific conman who posed as a billionaire playboy on Tinder, and the women who set out to bring him down.
It's not easy to find love online, so when Cecilie matches with a handsome billionaire playboy, she can't quite believe it when he turns out to be the man of her dreams.
But dreams aren't reality and by the time she discovers this international businessman isn't who he says he is, it's too late. He's taken her for everything. Where this fairytale ends, a revenge thriller begins.
MeatEater Season 10 Part 2, Netflix
As he returns to continue on his foodie trails, Steven's travels take him to New Mexico for big game and an exotic import, as well as Hawaii, where he hunts feral goats and takes up spearfishing.
Ending Today
The Responder, 9.00pm, BBC One
It's the fifth and final episode of this bruising Scouse drama, starring Martin Freeman playing a Liverpool cop living a nightmare existence.
After being taken prisoner, Chris finds himself in a lock-up, where gang leader Greg Gallagher orders him to find Casey and the stolen drugs - or face his wrath.
But when Rachel needs his urgent help, the cornered cop is forced to decide where his true loyalties lie.
Click here for TV listings