After her stunning recent performance with BRÍDÍN of Iontach Bheith Beo on The Tommy Tiernan Show, Clare Sands has released her new EP, Tírdhreacha Agus Fuaimdhreacha (Landscapes & Soundscapes). We asked her the BIG questions . . .
We need your consent to load this YouTube contentWe use YouTube to manage extra content that can set cookies on your device and collect data about your activity. Please review their details and accept them to load the content.Manage Preferences
Sixth-generation fiddler, bilingual singer, and multi-instrumentalist Clare embarked on an exploration of the nooks and crannies of Ireland's sights and sounds throughout 2021, creating four boundary-breaking macaronic songs.
Spanning over four seasons in the four provinces of Ireland, alongside four different collaborators, Tírdreacha Agus Fuaimdreacha is a musical journey featuring renowned folk and traditional musicians, Susan O'Neill, Steve Cooney with Tommy Sands, Brídín and Liam Ó Maonlaí.
Tell us three things about yourself?
I'm a sixth-generation fiddler and bilingual singer. I am a Black Belt with a couple of world medals for Ireland! I swim/surf in the sea daily - it is the highlight of my day.
How would you describe your music?
Fearless folk music with Irish traditional at the core. Inspired by the landscapes and soundscapes of Ireland, and my travels around the world.
Who are your musical inspirations?
My father and the fiddlers and singers that went before him. My mother for my musical education. Other Irish heroes of mine include Aisling Urwin, Tommy Sands, Steve Cooney, Hothouse Flowers.
What was the first gig you ever went to and the first record you ever bought/downloaded?
Rodrigo Y Gabriela - completely opened my mind to the rhythmic nature of the guitar and the endless possibilities of cross-pollination. First concert I remember (other than the endless sessions that were in our house every weekend!) was Counting Crows in the Three Arena.
What's your favourite song right now?
Surbajo by Les Filles de IIIighadad. All female group from the Sahara Desert, Niger. First Tuareg professional female guitarist. Amazing!
Favourite lyric of all time?
'Life is sad, life is a bust, all you can do, is do what you must' - Bob Dylan - Buckets of Rain. Says it as it is, really!
If you could only listen to one song for the rest of your life, what would it be?
Passage West by John Spillane. I think it's the most beautiful song ever written.
Where can people find your music/more information?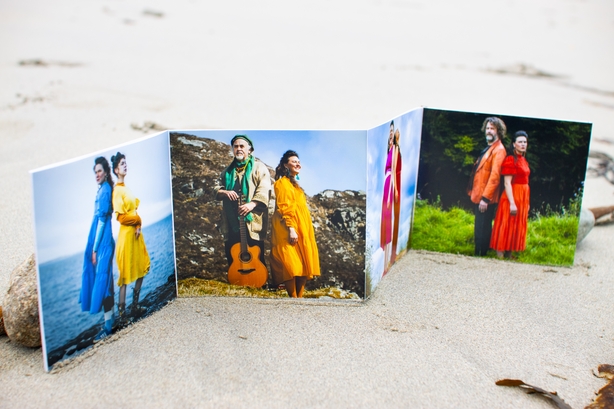 You can find my new EP Tírdhreacha Agus Fuaimdhreacha on the Claddagh Records website, and you can find out about my ceol (and deepest darkest secrets!) on my own website.