Neil Delamere has become the latest celebrity to get voted off this season of Dancing with the Stars.
Afterwards he reflected on his experience. "What can you do?" he said. "It's part of the competition. You have to embrace it, do your best, and let the chips fall as they may.
"If you weren't dancing, you were thinking of dancing. It's pretty intense and I feel that I've learned a new skill. I didn't listen to what anybody else said, all you can do is your best in any individual dance. And the slate is wiped clean every dance."
Week four of Dancing with the Stars saw 11 celebrities take to the floor, bringing viewers through a selection of some well-known tracks from movie history.
Jennifer Zamparelli was back on co-hosting duties alongside Nicky Byrne, after missing out on last week's show, where she was replaced by Lottie Ryan after testing positive for Covid.
First to perform was Love Island star Matthew MacNabb and Laura Nolan, who danced a foxtrot to You Got A Friend in Me from Toy Story.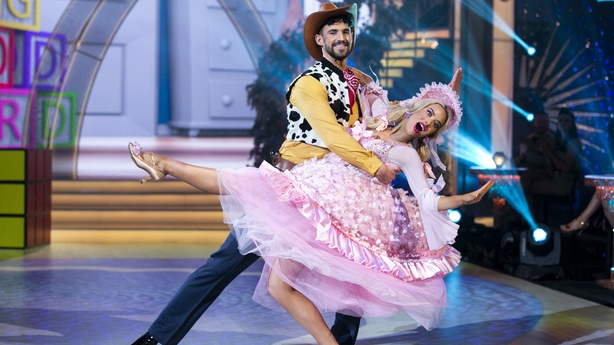 "I'm impressed," said judge Loraine Barry. "You listened, and you let the body go. You rolled through the feet, did very good footwork, the posture was very good. You could've had a bit more head to the left . . . did you enjoy it?'
"I had the best time," Matthew replied. Even Brian liked the performance, though he scored five as the couple got a total of 17 points.
"It feels good to get positive feedback after all the work we've put in," Matthew told Nicky.
She topped the leaderboard last week, and tonight jockey Nina Carberry and partner Pasquale De La Rocca returned with a tango to U2's Elevation from Tomb Raider.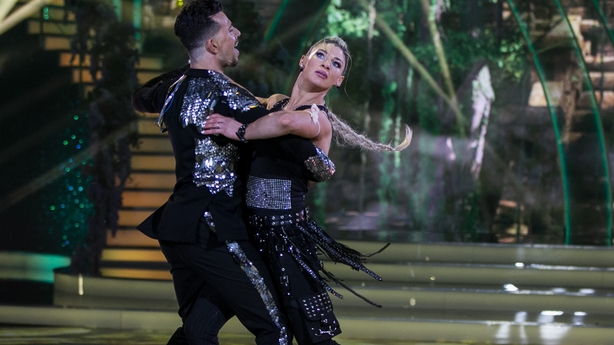 "Nina, they say good things come in threes," said judge Arthur. "You have delivered quickstep, rhumba and now the tango. Is there anything you can't do?"
"I loved and enjoyed learning the tango. I thought it was brilliant tonight - I really enjoyed it," Nina told Nicky.
Nina and Pasquale earned a total of 19 points from the judges.
Next up, The Little Mermaid's Under the Sea was the music for champion athlete Ellen Keane and Stephen Vincent's samba.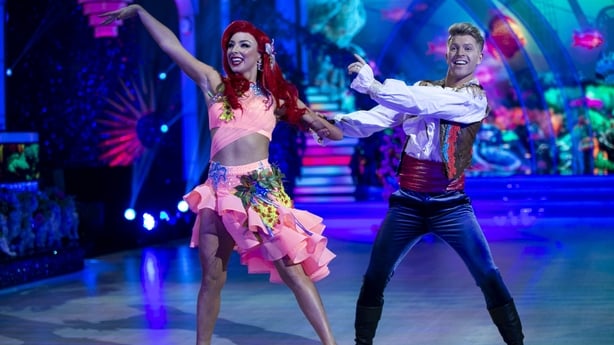 "Well, this little mermaid certainly made a samba splash this evening," said judge Brian. "There were one or two parts where the space got a little bit big . . . but apart from that, great energy all the way through."
Ellen told Nicky: "It was tough in the beginning. I was a bit stiff and rigid - but I got there in the end."
The judges awarded Ellen and Stephen a total of 22 points.
Aslan star Billy McGuinness returned to the floor with partner Hannah Kelly for their paso doble to Journey's Any Way You Want It from Rock of Ages.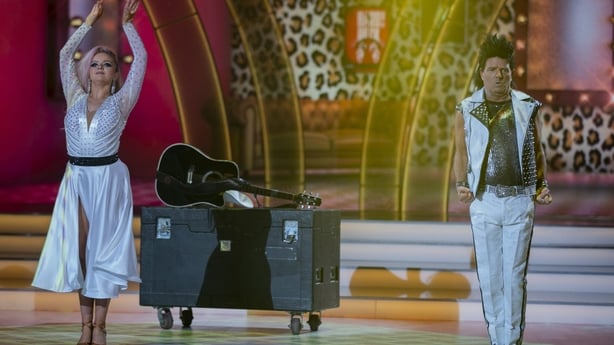 Judge Loraine said: "Billy, you hit every beat, you did every step, however . . . you're not dancing. You've got to dance . . . I know you're working hard, but we need more characterisation now."
Billy told Nicky: "Can I thank Hannah? She worked really hard this week, she got the bst out of me. She was great."
The judges awarded them a total of 14 points.
Next up was rugby player Jordan Conroy and partner Salome Chachua who took viewers to Madagasgar with their cha-cha-chat to I Like to Move It.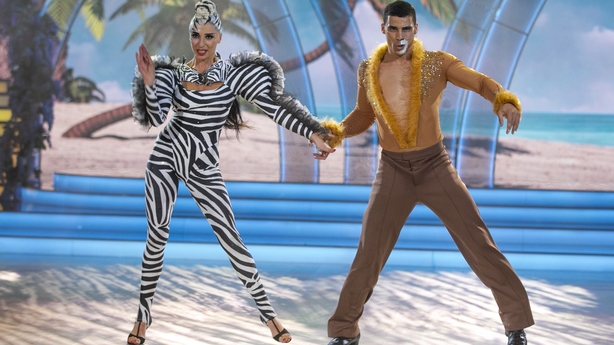 Judge Arthur told Jordan: "You are a big ball of energy every single week, and I love that about you. Probably because you remind me of me. You give 100% to the dance, so thank you."
Jordan told Nicky: "Up until Friday I had a pretty bad week. But Saturday I got it together and - yeah - I'm speechless!"
The judges awarded the couple a total of 20 points.
Contemporary ballroom was the dance of choice for model Missy Keating and partner Ervinas Melfeldas, dancing to Running with the Wolves from hit Irish film, Wolfwalkers.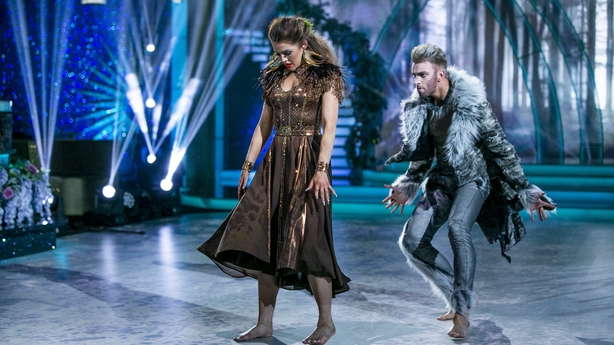 "What am I looking from contemporary ballroom?" asked a complimentary judge Brian. "A little bit still to do, but - for me - Wolfwalker are definitely moving up that leader board."
Missy told Nicky: "I had the best time. I loved playing that character . . . I'm so happy. I'm really, really happy."
Missy and Ervanis were awarded a total of 24 points.
Next up, Gráinne Seoige and partner John Nolan performed a rhumba to the Bond classic, Shirley Bassey's Diamonds are Forever.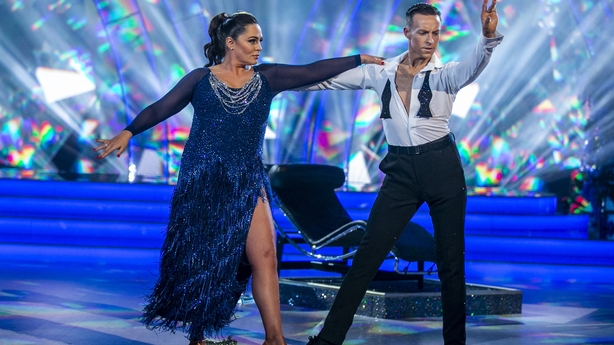 Loraine wondered if Grainne's injury during the week restricted her movement. "Is the injury stopping you from releasing the hip? Great effort, but it missed a lot of that hip action."
Grainne then explained her quad injury problems to Nicky: "I couldn't actually walk this time yesterday evening. I had an hour-and-a-half treatment . . . that's the only reason I'm here now."
The judges awarded them a total of 13 points.
A cha-cha-cha to the classic Ghostbusters theme was performed by comedian Neil Delamere and his partner Kylee Vincent.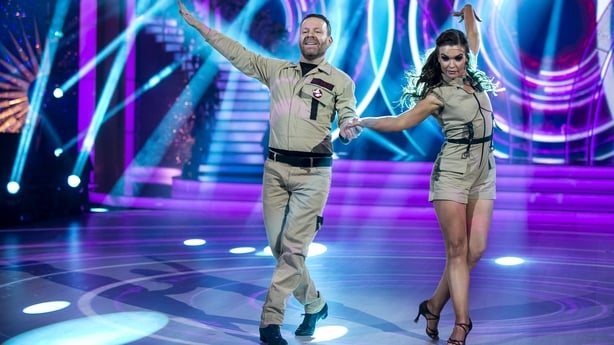 Arthur said: "That was so much fun! With the cha-cha, you have to let the inner campness out. I loved it."
Neil then told Nicky: "I thought my inner campness was left all over the floor there. You're going to have to clean up my inner campness!"
The judges scored them a total of 18 points.
Newsreader Aengus Mac Grianna embraced the spirit of Anchorman's Ron Burgundy, dancing a lively samba with partner Emily Barker to Tom Jones' Help Yourself.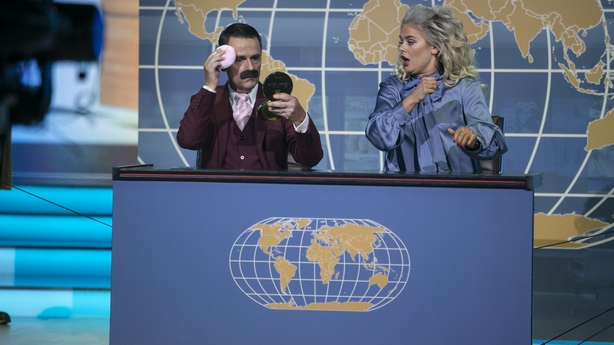 "This show is all about embracing stuff that's outside your comfort zone," said Brian Redmond. "I don't think the nation could have ever expected to see Aengus Mac Grianna doing something like that."
Aengus then told Nicky: "We just had so much fun doing it. It was great." Diane added: "In five years at Dancing with the Stars, I think that's the most fun I ever had."
The judges awarded them a total of 11 points.
Then it was the turn of Nicolas Roche and his partner Karen Byrne, who performed an American smooth to the Gene Kelly classic, Singin' In the Rain.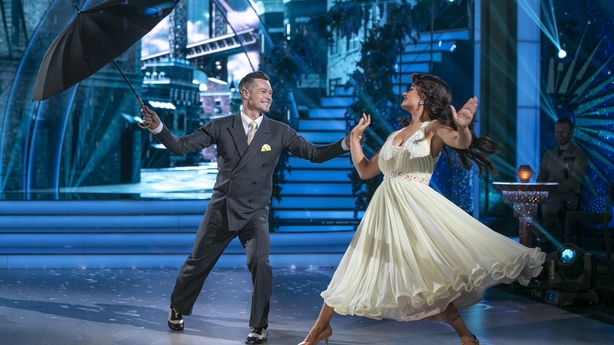 An impressed Loraine told Nicolas: "Well, they say style lasts forever, and I think this performance will stay with you forever. It's a big number. You have big shoes to fill . . . but you did it really well."
"Did you enjoy it?" Nicky Byrne asked. "It was great fun," Nicolas replied. "Since day one, when I was told we were going to do this song, I knew it would be tough but that I'd be grateful for whatever happens . . . and I've had a lot of fun."
The judges awarded them a total of 19 points.
The final act to take to the stage was Erica Cody and her partner Denys Samson, with their lively charleston to When We're Human from The Princess and the Frog, a film Erica said was her favourite since she was a child.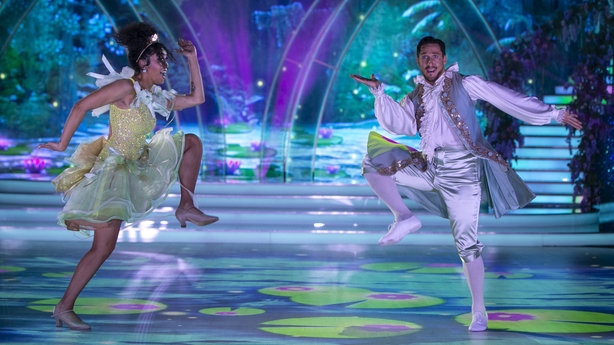 Judge Arthur was very enthusiastic about the routine. "Erica, this was so beautifully presented," he told her. "This was a full energy, full of life Charleston to close the show."
Erica ten told Nicky about the impression the film made on her when she was younger.
"Even though I was about 12 when the move came out, the impact it had on me. Just to see another person representied on Disney that looks like me. I sati all the time: representation is everything."
The judges awarded them a total of 29, including the first 10 of the current season, from Arthur.