There's a documentary about Bob Einstein - aka Curb Your Enthusiasm's Marty Funkhouser - Tommy Tiernan, The Masked Singer, Elaine Paige on the double, Evita and some cracking movies . . .
Pick of the Day
The Super Bob Einstein Movie, 9.00pm, Sky Documentaries
Streaming on NOW
Anyone who watches Larry David's Curb Your Enthusiam will not want to miss this, though it's a fascinating watch for anyone with an interest in TV.
It's a documentary celebrating the life and legacy of the late actor, writer and producer Bob Einstein.
It features some of his greatest comedic contributions, including his iconic alter-ego Super Dave Osborne, his work both behind and in front of the camera on The Smothers Brothers Comedy Hour, and his defining role as the unforgettable Marty Funkhouser on HBO's Curb Your Enthusiasm.
Punctuated with a treasure trove of archival clips, Einstein's unique sensibility is remembered by family, friends and fellow comedians.
The contributor list includes Jerry Seinfeld, Larry David, Susie Essman, David Letterman, Sarah Silverman, Norman Lear, Cheryl Hines, Jimmy Kimmel, Steve Martin, Patton Oswalt, Rob Reiner, JB Smoove, brothers Albert Brooks and Cliff Einstein, wife Berta and daughter Erin.
Don't Miss
The Tommy Tiernan Show, 9.35pm, RTÉ One
We're at the stage now where Tommy could talk to a bar of soap and no one would even blink if he got a great interview out of it.
You know the drill: turn on, tune in, chill out. Let Tommy do the rest.
The Masked Singer, 7.00pm, Virgin Media One
This show is absolutely daft, but obviously loads of people love it.
The seven remaining singers take to the stage in disguise as judges Jonathan Ross, Davina McCall, Rita Ora and Mo Gilligan try to guess the mystery celebrities performing inside the elaborate costumes.
It's a double elimination so after the votes are counted two of the famous faces will be eliminated and unmasked. Hosted by Joel Dommett.
New or Returning Shows
Big Night of Musicals by the National Lottery, 7.00pm, BBC One
Jason Manford hosts a special concert from the AO Manchester Arena, featuring performances from the casts of some of the most popular musicals currently playing in the West End and on tour around the UK.
The show features the cast of The Wiz, currently playing at Manchester's Hope Mill Theatre, as well as numbers from Frozen, The Lion King, Back to the Future, The Drifters Girl, Dear Evan Hanson, Tina, & Juliet, Get Up Stand Up!, School of Rock, Waitress, and Dreamgirls, plus a special Disney medley with the cast of Beauty and the Beast.
Elaine Paige at the BBC, 8.30pm, BBC One
One of Britain's biggest and most enduring star of musical theatre, Elaine Paige has enjoyed success for more than four decades in the West End, on Broadway and on TV, radio and in the pop charts.
This selection of some of her best-loved songs and finest performances on the BBC features Don't Cry for Me Argentina, Memory, and I Know Him So Well.
There are also rarely seen archive gems from the earliest days of Elaine's career, and her own interpretations of many musical masterpieces.
Later, at 10.30pm, there's Elaine Paige: I'm Still Here, which features highlights of the West End star's farewell concert at the Royal Albert Hall, in which she sings classics from her career, accompanied by the BBC Concert Orchestra.
Evita: The Making of a Superstar, 9.30pm, BBC Two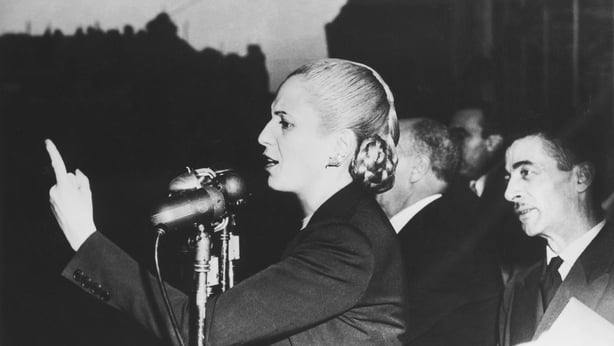 Suzy Klein travels deep into the world of musical theatre and the colourful landscapes of Argentina, to discover the story behind one of the West End's most celebrated characters, Eva Peron (above).
Intertwining the stories of Tim Rice and Andrew Lloyd Webber's creation with the true story of Eva Peron, she celebrates the extraordinary show in the 40th year after its creation.
New to Stream
One Shot, Sky Cinema & NOW
In an effort to prevent a terrorist attack on Washington DC, an elite squad of Navy SEALs led by Lt Blake Harris (Scott Adkins) and a junior CIA analyst Zoe Anderson (Ashley Greene) must retrieve a prisoner from a CIA black site island prison.
Tensions flare as Deputy Site Manager Tom Shields (Ryan Phillippe) refuses to release the suspected terrorist based solely on Anderson's intel, but when the base comes under attack by waves of insurgents they must band together to complete the mission.
Saturday Cinema
The Searchers, 1.50pm, BBC Two
Here's one of the greatest films ever made.
John Ford's Western, starring John Wayne, Natalie Wood, Jeffrey Hunter and Vera Miles, has had a profound influence on cinema. It's also a great story.
An embittered American Civil War veteran sets out to find his niece, who has been abducted by a renegade Comanche tribe.
His search takes him many years, and during the long quest his travelling companion starts to wonder if he intends to rescue her or kill her.

Apostasy, 11.30pm, BBC Two
This is a pretty impressive drama, starring Siobhan Finneran, Robert Emms, Bronwyn James.
A Jehovah's Witness is forced to shun her own sister because of a religious contravention. As the separation drags on, she starts to question the meaning of God's love.

Family Flick
The Addams Family, 6.35pm, RTÉ One
Here's the recent animated version of the classic spooky and cooky crew, with the voices of Oscar Isaac, Charlize Theron and Chloe Grace Moretz.
Gomez and Morticia move their eccentrically macabre clan to a bland suburb where daughter Wednesday's friendship with the daughter of a hostile and conformist local reality show host sparks conflict between the two families.
Click here for TV listings