There's the customary chat with The Late Late and Graham Noron shows, The Last Leg returns, as does Paddy Raff, while Cork's Cillian O'Sullivan stars in Netflix's In From the Cold . . .
Pick of the Day
The Late Late Show, 9.35pm, RTÉ One
This week's studio audience will "include people from all walks of life including rugby fans, frontline workers, teachers, hairdressers and more from all corners of the country".
As the Irish rugby teams prepare for this year's Six Nations campaign, Ryan Tubridy will be chatting to Grand Slam winners Jamie Heaslip (below), Peter Stringer and Fiona Coghlan.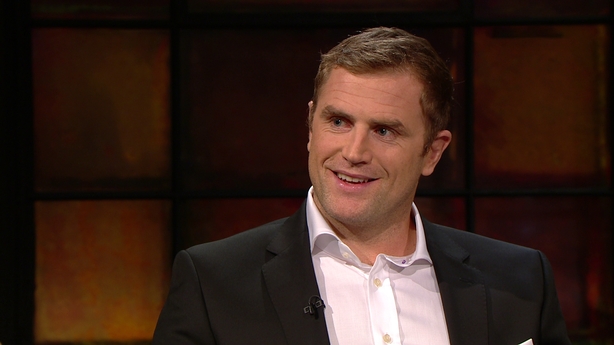 Kildare GAA All-Star footballer Mary Hulgraine will be on the show to discuss how she kicked her addiction to Oxycontin and alcohol to make a return to the Kildare Senior Women's team.
Ryan will catch up with 14-year-old harpist Úna Walsh, who inspired children all over the country when she performed on last year's Late Late Toy Show.
More music on the night will come from Maverick Sabre, performing a song from his new album.
Don't Miss
In From the Cold, Netflix
Created by Adam Glass, who also acts as showrunner and exec-producer, In From the Cold is a glossy spy drama set in Madrid that sees Cork actor Cillian O'Sullivan play CIA agent, Chauncey Lew.
he's not a regular CIA operative, and more a rogue agent, who leads a team to uncover a single mother called Jenny, who Chauncey knows is a former Russian spy with special abilities.
She turned her back on that world to lead a normal life, so Chauncey has to convince to get back in the game to take on some really bad guys.
The Graham Norton Show, 11.05pm, BBC One
This week Graham is joined by Spanish movie director Pedro Almodovar, who talks about his new film Parallel Mothers, alongside its star Penélope Cruz.
X-Men actor James McAvoy discusses improvised thriller My Son, while Nicôle Lecky, writer and star of the new BBC Three drama series Mood, also guests.
Plus, Ella Henderson performs her current single, Brave.
New or Returning Shows
The Last Leg, 10.00pm, Channel 4
This show is a great watch. It's so good to have it back.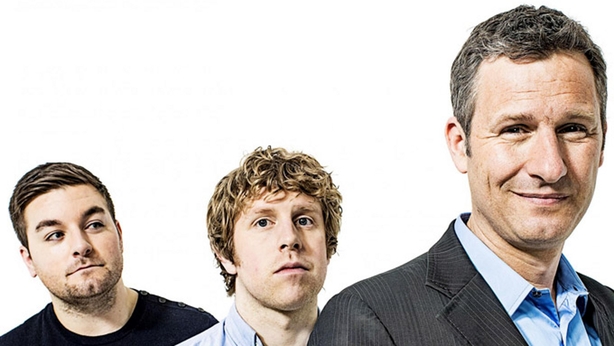 Adam Hills, Josh Widdicombe and Alex Brooker (all above, but in reverse order) are joined by guests Richard Ayoade and Sandi Toksvig for a comic review of the significant moments of the past seven days.
As usual, the hashtag #isitok paves the way for the gang to round up, examine and explain the leading and most entertaining news stories of the week.
The Paddy Raff Show, 10.35pm, BBC One
Here's the start of a second run of sketches with the Belfast stand-up.
Granny Raff and her man-friend Harry pay their respects at the wake of her next-door neighbour, but tears are shed for something more than the dearly departed Phyllis.
The rocking and raving priest Father Pat tries to broaden his All-Request Mass appeal by becoming a video gamer - but an unplanned live confession is what ends up going viral.
And there's the furloughed flight attendant Kara-Lynne, who decides to open the familiar-sounding Fryinair.
New to Stream
The Afterparty, Apple TV+
Starring Tiffany Haddish, this dramedy comes from Academy Award, BAFTA and Golden Globe Award winners Chris Miller and Phil Lord (Spider-Man: Into the Spider-Verse, The Lego Movie).
Created and directed by Miller, it centres on a murder mystery at a high school reunion.
Each of the eight episodes features a retelling of the same night told through a different character's perspective, each with its own unique visual style and film genre to match the teller's personality.
The Woman in the House Across the Street from the Girl in the Window, Netflix
Kristen Bell stars in this new eight-episode series that looks to poke fun at the many recent psychological thrillers featuring troubled women in the lead.
The premise is certainly straightforward. A heartbroken artist's life is turned upside down when she witnesses a crime - or did she?
All of Us Are Dead, Netflix
At first I thought this was a statement rather than the title of a show on Netflix.
Or – more to the point – the latest blood-soaked series from South Korea so it's got 'the new Squid Game' written all over it. It'll keep the FOMO mob busy for a while.
Whether it's any use or not is to be determined, but the gist of the story is that a zombie virus breaks out fast inside a school, leaving the endangered students to fight to survive and escape.
Getting Curious with Jonathan Van Ness, Netflix
This promises to be an unabashedly smart and quirky exploration into topics and questions that make Jonathan curious.
JVN - as he's also known - is an American hairdresser, podcast host, activist, actor, author, and television personality.
From skyscrapers to bugs, or from gender identity to snacks, each episode follows Jonathan as he meets with experts in various fields to uncover complexities in a wide range of subjects.
Monster Hunter, Sky Cinema & NOW TV
Here's an action-packed fantasy directed by Paul WS Anderson (the Resident Evil series) based on the global smash hit video game series.
Behind our world, there is another - a world of dangerous and powerful monsters that rule their domain with deadly ferocity.
When Lt Artemis (Milla Jovovich) and her loyal soldiers are transported from our world to the new one, the unflappable lieutenant receives the shock of her life.
In a desperate battle for survival against enormous enemies with incredible powers and unstoppable, terrifying attacks, Artemis teams up with a mysterious hunter who has found a way to fight back.
Click here for TV listings