Penelope Cruz has admitted that she was reduced to tears nearly every day when she was filming Pedro Almodóvar's new film, Parallel Mothers, which tells the story of two women whose babies are switched at birth.
We need your consent to load this rte-player contentWe use rte-player to manage extra content that can set cookies on your device and collect data about your activity. Please review their details and accept them to load the content.Manage Preferences
Cruz plays Janis, a middle-aged woman who meets the adolescent Ana (Milena Smit) in a hospital room where they are going to give birth. However, soon after they are born, their children are exchanged, leading to a story of secrets and lies that also deals with the legacy of the Spanish Civil War and Franco's rule in Spain.
We need your consent to load this YouTube contentWe use YouTube to manage extra content that can set cookies on your device and collect data about your activity. Please review their details and accept them to load the content.Manage Preferences
The Spanish actress, who has worked extensively with celebrated director Almodóvar, appeared on RTÉ Radio 1 arts show Arena on Thursday evening to talk about her latest role and she told presenter Kay Sheehy that making Parallel Mothers was an emotional experience.
"We needed a lot of time in rehearsal," she said. "We were lucky to have four months of rehearsal because the personality of Janis is very different from mine and she is not allowed to express her feelings and the same with Milena.
"Pedro didn't want us to be hugging and crying throughout the whole film, so we needed to find a tone and find restraint and I was actually straining to do the scenes without crying so for the first two months it was actually impossible."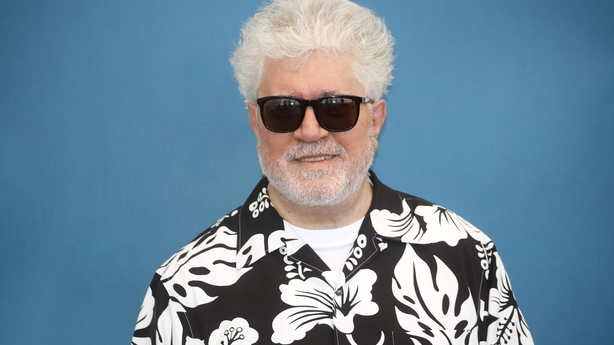 She added, "Milena and I would start reading and we would start hugging and crying and Pedro knew that was going to happen so we needed to go through that process and find a way of expressing and on top of that when my character wants to express something real, she can't because she has to lie.
"Inside she is dying of pain and fear, so it was challenging and there was incredible adrenalin every day. I enjoyed every second of the process."
47-year-old Cruz, who lives in Madrid with her husband Javier Bardem and their two children, has made seven movies with Almodóvar but she told Arena that when he first contacted her over the phone, she didn't believe it was him and thought that her family were playing a trick on her.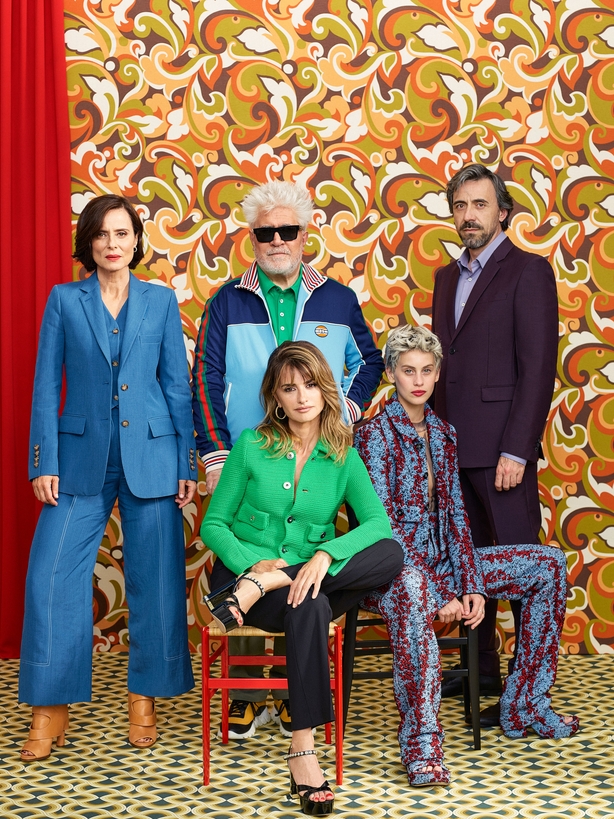 "I've been a huge fan of his since I was a really young girl. I grew up watching his film's and I am his number one fan." she said.
"He saw my first two movies I did when I was 18 and they both came out at the same time and I was lucky because they were very different from each other and he saw them, and he called me and when he called me, I didn't believe it - I thought it was a joke, but it was him.
"He asked to get together, but he said I was too young for the role he was thinking of and I wasn't right at the time. He said he would call me in the future, and he did, and we had a great connection from day one."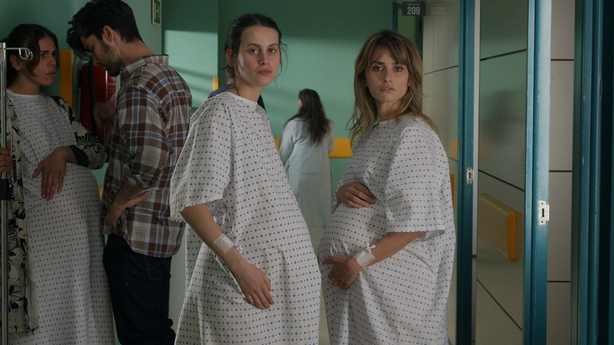 Asked about why she thinks Almodóvar has such great insight into women, she said, "I think he's always been a great observer and he's always been fascinated by human behaviour but especially women's mystery.
"He always talks about his childhood and in the village he grew up in he would be out there on the street observing the relationship between the mother the sisters and the neighbours.
"There was a lot of life and there was a lot of humour. His mother was a character and was really special, really smart, funny woman, really strong and I think she had a huge influence on him.
"She had a very original personality, very peculiar. I met her so I saw a lot of things in common between the two of them and he put her in a lot of his films. So, I think it comes from that. He finds women fascinating and we are very lucky to have someone like him who writes such wonderful homages to women constantly."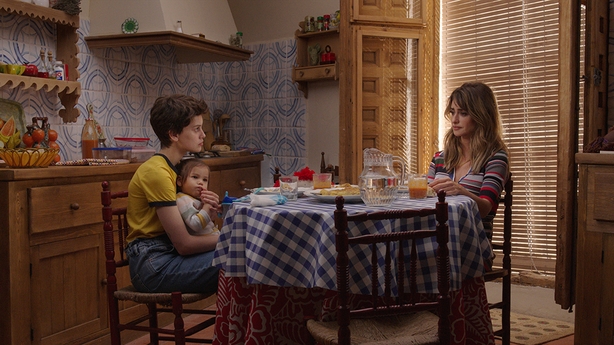 Cruz actually played the director's mother, Francisca Caballero, who died in 1999, as a young woman in Pain and Glory. "The meetings I had with her before she died were very helpful to me later to be able to play her."
Speaking about the first time she read the script for Parallel Mothers, she said, "I could not put it down for anything, I could not believe it was such a perfect script, such an incredible story. I was so happy he was giving me this character.
"Pedro has given me a few surprises like this with his films. I receive one of his scripts and I feel I have gold in my hands. I feel very lucky that he trusts me with characters that are so complex and so incredibly interesting. They are always a huge challenge and kind of scary too."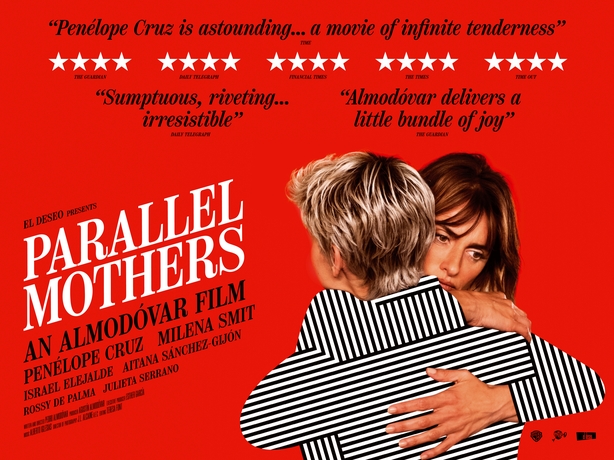 In the film, which features a very detailed and realistic birth scene, Janis becomes aware that her baby has been switched but becomes fearful that she may lose her bond with the child she has been mistakenly given. It leads to a life of subterfuge.
"She has to become an incredible liar in her own house about who she loves the most and she had to lie to people she cares about." Cruz said.
Parallel Mothers also deals with the legacy of the Spanish Civil War and the fact that 114,000 people went missing during the rule of fascist dictator Franco.
Speaking about how Spain deals with such a terrible history, Cruz said, "I think it depends on the person. I think Pedro's message in this movie becomes Janice's message and it's not about revenge.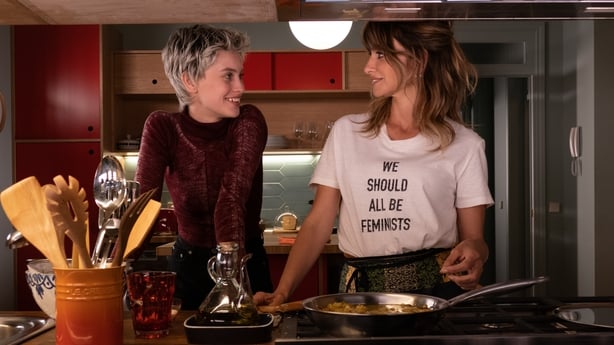 "It's about inspiring a younger generation to learn from the past and I think that goes for any country in the world right now. We all have a story to look back on and remember and learn from it.
"It is not about political sides. It is much more a message about human rights and that's why I love so much that scene in the kitchen when Janice is getting angry with Ana. She is pushing her and trying to get a reaction as if she wants Anna to ask her, `what are you hiding? You're giving me this speech about honouring the truth of the past but what are you hiding from in this present moment?'"
The film builds to a very moving final scene which confronts Spain's recent past full-on, and Cruz says that it was emotional for everyone involved.
"It was very moving because we were there and watching the set and the reaction of the little girl when she sees the bodies and she seems to understand everything. The past, the present and the future are all in the eyes of that little girl.
"We were always trying to protect her because she was only two years old. But in her soul, she knew."
Alan Corr @CorrAlan2
Parallel Mothers is in cinemas on Friday