U2's Bono makes a star turn as a reclusive lion in a starry and inventive sequel to Sing
The first time we see Bono in this charming follow-up to 2016's Sing, he's astride a Harley (what else?) firing a paint ball gun at an unwelcome visitor to his lakeside hide away. The shy and retiring rock icon plays the voice of Cal Calloway, a reclusive lion (don't tell Christy Dignam) and former king of the rock `n' roll jungle who has shunned the limelight since the death of his wife.
We need your consent to load this YouTube contentWe use YouTube to manage extra content that can set cookies on your device and collect data about your activity. Please review their details and accept them to load the content.Manage Preferences
He's Colonel Kurtz meets Norma Desmond and boy is he grumpy. He's also got a gravelly southern drawl (Johnny O'Cash, anyone?), bootcut jeans and a check flannel shirt. Now, nobody could ever call Bono a recluse but those crazy anthropomorphic showbiz kids from the first Sing movie want Calloway to star in a new show that will bring their small-town theatre revue big-time success in the big city. Of course, he ain't having any of it.
Headed by bright-eyed Koala bear stage impresario Buster Moon (a game Matthew McConaughey), the plucky troupe also includes a husband-and-wife duo of pigs (with countless piglets), a bashful lady elephant, a teenage punk porcupine (Scarlett Johansson) and a gorilla who sounds like he's walked off the set of EastEnders. There's also Miss Crawly (Garth Jennings), a geriatric iguana with a glass eye who works as Buster's administrative assistant and who mostly steals the shows as an old school fixer.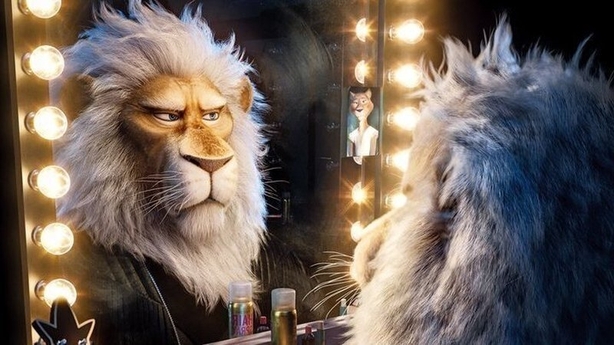 They've got their eyes on a bigger prize - bringing a new production starring Calloway to the bright lights of Redshore City, a kind of alternative Vegas meets Broadway meets Dubai where all the big boys and girls hang out.
The man to impress is Jimmy Crystal (Bobby Cannavale), essentially Simon Cowell in the form of an arctic wolf, who has a Trumpian ego and a ruthless attitude to delivering hit musical shows at his theatre. He's also got a spoilt daughter called Porscha (Halsey) who can't sing or act, but daddy reckons she's a star in the same way that some doting fathers reckon their little darling is a future head of the World Bank.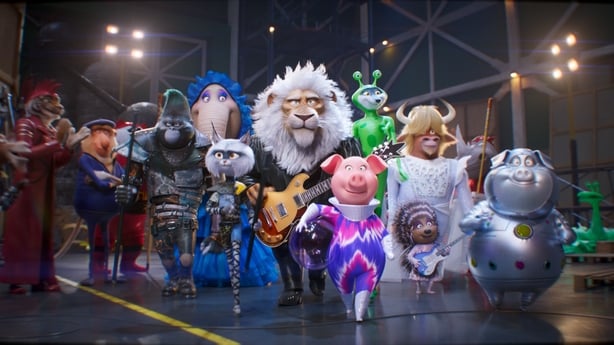 What follows is fun - there's flamingos on roller skates, rocking bunnies in psychedelic shades and a kitschy space opera musical that features just what we always wanted - two pigs, a lady elephant, a porcupine, a gorilla, an iguana, a huge lion, and a koala bear singing Where The Streets Have No Name.
Bono (whose band had a very early song called Cartoon World) seems to be having a laugh and there's also a lothario bull who looks like cross between Thomas Haden Church in Sideways and Richard Branson, while the great Adam Buxton has a ball voicing a sadistic proboscis monkey choreographer called Klaus Kickenbocker.
Not quite a roaring success but Sing 2 has a few laughs and zips along with a song in its heart. Not to be confused with Song 2 by Blur.
Alan Corr @CorrAlan2
Sing 2 is in cinemas on Friday