The Who's Roger Daltrey appeared on Saturday night's Tommy Tiernan Show when he explained why he was inspired to prove his headmaster wrong after being told "you'll never make anything of your life".
The co-founder and lead singer of the iconic British rock band told Tiernan: "I got kicked out of school on my 15th birthday. I was a bit of a rebel. I always was a rebel.
"They were never teaching me anything I could relate to in my out-of-school life. I wasn't stupid, I just wanted to be a singer.
"I always wanted to be a singer, I sang in the church choir. When we went into music lessons, they were showing us dots on pieces of paper. It didn't make any sense in the way my brain works.
"When you talk about music, to me it's about making the noises, it's singing, it's playing a guitar. I got very frustrated at school and I ended up causing all kinds of havoc. I was an unruly part of the class.
"I probably interfered with quite a few people's education and I got thrown out on my 15th birthday."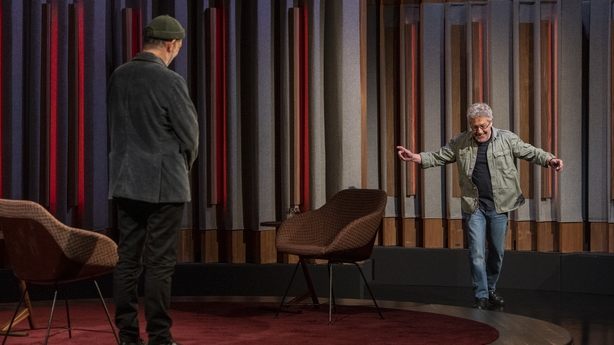 The singer-songwriter said he was motivated to prove his headmaster wrong as he was expelled.
"As I was leaving his office, he said: 'You'll never make anything of your life, Daltrey.' And I just thought, I'll show you. I thank him now.
"That's always stuck with me. I wrote my biography which is called Thanks a Lot Mr Kibblewhite. I really mean that. Because if he hadn't said that, I could have gone very wrong."
Also appearing on Saturday night's show was comedian Des Bishop who spoke about why he wrote a show about his mother after she died.
"I had to do a show about my mother. I don't believe in heaven but just in case there is a heaven, I had to do a show because it'd be the first thing that she'd bring up, that my dad got one and she didn't get one," he said.
Sarah Breen and Emer McLysaght, the writers of the hugely successful Oh My God, What A Complete Aisling book series, spoke about the importance of female friendships while talking to Tiernan.
"I feel like my friendships sustain me and that was very evident during lockdown. I would go for walks, and I've got a very small, close circle of friends, Emer is one of them," Breen said.
"We would just go for the walks during lockdown and just talk about everything, process everything. That's my memory of that. I would have been so lost without my friends and it's really nice, we have become kind of a recognisable duo, as pals.
"A lot of space is given over to romantic relationships, whereas friendships, like between women, which is what I know, are so important."
McLysaght added: "I'm not in a romantic relationship at the moment, but I know that my friends that are, like Sarah, who's married, or friends who are in relationships, would often say particularly the men in their lives are often bad at meeting up.
"Men can be bad at cultivating or keeping their friendships going and saying 'Do you want to meet up?'"
The Tommy Tiernan Show airs on Saturday nights at 9.30pm on RTÉ One.
You can watch the show on the RTÉ Player.