Co Down star Matthew MacNabb - already well known to Irish viewers for a memorable stint on Love Island last year - has teased that he will be bringing hints of 50 Shades of Grey to his debut performance on Sunday night's Dancing with the Stars.
The reality TV contestant and marketing consultant is coming into the competition with a bit of a disadvantage having just come out of isolation due to contracting Covid. Despite having missed out on precious practice time with his professional partner Laura Nolan, he is ready to push himself firmly out of his comfort zone.
We caught up with the dancing novice to find out how this "laidback kid from Downpatrick" has come to make a name for himself on TV, how Dancing with the Stars differs from Love Island, and why he only ever competes against himself.
You're not long out of Covid isolation. How did you feel missing out on all the time practising?
It's been a bit crazy, but I'm doing the best I can. I was itching, I was actually practising the steps in my kitchen. I'm one of these people, when I do things I want to do them to the best of my ability. I thought, 'I've got to push forward and do as much as possible'. It actually helped me. I came back yesterday and that was the best I danced so far, that's what Laura was saying. So yeah, practice makes perfect!
Do you find it very intense practising for hours at a time?
Yeah! I'm very relaxed and Laura's a bit of a panicker so we sort of balance each other out a little bit. I know when it's time to work as well. She sometimes works and works and works and she doesn't breathe. I'm like, 'Breathe!' She really wants to do so well. We've just got different methodologies.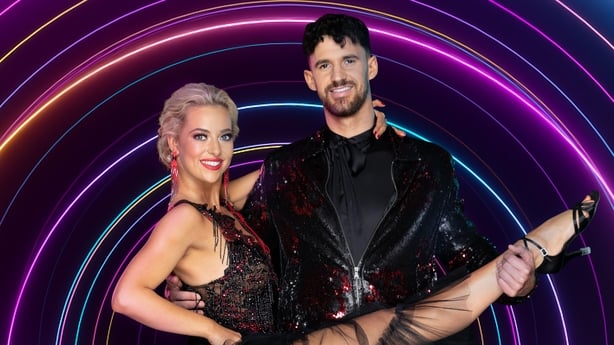 You'd think it would be her calming you down and not the other way around!
That's the way it's always been - I'm always the one to be relaxed!
So are the nerves building ahead of Sunday night's show or are you just taking it all in your stride?
I'll be nervous going out, but I won't be too bad. What's the worst that's going to happen? If I fall and trip, I fall and trip. I'm not dead, you know what I mean? I would be disappointed if I messed up because I really care and want to do the best possible, and I've put a lot of work into it, but that's life. You can only control what you can control.
You seem like a pretty competitive person - you want to do the best at something. Are you in it to win it? Are you eyeing up the competition?
Absolutely in it to win it. I realised this a few years ago: if I compare myself to anybody else, I get in my mind too much and I get really angry. The way I do it is I compare myself to who I was yesterday and it seems to work a lot better because I just work on my own thing and try to be the best version of myself. Ultimately, I'm only competing against myself. The best I can do is the best I can do and if that's enough to win the competition, then that's enough. If it's not, then I can't control that.
Were you watching the first episode and checking in on how the other contestants were getting on last week?
I was. I was really impressed actually. I thought everybody was so good. They really nailed it, especially with the opening week pressure.
Can you give us a hint of what you've got planned for Sunday or is it all under wraps?
It's going to be very 50 Shades of Grey, I would say! If I do it right. It's going to be a test of fire in the sense that it's a very fast dance, so for me the big thing I need to focus on is the performance itself.
You're not afraid to throw yourself in the deep end anyway.
No! I'll do the best I can. I've never been an actor, but I could get a job in acting after this!
And would you have fancied yourself as much of a dancer before you signed up to this?
I was exceptionally good on nightclub dancefloors, I'm not going to lie! No, I have absolutely no dance experience whatsoever. I always say yes to every opportunity that comes my way. I can learn it - practice makes perfect.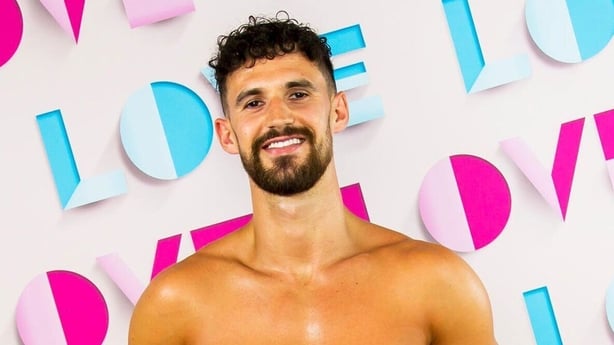 Before signing up to this you were very well known for being on Love Island. What would be the big difference between taking part in a show like that and Dancing with the Stars?
On Love Island, there was no real skill to it! I was just talking to the girls and lifting weights and tanning. But on this, it's seven days a week - you have to really practise. You're thrown into a completely different world that is full of expression. It's completely different. It's something I've never done before, I've never been a performer.
It's kind of funny, looking back to this time last year. I had just come back from America and was finding a job and getting back into living in Ireland again. A year on, I've done Love Island and I'm taking part in Dancing with the Stars – your life can change so quickly. I'm just a laidback kid from Downpatrick at the end of the day! It's like, 'What the hell?!'
Life has changed so fast so I've had to adapt with it in the sense that I've got to have the confidence to go out and do these things. Naturally, I'm a fun person to be around, but I'm not a big performer. I will work hard at the things I'm passionate about, but I'm not one of these people who would jump in your face. This type of TV is all about people who are massive personalities and I don't feel like that is necessarily my style. It's interesting.
And having taken part in Love Island, have you kept in touch with any of the other contestants?
Yeah, I talk away with a lot of them. A couple of them are going to come over to the show some week if I'm still in it, a load of the boys. They're great people so I talk away to them on Instagram all the time.
So you feel like you've made proper friends?
Absolutely - me and Toby and all and talking about going to America after the show. We planned that in the villa.
Do you hope you'll form a similar friendship with the other Dancing with the Stars contestants?
Absolutely. You know what? I feel like I've gained friends here quicker. Through these sorts of experiences, what I've learnt is you're in it together. It's a competition but you're all experiencing the same things, and they're not the sort of things you'd experience in your normal day-to-day life so you grow closer a lot quicker.
We need your consent to load this Instagram contentWe use Instagram to manage extra content that can set cookies on your device and collect data about your activity. Please review their details and accept them to load the content.Manage Preferences
And do you feel like taking part in a show like this is a much bigger challenge than maybe you had anticipated?
100%! Number one, I didn't realise how much dancing practice you had to do, seven days a week, all day. I was like, 'What?!' But I'm enjoying it, you know? I don't shy away from work, that's just the way I've been brought up. Trying to learn all the new things, you're trying to create a play in your mind. That's very new to me because I've never done drama before. But it's fun!
But you are clearly not afraid to put yourself out of your comfort zone.
That's just the way I am. I always do one thing every year that I'm low-key terrified about. I was terrified of heights, so one year I just jumped off a plane, and I'm not afraid of heights now. Last year, I was looking for things to do and Love Island came up and it's pretty terrifying to do because you're in front of millions of people. This year, I'm throwing myself into the dance world, which is completely new and terrifying in the sense that I can make an absolute you-know-what of myself. But I always become a better person after it, so I'm buzzing for it. I'm puffing my chest out and going for it.
And how are you finding the costumes and the spray tans and all of that?
It's definitely not something I would see myself wearing on a night out - maybe if I was absolutely smashed or something! The spray tans, I've only had one but I was so dark I was like an Oompa Loompa. Hopefully, I don't have to put a spray tan on my body for this dance. It's definitely not my usual style.
Is it a very exciting start to the year to do something as big as this?
It's the dream and I'm living it now. It's amazing. I've never been a performer but I've always watched people on stage and thought, 'Oh my God, the thrill must be incredible, the adrenaline rush'. So I'm really excited for that, I cannot wait to do it.
Matthew MacNabb makes his Dancing with the Stars debut on Sunday, January 16 at 6.30pm on RTÉ One and RTÉ Player.