It's all happening in Soap Land! Get the lowdown on what your favourite characters are up to this week...
FAIR CITY
As Louis continues his health hustle, all eyes are on Carol to see if she will put two and two together. However, the lie keeps getting bigger and bigger this week! Will Louis' guilty conscience finally get the better of him or will someone beat him to it in the days ahead?

Across the way, Orla asks Paul for Vino's accounts - and the problems keep on coming. Is the end of the Carrigstown eatery looming?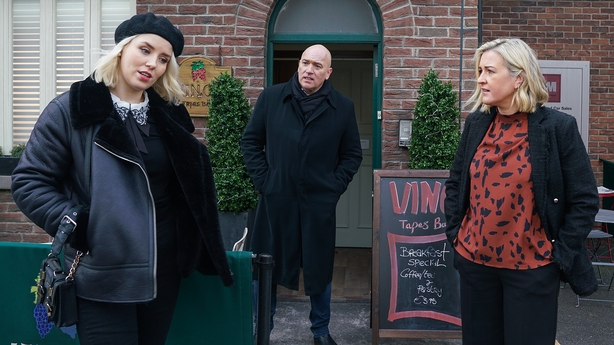 In other business matters, Alex takes over as the manager of Brewzer's from Cristiano and receives some good advice from Melanie.
Elsewhere, Zak is back in Carrigstown, his arrival coinciding with loads of home hassle for Sash and Tommy. Can they find a way out?
EASTENDERS
Aaron is adamant on going to work and soon comes face to face with Neil throws Aaron against the wall and accuses him of being a grass. Harvey returns and orders him to get out, but Neil threatens to hurt Dana. Aaron goes to the group and tries to convince them Neil has lost his mind leaving Harvey terrified for his son. He manages to convince the others but it comes with a catch - he now has to run the operation in Manchester.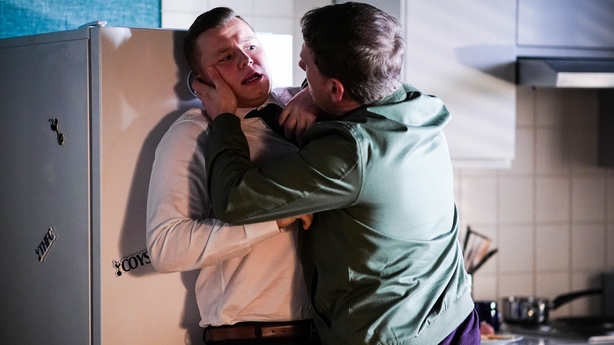 At the hospital, Chelsea makes it clear to Denise she wasn't impressed to hear they were all having a dinner while Jordan is fighting for his life, but Denise explains that Gray told her to give them space. Chelsea confronts Gray but he lies and says it must have been a misunderstanding.
Elsewhere, Vinny is forced to come clean to a suspicious Suki that Dotty is staying at the bedsit. Suki tell him she has to pay or she will be evicted so Vinny breaks the news to Dotty. Later, Zack finds Dotty with a sleeping bag at the club and reminds her of the alarm system. He advises her to swallow her pride and reach out to Sonia.
CORONATION STREET
Alya tells Ryan that she is worried that Zeedan will end up telling Marrium the truth about her dad's death. As Alya explains how Hashim forced Zeedan to launder his dirty cash through the Speed Daal books, Yasmeen is shocked and angry in equal measure. Later, Marrium discovers that Yasmeen has disowned Alya and Zedan and demands to know what is going on.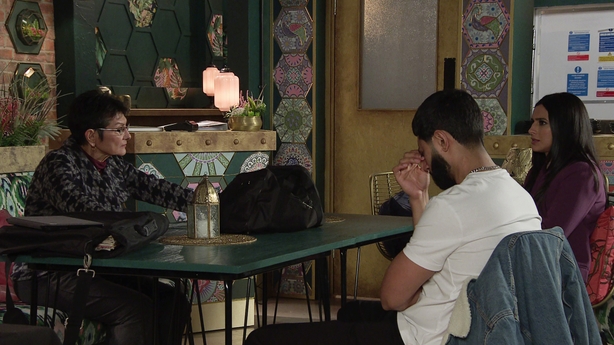 Elsewhere, Joseph reminds Chesney he needs money for the school trip and a new school jumper. When Joseph confides in Hope that they've no money to pay for the school trip, Hope hands him Fiz's purse and tells him to help himself. What will Joseph do? Gemma and Chesney are later shocked to learn that Joseph is being bullied at school because they can't afford to buy him things.
At Aggie's insistence, Tim returns to see the cardiologist who explains the operation in detail and confirms that he'll receive a letter with a date. Tim later tries to pluck up the courage to tell Sally about his heart operation.
EMMERDALE
Manpreet fills in Vinny on Meena's previous victims are they are being held hostage by the killer nurse. Meanwhile, over at the doctor's surgery, Liam is confused to discover that Meena's medical records do not mention her pregnancy or miscarriage.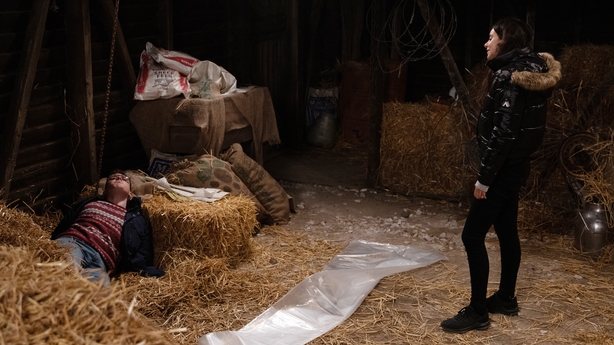 Later, Manpreet manages to snap the cable ties on her hands, and when Meena returns to the barn, Manpreet attacks her and wounds her sister's wrist. An enraged Meena regains the upper hand and subdues Manpreet. When Liam reveals that he knows about her fake pregnancy, Meena decides to escalate her plans and tells Vinny and Manpreet that this will be their last day alive...
Elsewhere, Sam offers Nate some words of advice on how to win Tracy back. Tracy is offered a new job in Nottingham but her heart is pulled in two when she sees the pain on Nate's face when she tells him that she and Frankie are moving. An angered Nate reels from the revelation and undermines her about her ability to cope in a new city. What will Tracy do?
ROS NA RÚN
It's confrontation time this week, with Micheál convinced that John Joe is having an affair with Laoise. What will O'Shea have to say about all this?!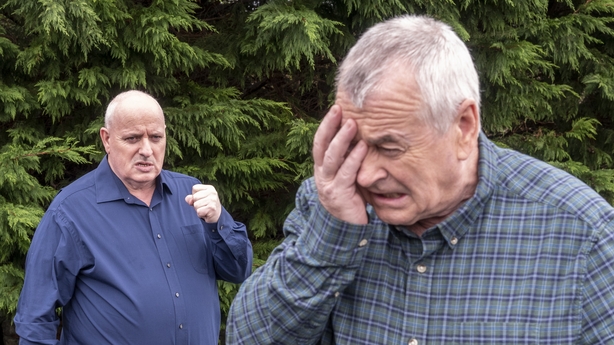 There are developments involving Sorcha, Sadie, Cóilí Jackie and the land. Will a compromise be reached or is the worst yet to come?
Elsewhere, Berni knows that she will be visibly pregnant soon and doesn't want anyone to find out that Briain is the father. Could Tony be the solution to all her problems?