Journalist Charlie Bird is on both a spiritual and a physical journey to climb Croagh Patrick this April as he battles Motor Neurone Disease.
"I am not a deeply religious person," he told Ryan Tubridy on The Late Late Show. "But this has awakened something in me.
We need your consent to load this YouTube contentWe use YouTube to manage extra content that can set cookies on your device and collect data about your activity. Please review their details and accept them to load the content.Manage Preferences
"Croagh Patrick and its history has lifted my spiritually."
Bird revealed: "I have found peace - when you meet people, they lift you. I told you before that I cried every day since being diagnosed with Motor Neurone Disease - I don't cry now.
"I am no longer as afraid of what is happening to me as when I was first told I had a terminal illness".
"The key thing is, I have found peace"

You're an inspiration @charliebird49 ❤️https://t.co/ZCBKCbEScc#LateLate pic.twitter.com/itF9I96oIQ

— The Late Late Show (@RTELateLateShow) January 7, 2022
Charlie, along with cervical cancer campaigner Vicky Phelan, hopes to inspire thousands of Irish people to climb Croagh Patrick and other peaks around the country - and the world - on April 2.
They are raising funds for Irish Motor Neurone Disease Ireland and Pieta, Ireland's national suicide prevention charity.
Charlie appeared on The Late Late Show with his beloved pet dog Tiger sat on his knee.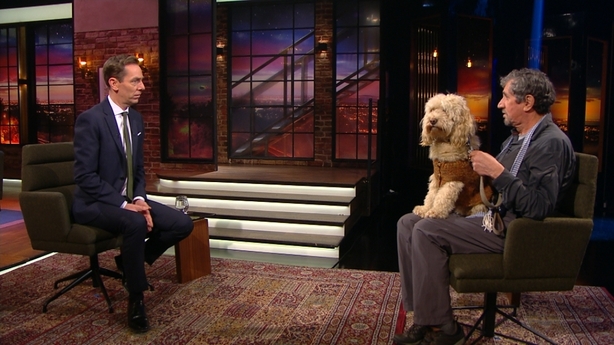 "I am so looking forward to climbing Croagh Patrick," Charlie added. "People have been doing so for 1,500 years, I will light a candle in the church on top of the mountain."
His daughters Orla and Neasa, sitting in the audience, said the focus on the climb had given their dad "a huge lift".
I'm on the Late Late Show tonight and will be launching 'Climb with Charlie'. I will be climbing Croagh Patrick on the 2nd April.If you want to help you can climb a mountain near you. A big thank you to the people in Westport and Murrisk for their help. https://t.co/TCqkcU5vLo pic.twitter.com/F40ZtpM1Nh

— Charlie Bird (@charliebird49) January 7, 2022
Charlie said meeting Vicky Phelan recently "was like meeting an old friend" adding, "just look at her courage".
Vicky, appearing from her home in Limerick by video link, said she was not feeling well enough to be in the studio. "But fingers crossed I will be with you [on Croagh Patrick] on April 2.
"I want to send you all my love, I hope you get a huge amount of support."
The amazing @PhelanVicky has a message of support for @charliebird49 ❤️#ClimbwithCharlie#LateLate pic.twitter.com/EMDP4ZzGKE

— The Late Late Show (@RTELateLateShow) January 7, 2022
Former President of Ireland, Mary McAleese, also offered support via a video message. She said Croagh Patrick had been a "great sacred place of pilgrimage for millennia - it will welcome you and I hope it will be good to both of you."
Architect Dermot Bannon said he will be returning to climb the Mayo mountain after seeing Charlie Bird's "incredibly moving" recent interview on The Late Late Show.
"I was in floods of tears seeing how he wanted to help other people."
Others offering support to Charlie and Vicky included GAA coach Davy Fitzgerald and former RTÉ broadcasters Mícheál Ó Muircheartaigh and Tommie Gorman.