Rolling Stones guitarist Ronnie Wood has paid tribute to his late bandmate Charlie Watts, saying that the drummer's spirit is on stage with the band every time they play.
Watts passed away last August at the age of 80 and speaking on Friday's Late Late Show, Wood (74) recalled how he had visited the drummer just four days before his death.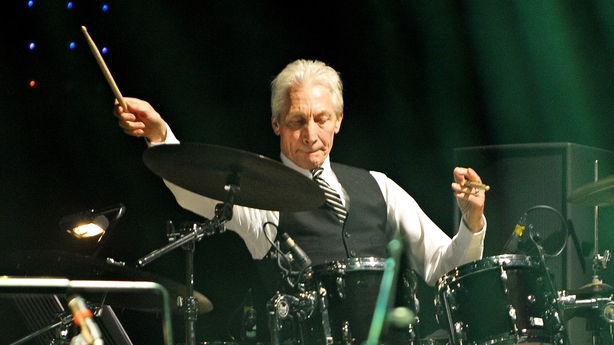 "We were two days into rehearsal with Steve Jordan [the Stones new drummer] with Charlie's blessing and we knew he was in hospital, so we said we'll play for you and pray for you, so we carried on.
"I saw him a couple of days before he passed," Ronnie added. "He was in my bed. He was in the Royal Marsden Hospital in London in the Ronnie Wood Suite and he said, `I can't wait to get out of here' and I said, `well come out, Charlie, in your own good time'.
"At that time, he was doing fine and then he had some extra treatments he didn't handle well, and he went down from there."
Asked by host Ryan Tubridy if it was strange being on stage without Charlie, Ronnie said, "It is, yeah, but his spirit is there. He loved his girls and his wife. Everyone's handled it really well and I'm sure he's with us all the time when we're playing."
Let's have some fun tonight @RTELateLateShow!
9.45pm @RTEOne pic.twitter.com/UflYPzZ0Q9

— Ronnie Wood (@ronniewood) December 17, 2021
Ronnie, who has a house in Kildare, had been away from Ireland for nearly three years due to the pandemic and he said it was good to be back . "I sold my horse today - Sandymount Baby, named to commemorate my daughters Alice and Grace's arrival." he said.
The guitarist was on the show to perform a duet of Elvis Presley hit Blue Christmas with Andrea Corr with all proceeds from sales of the new song going to Our Lady's Hospice in Dublin.
🎄 @acorr_official joined by @ronniewood speaks about the important work of @ourladyshospice in Harold's Cross.

The hospice will benefit from Andrea and Ronnie's charity single Blue Christmas 🎄#latelate pic.twitter.com/1HudUoU4a9

— The Late Late Show (@RTELateLateShow) December 17, 2021
Speaking about the track, Andrea, who became friends with Ronnie when The Corrs played support to the Rolling Stones in the nineties, said, "I hatched this plan to do this Christmas song and I thought Blue Christmas would be great and my friend Ronnie would be perfect with the bluesy guitar, so I texted him and he very nicely called me back on his first night on tour and he said yeah!
"Then he went a bit quiet for a few says and I thought did I dream it and then I stalked him!"
They then ended up recording the song remotely, with Ronnie in LA and Andrea in Dublin.
Andrea paid tribute to the work being done by Our Lady's Hospice and Ronnie spoke about how he had been given his fourth all-clear from cancer just two days ago.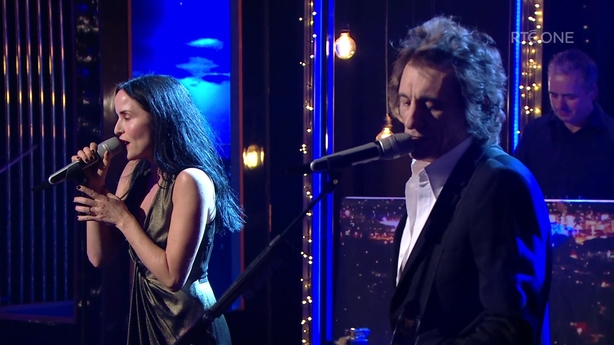 "I had lung cancer in 2017 and I said, `when can you get it out?' and they said `what are you doing next Wednesday?', and I said, `too late for me' so we did it on the Monday, so we got that out.
"Throughout it all I maintained a real positive attitude and I thought if I can help anyone who is suffering from the same thing.
"Because sure enough when I had recovered from the lung cancer, I was invaded by the worst kind of cancer. It's called small-cell and it's all across the chest and it hides in the brain, so I had to have really heavy chemo and radiation and they said they'd given me a year's worth of medication in three weeks and my body just jumped to defence.
"I have had my fourth all-clear the day before yesterday so anybody who knows anybody who has cancer, tell them to be positive and fight it. You have to go up another gear and fight it."