Aisling Bea shared quite the breakup story during an appearance on The Kelly Clarkson Show - featuring Kelly Clarkson!
The Kildare native was on the show to chat about her new Christmas movie Home Sweet Home Alone, but before they got to that, Bea told Clarkson that she has been a longtime fan.
"I feel like a competition winner. I've been the biggest fan and I feel like I've manipulated an acting career and a BAFTA, just so I could get close to you."
She then went on to explain how she once mimed one of Clarkson songs to an ex-boyfriend in what was supposed to be a "strong" and "beautiful" moment - complete with a hairdryer to blow her hair around.
We need your consent to load this YouTube contentWe use YouTube to manage extra content that can set cookies on your device and collect data about your activity. Please review their details and accept them to load the content.Manage Preferences
"I had a memory resurface recently as a sort of 'Oh God, please never let this make the press!' So I feel like I'm getting ahead of it.
"I had a relationship at university and it was a big deal. We had been going out for over three weeks. At the time, I was listening to the Breakaway album non-stop.
"And then one weekend he just turned off his phone. He didn't text back and I was really worried. I was panicking."
She continued: "He resurfaced on the Monday and told me that he had got back with his ex-girlfriend.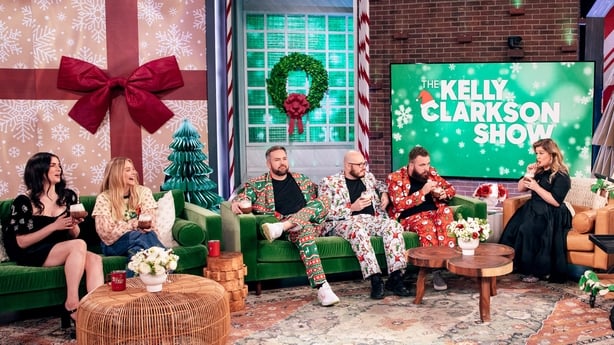 "He rang and said he would come around and get his stuff and I was being very brave and asked 'Is it at least love?'
"When he came round, the narrative was, 'I am going to be very powerful and beautiful in this moment and that's what he will leave with'.
"I got him to sit down and watch me mime to Because of You, because I wanted him to understand the legacy of distrust this would have on me down the line."
She added: "I had my hairdryer plugged in and I pointed it at myself."
Check out Bea's full reenactment below.
At University I mimed a @kellyclarkson song to an ex who'd cheated on me because it was the only way I could articulate how I felt. I got to tell Kelly that powerful story IRL. An unforgettable moment - what I imagine that ex also feels to this day.
A moving reconstruction: pic.twitter.com/ULv18yNFhV

— Aisling Bea (@WeeMissBea) December 16, 2021